Every time I hear his name I think about about Sergeant Roger Murtaugh telling Riggs (played by Mel Gibson), "I'm getting too old for this…" But that's Danny Glover.
No, the subject today is the 2009 U.S. Open champion Lucas Glover. If you have been in a coma the last few days, his new title might come as a bit of a surprise. Still, it's true. Lucas Glover has won a major. What must Sergio think?
Glover is kind of a study in contrasts. This is his fifth year on the PGA Tour, but to most people it seems like he just dropped off the apple cart. Glover looks like a country boy who might be found fishing with Boo Weekley between rounds or hanging under the awning of the RV with John Daly. His boyish looks and aw-shucks mannerisms seem to reinforce that impression. It seems like every photo of Glover could be captioned "Opie Taylor grown up," and people would believe it.

While he does chew tobacco, there are a lot of contradictions to that image of Glover. For instance, he listens to Sinatra and reads voraciously (four books during U.S. Open week). When he speaks, his vocabulary and well thought-out replies show that he was clearly paying attention in school.
Few casual golf fans seem to know anything about him, but Glover now has three top-tens this year and is 13th in scoring. He surpasses the Tour average in most meaningful categories. In short, he's playing very good golf. And yet, here at The Sand Trap, we only have one picture of him in the archives. Clearly, he's been sneaking up on all of us.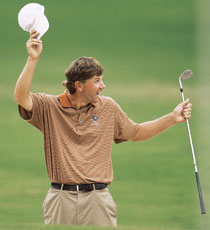 Prior to June 22, Glover was "just" a one-time winner on the PGA Tour, who captured that title with some fairly magical play down the stretch of the 2005 Funai Classic at Walt Disney World. Now, after a meteorologically-challenged week at Bethpage Black, he's your U.S. Open champion. It's time to learn a little more about him.
Hole One: Isn't that Some Kind of Sweater?
Glover was born November 12, 1979, in Greenville, South Carolina. His middle name is Hendley. Somehow that fits.
Hole Two: Go Tiger! er, Tigers!
If you watched the first couple rounds of the U.S. Open, then you know that he along with his early round playing partners attended Clemson University (from 1998 until 2001 in Glover's case). The communication studies major was named first-team All-American in 2000 and 2001, and was a member of the 2001 United States Walker Cup team.
Hole Three: Going Pro
Glover turned pro in 2001 and played on the Nationwide Tour in 2002 and 2003. He won the Gila River Classic in 2003 and finished 17th on the money List, earning his promotion to the PGA Tour.
Hole Four: The Cardiac Kid
In his first year on tour, Glover played 30 events, made 17 cuts, and posted two top-10 finishes, but finished 134th on the money list with $557,453 and had to go to Q-School. There, on the final hole, he hit his approach to two feet and narrowly regained his card.
Hole Five: The Cardiac Kid II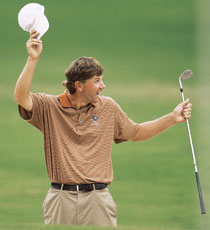 Glover's first win on the PGA Tour also came with final-hole heroics. At the 2005 Funai Classic, he holed out a 35-yard bunker shot for birdie to avoid a playoff with Tom Pernice.
Hole Six: No More Cardiacs
No final hole heroics were required in Glover's U.S Open victory. With the tees on the 18th moved up to make the hole play 364 yards, Glover was able to play a 6-iron off the tee and a 9-iron into the green. An easy two-putt par followed to secure his two-stroke margin (at -4) over Phil Mickelson, David Duval, and Ricky Barnes.
I'm all for putting a drivable par four on the course for a major, but not at 18. The last hole of a U.S. Open is supposed to be about overcoming nerves to hit the tough shot when it counts, not about hitting 6-iron off the tee. But that's no knock on Glover. He made the correct decision and safely played what was presented to him.
Hole Seven: For All Your Trouble
During the pro-am at this week's Traveler's Championship, right after being introduced as the 2009 U.S. Open champion, Glover took a shaving cream pie in the face from his friend Johnson Wagner. It seems the two had been discussing the idea of imitating baseball player's habit of pieing each other during press conferences. According to Wagner, Glover said at the time, "That's a great idea. That would be so funny."
Hole Eight: Top Ten
Following his U.S. Open win at Bethpage Black, Glover went on the Late Show with David Letterman to deliver the famous Top Ten. Among the best lines: "I had Phil Mickelson in the office pool." Number one was a repeat, however… like Zach Johnson, Lucas has also never heard of himself.
Hole Nine: Quotable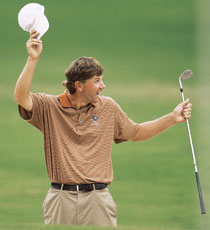 For a guy that people don't know much about, Glover can rattle off some pretty good quotes under pressure.
When a reporter asked Glover how holding the U.S. Open trophy felt, he answered, "Heavy. I hope I don't downgrade it or anything with my name on there."
On his celebration following the Open:
"That's the first time I've contended in a major. And mentally, I was done. I don't think I could have thought up a good celebration, other than run over there and give my man, Coop, a big hug, and that's just what came natural, I guess."
On his reputation for being hard on himself and double bogeying the first hole at Bethpage:
"I've worked on it and my attitude's better. Something bad happens, let it go. Walked over to the second tee and said: 'Hey, it's the U.S. Open. It's going to be a long week.'"
Even his caddie, Don Cooper, is quotable, especially when speaking about Glover: "People have a vision of him, and they think, 'redneck,' and he's far from that. He's a very smart man. He can do a crossword puzzle before I can brush my teeth."
Photo Credits: © Stephen Szurlej