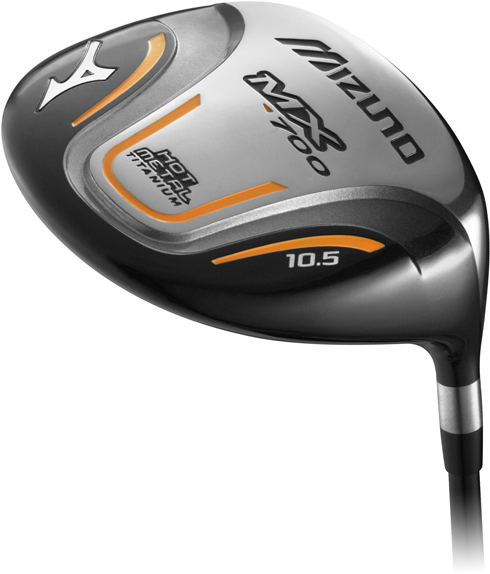 Mizuno claims that "the MX-700 possesses the lowest and deepest COG, has the largest MOI, and is by far the longest and most forgiving driver in Mizuno's history."
After reviewing Mizuno's MP-600 last year, I was very interested in seeing what the company would do with their "average player" follow-up to the MX-560. The knock (and the only knock in a lot of people's minds) against the 560 was the sound. It had a very loud and unpleasant impact sound.
As the "MP" implies in Mizuno's lineup, the MP-600 is intended as a driver for better players. It features a neutral to open face angle at address and little or no slice correction (other than Mizuno's Fast Track weighting system, that is). The MX-700, with its "MX" moniker, is aimed at any golfer looking to maximize distance, get a little help launching the ball, and reduce, if not eliminate, a slice.
So does the MX-700 live up to its billing? Read on to find out.

Design and Technology
Mizuno has given the MX-700 what it terms a "Hot Metal" Ti-9 titanium face, plasma welded to a 6-4 titanium body. The Hot Metal face is said to have a unique, vertically aligned grain structure, designed to expand the coefficient of restitution (CoR) area and increase ball speed for long and straight drives, even on off-center strikes.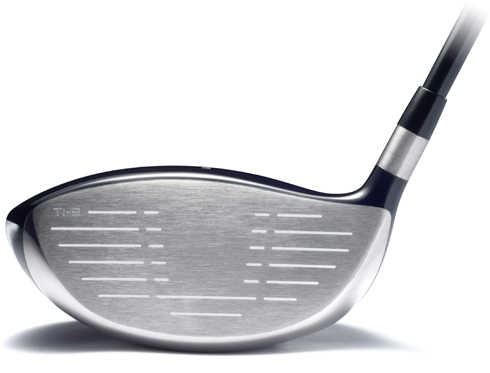 Mizuno certainly seems excited about the face technology it has built into the MX-700:
"The Ti-9 'Hot Metal' face in the MX-700 is the first of its kind, and is designed to enhance initial ball velocity from every spot on the club face." said Dick Lyons, VP and General Manager, Mizuno USA Golf. "This breakthrough face technology combined with an optimized launch angle, spin rate, COR area, and Moment of Inertia make the MX-700 the longest and most forgiving driver you're going to find."
The head is yet another from the "geometric" school of driver design. This head shape is intended to create an extremely low and deep center of gravity (CoG) and a centrally located sweet spot for enhanced vertical stability. The important part of all this engineering is that it is designed to produce low spin and a high, penetrating ball flight. Mizuno's "Power Hull" body construction places internal reinforcements to positively affect feel and sound.
Esthetics
The MX-700 has a large clubhead. Yes, it's within the limits at 460cc, but it's a big 460. I've been playing a Titleist 907 D2 for the last 18 months and the MX-700 appears much larger, as most drivers in the game-improvement realm do. The top of the clubhead stretches back from the face in a big "U" shape. That's where the club gets its high MOI (moment of inertia). It's the kind of thing that you'll probably notice the first few times you address the ball, but if the results pay off you'll probably be willing to live with it. And if you've been playing any of the other large square or U-shaped "geometric" drivers, you might even think the MX-700 looks normal or smaller at address by comparison.
Mizuno gives us a crown decal to aid in alignment. There's a large U-shaped pattern around the edge of the crown and an "MX" alignment mark in the middle. I wasn't crazy about it the first time I saw it, but I also wasn't greatly troubled by it. Suffice to say it is less intrusive than some crown decals out there.
Like the MP-600 before it, the MX-700 continues Mizuno's departure from the blue color scheme for its woods. While the 600 was black, the MX-700 is a nice charcoal accented by the silver of the alignment decal. Even the Exsar D4 shaft is now black, instead of the line's "any color so long as it's blue" color range of years past. The combination looks nice in an understated sort of way. A gold shaft decal just below the grip adds just a touch of flash.
This is purely hypothetical, but I can't help thinking that this color change may be Mizuno's way of saying, "We are getting serious about woods now."
When it comes to the sound, the MX-700 is an improvement over the MX-560. It's still a bit loud from a traditional standpoint, but not nearly as loud as its predecessor. It compares favorably with other geometric-style drivers on the market today.
Performance
To check out just how serious this Mizuno was, I headed off to the range to get a taste of how the MX-700 performs. My first drive produced an audible "wow." I looked around to see who said it and realized it was me. Seriously, the ball really jumps off the face, high and long.
As I would expect with an MX club, there's a lot of forgiveness built into the MX-700. For starters, there's a generous sweet spot built into that large face. It's very easy to get the ball into the air, and mishits around the face still travel a respectable distance. I found that I was getting more carry with the MX-700 than I have with any driver, but the ball still ran out well once if finally came down.
I felt that the MP-600 was one of the most accurate drivers I'd played. The ball went right where I aimed it more times than not. It wasn't the most exciting driver I'd ever played (it didn't seem to have that occasional exceptionally long ball in it), but it was very good at finding fairways with respectable distance.
The MX-700 in contrast is very exciting. The ball can seem to fly forever. A lot of the time that's very good, but start it in the wrong direction and that can be very bad. This is not really a criticism of the driver. It does what it's supposed to. The problem is my tendency to swing a driver too hard. Having a club that launches like the MX-700 that is lightweight, as well, just makes me want to swing harder… with predictable results. However, as long as I control my swing speed, I found it fairly easy to keep the ball in the short grass.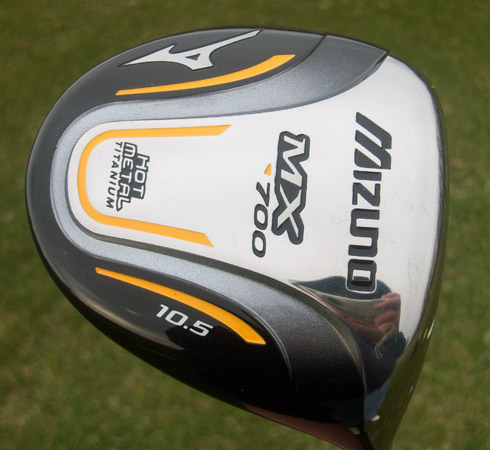 The MX-700 launch angle is truly amazing. For this review, Mizuno sent a 10.5° model with the stiff mid-launch shaft, as requested, but it clearly launched too high for me. (A recent change in my setup has changed my line-drive tee shots into what seems in contrast to be soaring drives. My golfing buddies can no longer tease that I can castrate a groundhog with my tee shots.)
A local Mizuno rep traded out the 10.5° for a 9.5° and I couldn't be happier. It still launches quite high for me but with a more penetrating ball flight and reasonably low spin. That means that despite the high trajectory, the ball still manages to run out upon landing (wind or soft conditions notwithstanding).
The switch also gave me the opportunity to compare the two lofts. Like many manufacturers, Mizuno appears to put a little more help for slicers into the 10.5 than the 9.5 has. I tend to fight the hooks off the tee as it is, and the 10.5 produced a few too many high left snappers. The 9.5 still favors a left-ish ball flight, but not as emphatically as the 10.5 did. With just a couple strips of lead tape (old school "movable weight technology") on the toe, the 9.5 became willing to produce a nice controllable fade, which was elusive prior to the addition.
The MX-700 is not meant to be extremely workable (and it isn't), but players who normally work their tee shots left or right will find modest success with this driver. Because of the right-to-left bias, I felt more comfortable hitting a fade (a draw could turn into a hook too easily). I just aimed down the left center, and if it faded I was in the center or right center of the fairway. And if the bias got the better of me and ball went straight or even drew a little, I was still on the short grass or close to it.
Specs and Extras
Players who already launch the ball high with the driver will be disappointed to see that the lowest loft available in the MX-700 is the 9.5°. Clearly Mizuno is aiming the MX-700 squarely at mid and high handicappers who typically need more help getting the ball in the air.
The Exsar DS4 shaft is a good performer. The stiff version that I tested was stable enough on hard swings, while still being easy enough to load on a smooth swing.
The Club is available in 9.5° and 10.5° lofts for righties and lefties. A high-launch 12° model is available for righties. All models have a lie angle of 61° and a length of 45.5″ – a half inch over the semi-standard 45 inches.
Flex      Weight    Torque    Ball Flight
----      ------    ------    -----------
Stiff       59g      3.7°      Mid
Regular     55g      3.9°      Mid-High
Lite        50g      4.5°      High
Ladies      45g      5.0°      High
Standard Shaft: Mizuno's Exsar DS4™ graphite (regular, stiff). Standard Grip: Mizuno/Golf Pride M-21 58 Round. Custom options are available through Mizuno's Custom Club Department. Suggested Retail Price: $360.
Conclusions
The Mizuno MX-700 driver is a very good driver. It will be a particularly good fit for players who drive the ball straight or fade it off the tee. Those players with a low launch will find plenty of help in the MX-700. Slow swingers should consider the 10.5 or 12° version to maximize air time. The 9.5° driver could be played by mid to lower handicappers who desire a higher ball flight and a little right-to-left bias off the tee.
So is this the best Mizuno driver ever? With one qualification, I have to say yes… This is the best driver I've seen from Mizuno for the average golfer.
The MX-700 is not going to be a big hit with the lower handicappers who want to be able to work the ball or who already have draw tendencies to their swings, but it is an MX after all… not an MP. It's not meant for those guys. Still, if Mizuno were to expand this line to include a neutral or slightly open-faced 8.5° version of the MX-700, I wouldn't be surprised if low handicappers and even some tour pros started playing it by choice. I know I'd give it a shot. (And that should tell you how high I launch the 9.5° version… I don't think an 8.5° would be any problem.)
It's a shame that this driver is hitting in a down economy year. I suspect that it could sell record numbers of drivers for Mizuno, but maybe not this year. Still if you are in the market for a driver, you should absolutely take a look at the MX-700. The hot face launches like no one's business. Mizuno has not been a big name in drivers traditionally, but the MX-700 just might help change that.