Steve (or Stevie) Williams is Tiger's fiercely loyal and dedicated caddy. Precious few can understand what goes on behind the ropes in Tiger's life and Williams is one of them. Williams must be similar to the guys that were taming the "Wild West" because he comes across as a cowboy. He marches to the beat of his own drum while working hard for the boss.
Join me for a quick nine holes with the camera-snatching, club-pulling, car-racing boy from New Zealand.

Hole One
Williams played to a two handicap by age 13 and yet came to love carrying the bag more than playing. Originally he toted bags to get better at the game.
Hole Two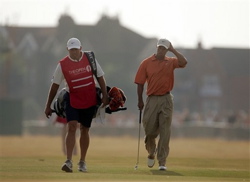 "There was only one subject in school that I was good at – mathematics – and I figured out that I had saved about $20,000 by the time I was 15, doing all sorts of odd jobs, including caddying."
Having already made a considerable fortune for a teen at odd jobs he set out to caddy on the European Tour.
Hole Three
An avid car racer, Williams balances racing cars and carting Tiger's bag. "I treat each of them seriously," said Williams. "I love to caddie and I love to race cars, and I give each of them my undivided attention when I'm doing them."
Hole Four
Injured in a car accident in January of 2005 there was some speculation that Williams and Woods relationship was strained. The speculation was wrong.
Hole Five
At the 2004 U.S. Open Williams kicked a camera out of the hands of a New York Daily News photographer. He thought he was taking pictures of Woods' swing during warm up. He grabbed a camera away from an off-duty police officer on Sunday of the same event. Back in 2002 he took a camera out of a spectators hands and allowed it to tumble into a pond. Classic.
Hole Six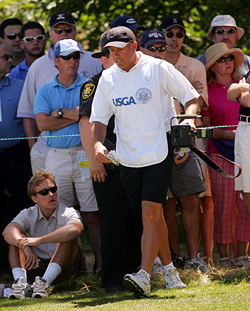 Williams was caddying for Raymond Floyd on the Champions Tour (then called the Senior Tour) when Butch Harmon contacted him about caddying for Tiger.
"Butch gave me Tiger's phone number, and I called him," said Williams. "After Doral, I drove up to Orlando to see him. I already knew him a bit. We talked about what he likes and what he doesn't like, and we made a deal." It was a job every caddy on Tour would have loved.
Hole Seven
Before Woods, Williams caddied for Greg Norman. "I basically got fired because I got too close to him and his family," said Williams. "Maybe I chatted back at him too much and shouldn't have. He won the Chunichi Crowns in Japan in 1989 with me on the bag. Next week, he fired me."
Turned out right in the end. Norman even tried to get him back, admitting he made a mistake letting Williams go. Things turned out well for Williams in the end.
Hole Eight
Williams insisted wearing shorts at the 2004 Ryder Cup earning him the nickname "Rosa Parks." "Being from New Zealand, Stevie wasn't sure who that was," Chris Riley's caddy John Wood said.
Hole Nine
The image of Tiger embracing Steve on the final hole of the British Open this year will certainly become another of the defining moments in Tiger's legacy. With "Pops" not there to give Tiger a bear hug, Tiger turned to the one who has become a close confidant: caddy Steve Williams.
Steve Williams is certainly a character. If he's not caddying, he's bungee jumping, or racing. Visit his website for further reading.
Photo Credit: © AP Photo/Matt Dunham, © Sportsshooter.com.