I thought the Open Championship at Hoylake was one of the better Opens in recent memory. Tiger showed what his greatest asset is: his mind. He didn't have to overpower the course, just take what it gave him… and it gave him a lot of stinger 2-irons.
This week in The Numbers Game I'll take a look at a few of the numbers from and related to the Open Championship. Also, I'll see if The 40-30-20-10 Rule holds up for a tournament on a links style course.

No Love
There are always going to be some guys that let you down a bit in every major. Davis Love has not been a factor in a major in a long time. That saddens me because Davis is, at least for now, one of my favorite golfers. Unfortunately, the window seems to be closing on the 42 year-old.
Last week he had another one of those rough majors. Davis was three over for the tournament and has missed two cuts in a row in the British Open after making eight in a row. Five of those were top tens. It wasn't his ball striking that did him in at Hoylake, but his putting. He averaged 31.5 putts per round.
I'm still waiting for Love to win his second major. I might be waiting a while since Davis has missed eight of the last 14 cuts. Yes, five of those he made were top tens, but all that will get you are some Ryder Cup points.
Ryder Cup
Speaking of Ryder Cup points, it's always a good idea to check them out after a major. There were two big movers last week. The first was Chris DiMarco.
DiMarco's gutsy performance in the Open not only earned him a nice paycheck, but 360 Ryder Cup points. That was good enough to get him all the way back up to sixth on the list. Not bad for a guy who started third at the beginning of the year and dropped all the way to 21st. I think DiMarco cemented a spot on the team. He may need a few more points to stay in the top 10…but even if he doesn't earn another point, Lehman would be crazy not to use one of his two selections on the gutsy Gator.
The second big mover was someone who didn't even make it to Hoylake. John Rollins had his best week of the year at the B.C. Open and vaulted himself into the 10th spot with 375 points, a 21-spot improvement. Rollins needs to keep it rolling if he wants to stay on the team. I don't see Lehman picking him if he finishes outside the top 10.
Only a couple people on the European side that helped themselves. Sergio was the first, but he really didn't need the points, just a boost in his cofindence. The other player that did add to his point total was Carl Pettersson. With his eighth place finish at Hoylake he now stands at, ironically, eighth place. Nobody else really made any noise. Maybe Argentina should join the European Union. They had just as many top 10 finishers from the South American country as all of Europe.
Tiger's Stinger
I posted a quick thought the other day about Tiger and his driving accuracy during the British Open. Basically, in his tournaments when he is most accurate off the tee, he wins… plain and simple.
The funny thing is that Tiger had his best day off the tee when it mattered most. On Sunday, he only missed one fairway. Even that one didn't make a big difference. His use of the 2 iron was not only impressive, it was inspiring. He defeated Hoylake and everyone else with his greatest asset, his mind… not his length.
You wonder if it will change the way Tiger approaches other courses as well.
The Rule
One of our readers posted a comment on a short article about Tiger's driving accuracy. Andy, a valued reader who has posted numerous times, cited Tiger's success on these days as a reason to doubt the accuracy of the 40-30-20-10 rule. Both Erik and I agreed that the rule is not meant to be applied to one tournament, but over the course of a season.
Still, I wanted to see exactly how this year's British Open stacked up against the 40-30-20-10 rule. I compiled the needed stats from the Open into a spreadsheet and applied the rule.
If you're wondering why the column is a bit light this week, there's a good reason. The Open's website, neat as it is, doesn't have a single place to look at GIR, DD, or any stat for multiple players. You have to bang on each one. Sorry for the vent, just a pet peeve of mine. You know this stuff is in a table already, please just present it as such!
Anyway, here is the rule for the British Open for those who made the cut: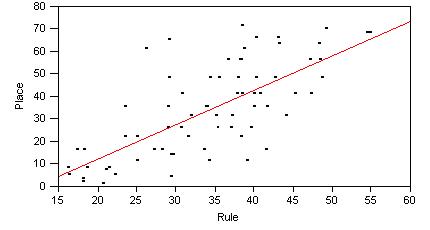 Looks pretty good. Also, the RSquare value is decent (nearly 0.52…) so the rule correlates pretty well to how players finished in the Open.
The next logical thing was to give more weight to driving accuracy (DA) to see if we can improve the RSquare value. Again, my 40-30-20-10 rule was devised for all tournaments, not just one. Even so, it would be good to know how a links style course reacts to the rule.
I shifted the weights to 40% GIR, 25% Putting, 25% DA, 10% DD and got the below graph:
This looks good as well, but the RSquare value isn't as high as the normal rule. The 40/25/25/10 rule rates only a 0.40, over a 20% drop below the normal (40/30/20/10) rule.
I even ran the numbers with DA and DD's normal percentages, 20 and 10, swapped. It came up with an RSquare of just under 0.51. I could not get the RSquare number higher than the 0.52.
The funny thing is that the only way I could get it higher, and significantly at that, is to bump putting up to 40% and drop DD down to 10%. Therefore the "Open" or "Hoylake Rule" would be 40-40-10-10. Here is the graph:
The RSquare value for this was slightly over 0.65. That's a 20% jump in the other direction. I think a future The Numbers Game is in store to see if 40-40-10-10 is a better weighting overall. I tried different variations before, but not this one. It will definitely be worth a shot.
Final Thoughts
I hope the Open goes back to Hoylake. We saw a tame golf course because of a lack of wind and some rain early in the tournament softened up the ground. For all the people thinking the course would play too easy, this was as easy as it could possibly get and yet records still didn't fall.
The length (or lack thereof) of the golf course brought all sorts of players into the tournament. Sure, Tiger could keep out of trouble with a 2 iron, but shorter guys like DiMarco were playing with 3-woods most of the day and from similar spots. It ulitmately came down to hitting good mid- to short irons and making putts, both of which Tiger and DiMarco did extremely well.
Hoylake may not be as stiff a test as some would like, but it still brought the best players to the top of the leaderboard at the end… and nobody can argue with that.