It's almost Thanksgiving here in the U.S., and that means one thing… OK, it means a bunch of things: turkey dinners, football games featuring the Jets/Cowboys and Packers/Lions (and Colts/Falcons if you happen to have the NFL Network), pumpkin pies, the Macy's Thanksgiving Day Parade, turkey sandwiches, Black Friday, cranberry sauce, college football, gravy, and, of course, the 25th iteration of that yearly golf tradition without equal… the Skins Game (or, officially, the LG Skins Game).
The Skins Game, Nov. 24-25, provides a last gasp of golf season, and signals the start of the Silly Season proper (though the whole Fall Series has felt a little more silly this year with its near total lack of big names).

Alas, the Skins Game is probably well past its best days. When it started 25 years ago, not too much of the golfing public was aware of how to play "skins." It was something new and interesting to try out. The Lions and Cowboys both had winning records that year (something that's only happened three times in between not counting this year). Still, the Skins Game provided a little different spectacle for golfers facing another long winter as they sat on the couch the weekend after Thanksgiving, perhaps slowly growing less found of turkey and stuffing leftovers.
Though the luster has worn off the event, it still generates moments like Fred Funk getting outdriven by Annika Sorenstam, and subsequently donning a skirt. It's entertainment disguised as competition. But what can you expect? It is the Silly Season, after all.
Here are nine reasons to be more or less thankful for the Skins Game.
Hole One: It Made Skins a (Club)House-hold Name


The Skins Game is largely responsible for popularizing playing "Skins," a game you can play at home (or at least at your home course). In a skins game, players compete to win a hole outright. The winner of each hole receives a skin of a set value (usually in money or points). The player who wins the hole is said to win the "skin," and whatever that skin is worth. Skins games are generally played "Two tie, all tie," which means that if more than one player has the low score on a hole than the skin is either waived for that hole, or it carries over to the next. Carry-overs can get very interesting when after a few holes the total amount riding on a hole has increased geometrically.
Hole Two: It's for a Good Cause
The Skins Game has a long history of providing for charity. All Skins Game players donate 20 percent of their winnings to charity. This year Couples will aid people displaced by Southern California's wildfires in October. Last year, Couples donated his charitable share ($77,000) to the Esperanza Firefighters Assistance Fund. So, you can always justify watching the Skins Game as a charitable act.
Hole Three: Freddy Being Freddy, or a Reasonable Facsimile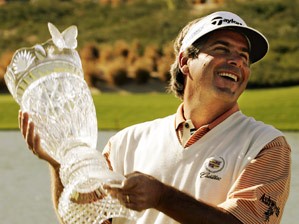 The winningest participant in Skins Game history is Fred Couples. The 1992 Masters champion and 15-time PGA Tour winner will compete in his 14th Skins Game this year. The 48 year-old Couples has the most career Skins Game championships (five – 1995, 1996, 1999, 2003, 2004), most career skins won (86), most career skins money ($3.9 million), most money won on Sunday ($3.18 million, more than $2 million ahead of his closest competitor) and most birdies in one year (10 in 2006). So chances are, if you choose to watch this year, you'll be watching history as Couples adds to his all-time numbers. Then again, Freddy pretty much slipped from sight during the regular season. He's in a holding pattern for the Champions Tour, but his back may not even let him compete on that circuit. He could get blanked again.
Hole Four: Yet Another Course I'll Probably Never Play
Let's face it: relatively few of us ever get to play on a PGA Tour course, let alone on more than a few of them. If you're among the lucky few with means and connections to play some of these immaculate layouts (or the even fewer with the talent to actually play events on them), you should already know what to be thankful for. For the rest of us, it's a chance to take a look at another cool desert layout and dream of what it might be like to play it.
Eight courses have hosted the Skins Game over its 25-year run. In 1983, the event kicked off with a two-year run at Desert Highlands in Scottsdale, AZ, before moving to Bear Creek Golf Club in Murrieta, CA in 1985. From 1986–1991, the event was played at TPC at PGA West in La Quinta, CA. Bighorn Golf Club in Palm Desert hosted the event from 1992–1995. Rancho La Quinta Country Club in La Quinta played host from 1996–1998, followed by Landmark Golf Club in Indio from 1999–2002. The last four events were played at Trilogy Golf Club in La Quinta. The Celebrity Course at Indian Wells (also in California) will be the home of the Skins Game for the next three years. This course opened for public play just a year ago.
Hole Five: Angel and Paddy Must Be Turkey Fans
The list of players that would have improved the field in this year's Skins Game is long, indeed. But they must all be unwilling to give up their turkey dinner this year. The 2007 edition of the Skins Game will feature Couples, defending LG Skins Game champion Stephen Ames, and Skins Game rookies Brett Wetterich and reigning Masters champion Zach Johnson. Johnson, at 15th in the Official World Golf Rankings, is the highest-ranked player this year. Wetterich comes in at 30th, Ames is 31st, and Couples has fallen all the way to 428th in the world (and yet he's arguably the main draw).
Hole Six: Nothing to Sneeze At
Over the past 24 years, the Skins Game has featured a number of golf's all time stars, including Arnold Palmer, Jack Nicklaus, Tiger Woods, Tom Watson, Lee Trevino, Gary Player, Phil Mickelson, Couples, Curtis Strange, Nick Faldo, Raymond Floyd, Tom Kite, Paul Azinger, Vijay Singh, Colin Montgomerie, Payne Stewart, Greg Norman, Mark O'Meara, Tom Lehman, Fuzzy Zoeller, John Daly, Sergio Garcia, Corey Pavin, Adam Scott, Peter Jacobsen, Jesper Parnevik, David Duval, Funk, Ames, and the Skins Game's only female participant, Annika Sorenstam.
Hole Seven: A Shirt a Panda Would Love
It may not help your game or your turkey carving ability, but you can own a shirt named after the Skins Game. In fact, there's a Skins Game shirt with real bamboo woven into it. The company claims that bamboo is environmentally responsible, wicks away moisture and has a feel like silk. On the bright side (and I do mean bright), these shirts are worn by a PGA pro, Duffy Waldorf. On the downside, these shirts are worn by PGA pro Duffy Waldorf.
Hole Eight: The Big Four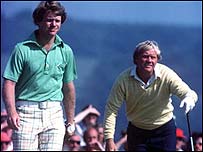 Probably the best lineup in the golf-tacular's history debuted in 1983 when the inaugural Skins Game featured Jack Nicklaus, Arnold Palmer, Gary Player and Tom Watson. Not too shabby!
Hole Nine: What Else Would You Watch?
The original Skins Game has spawned a Champions Tour version and a host of other imitators. But none seem to have the legs that the Skins Game once enjoyed. So what golf event would I put in place of it? The PGA Tour's Q-School would provide more drama for diehard golf fans (plus, we could all be thankful that we're not playing under that kind of stress). This year, the final stage tees off the Wednesday after Thanksgiving (Nov. 28) and concludes on the following Monday (Dec. 3). But what if it started on the Tuesday before Turkey Day and concluded on Sunday? That would give people four days of coverage for the drama to build. Still, playing for admission to the PGA Tour, while a life-changing event for players, just doesn't grap the average viewer's attention. But a huge pile of cash just might. What if you get a bunch of hustlers to put up their own money, play "Gamblers' Rules" and compete for a million dollars a hole? That just might be kind of interesting to watch. Too bad they buried the event in the usual Texas Hold'em time slots. I completely missed it, despite being a Level 5 OCG.
Photo Credits: © Fred Couples Homepage, © BBC.