Getting to know Vijay Singh is much like cozying up to a porcupine: unless you're in the family, it's tough to get close.
While we might not be able to step into Singh's world, his clubs have done plenty of talking since he joined the Tour in 1993. He won his first ever PGA Tour event in a playoff over Mark Wiebe and subsequently captured the 1993 PGA Tour Rookie of the Year award. His winning ways have accelerated during the past several years and he has earned himself a permanent place in golf history.

Singh's talent naturally makes us want to know what drives him but he certainly is a hard one to understand. I don't think he is much more secretive than Tiger Woods; he just lacks the intangible charisma and personality that endear Tiger to the world.
Even after Singh had grabbed the world's number one spot from Tiger last year we weren't sure what to do with him. There is no doubt that Singh was the best golfer of 2004. He had an unbelievable year. It might be his brutal honesty or aloof disinterest that makes him hard to understand. His personality isn't the only thing that makes him different. Most people couldn't get within a 2-iron of the game Vijay has developed. This World Golf Hall of Fame inductee has carved a niche for himself that is well deserved.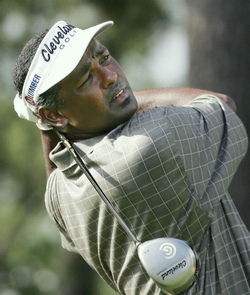 The remarkable thing about Vijay is that he has developed exeptional talent through sheer determination and hard work. When I think of Vijay Singh I'm thinking about a guy who has scratched and clawed his way to the mountaintop through years of dedication. He has raw talent to be sure, but he didn't become one of the best golfers in the world on that alone. He refined what skills he had and took them to a whole new level by spending hours of productive time on the practice tee. More on that in a bit.
Ask former caddy Dave Renwick about how tough it was to get close to Vijay and he'll tell you it's not easy. Renwick is one of two caddies to carry the bag of three different major championship winners. He was on the bag for José Maria Olazábal, Steve Elkington, and Vijay Singh as they won majors. Singh credits Renwick in his skill at pulling the right club at the right time but let him go anyway in what may have been a preemptive firing. We reported on their strained relationship in an article entitled Singh and Renwick on the Rocks in November of 2004: "After Singh was reminded that Renwick once dumped a player instead of the other way around, he shot back, 'Well, he'd be sorry if he did (that to me).'" It turns out Singh didn't give him a chance.
2004 was Renwick's second stint with Singh. He had been on the bag when he won the 1998 PGA Champioinship and the 2000 Masters. He said after the second split with Singh, "We're still friends but I wasn't enjoying working for Vijay, even though I was making a lot of money. There's been very little fun working for Vijay, even during practice rounds." Despite his lack of fun, Renwick did very well with Singh. He was on the bag for Singh for all nine wins in 2004 and he's going to survive financially because of it.
It is no secret that Singh has had to carry a particularly difficult burden for twenty-five years. In 1985 he was suspended from the Asian Tour over allegations that he doctored his scorecard. There is some question as to whether it was this or he was made to pay for a tour official's error. Whatever may have happened it was a long time ago and there is no way of knowing for sure. He was 22 years old at the time and even if he did doctor his scorecard I can forgive him. What may or may not have happened is in the past and I'm willing to leave it there.
Golf's integrity should be protected at all costs but I feel that Vijay has proven himself by paying his dues in some pretty out of the way places. After the scorecard debacle Vijay made his way working in Borneo as a club pro for next to nothing and briefly as a bouncer. After a two year suspension from tournament play he returned to competitive golf via a stint in Africa and the European Tour before arriving in the United States. Few would have been able to gut it out the way he did to earn a place on the PGA Tour.
Vijay has quite a golf resumé. His victories include 28 wins on the PGA Tour, 12 on the European Tour, and 13 internationally. He has won three majors: the 1998 PGA Championship, the 2000 Masters, and the 2004 PGA Championship. His most stunning performance came, of course, during the 2004 season when he won nine times, captured the world's number one spot from Tiger Woods, earned the player of the year award, and became the first player in history to win over $10 million in a single season.
As for his game he is a remarkable player. He is 14th in driving distance at 300.7 yards per drive, 1st in greens in regulation at 72%, second in scoring average at 69.01 strokes per round, and second in the all around ranking. Not only does he play well, he plays more often than just about anyone on Tour. He competed in 29 events in 2004 and has already played in 24 events this year. He is the PGA Tour's iron man.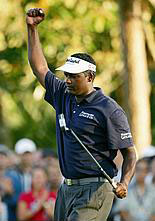 Of the 24 events he's played in 2005 he's been in the top-10 fifteen times. His $7,307,669 earned is second only to Tiger this year. His career earnings are in excess of $44 million. One of these days he's going to have to take time off and enjoy some of that hard earned cash.
Singh is second only to Sam Snead in victories since turning 40, having won 16 times to Snead's 17. Its only a matter of time before he breaks that record. If he can get his putter going soon he'll do it before the end of the 2005 season.
Singh can run circles around just about anyone in practice. Just thinking about the amount of physical labor he has endured in his rise to the top makes me tired. While he may be a bit of an enigma Singh's success has been well deserved. Assuming he can avoid major injuries (table-tennis included) Singh has a lot more wins left in him.
Photo Credits: © Unknown.