A lot of ink has been spilled over Zach Johnson this week and I'm going to add to the mess by way of Internet clutter and this ProFile.
From his runner-up finish to former Masters champ Mark O'Meara in the par-3 tournament to winning the entire enchilada, Johnson has had an amazing week. Plus I'll bet that's the first time someone's called the Masters an enchilada. I'm a trend setter, plain and simple. Classy too.

Zach Who?
Johnson read Late Night's Top-Ten list on Monday after the Masters. Number six was "Even I've never heard of me." Casual fans haven't followed Johnson's career closely. How could you? He's only been hitting the ball around PGA Tour set-ups since 2004.
Johnson was born on February 24, 1976 in Iowa City, Iowa and raised in Cedar Rapids, Iowa. Those close to him never saw him donning a Green Jacket. But like he explained to us in the post-round interviews he steadily improved at every level in which he participated.
A handful of men invested in Zach early in his career to give him the funds necessary to play mini-tours. "It started out as a business, but it ended up as a business family," Johnson said at his BellSouth victory (they were in attendance). "It's unbelievable having them here." These investors, members at Elmcrest Country Club, had bought shares at $500 apiece to give him traveling money. Don't worry, he's apparently paid them back.
Working His Way Up
He won twice on the Prairie Golf Tour in 1999, three tournaments in a row to close out the season on the Hooters Tour in 2001, and twice in 2003 on the Nationwide Tour to win Player of the Year honors. His success on the Nationwide Tour launched his PGA Tour career. Incidentally, Johnson is the first Nationwide Tour graduate to have won the Masters.
It may make you feel good to know that Johnson is averaging 274.5 off the tee in 2007 – good enough for 162nd. You can wipe that grin off your face because you can't sniff 255. That's 40 yards behind leader Bubba Watson (who, incidentally, isn't wearing green).
123rd in putts per round in 2006 (29.32) he is 7th in 2006 (28.12), a significant jump. When you jar 8-14 footers it helps, especially during Masters week.
Show Me Some Green
Johnson was under the radar for three days while we watched Augusta National belch out half-digested professional golfers. Watching the best in the world sweat blood on the putting greens was painful for avid golf fans and perhaps slightly encouraging for those who tune in to golf at this time every year.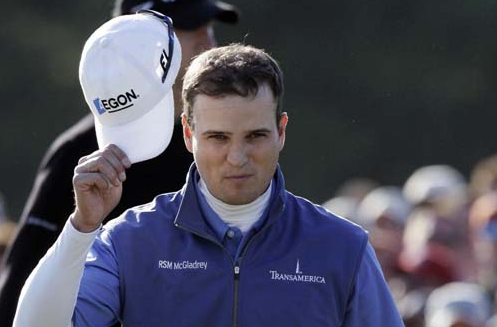 Nobody I know picked Johnson to win. A handful of you had him in your fantasy team or work pool and he bought your lunch this week. Thank him next time you see him.
My opinion, along with the rest of you, is that Zach Johnson went out there and earned it. And it's no surprise in light of the fact that he's risen like cream to the top of every group of golfers he's played against. We watched all the missed putts, the water balls, and the beads of sweat while Johnson chug-chug-chugged to the finish line well ahead of everyone else.
The greatest benefit Johnson will get (despite the fact he finished ahead of el Tigro) is that he will be remembered as the guy who won the most difficult Masters in history. You watch. And what a feat it was. Sure, Tiger brought his "C game" and proved that he isn't the Bionic Man (for once), but Zach Johnson got it done in U.S. Open-minus-more-rough conditions.
The Green Jacket ceremony was the first time that many golf fans got a peek into Johnson's life. "I was an emotional wreck," said Johnson. "I was a slob. I knew there were still chances for guys to make birdie."
You got the general impression that he didn't know what to do with himself after the victory. His winning speech mirrored the sponsor thanks and Jesus thanks of a NASCAR event while remaining very genuine. "I'm very normal," said Johnson. "I'm as normal as they come," he said (as normal as a Masters winner can be). "I love to play a game for a living. I love to play this game for just what it is, golf. I appreciate it and I feel honored to play golf for a living."
What's Next?
We know that for as long as he feels competitive Johnson will be making an appearance at the Masters. We know he'll be toting that green jacket around in the coming year. And we can be fairly certain that once things settle down a bit Johnson will look rested again.
I foresee another major for Johnson. He's a true competitor, a fairly accurate driver, and a good putter. He'll need to conjure all those skills again to win. His most likely win would come at a U.S. Open where everyone, like this year's Masters, is holding on for dear life at the end of a frayed thread.
His one obstacle will be his own success. My advice would go something like this: Enjoy the accolades, the jacket, and the interviews but as soon as you can go back to scrapping like your Tour card depends on it. Be humble in victory and gracious in defeat.
Zach Johnson has done all that already. He's earned his current wardrobe.
Photo Credits: © John Paul Filo/AP, © Masters.org.