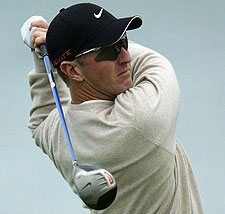 David Duval, at one point in the third round of the Bob Hope Chrysler Classic, triple-bogeyed three straight holes. After three rounds of play on the relatively easy courses of the Bob Hope Chrylser Classic, Duval sits at +30. The leader, Joe Ogilvie, is "comfortably" fifty three strokes ahead. Lanny Wadkins, second-to-last, is 19 strokes clear of Duval. Davis Love III made more birdies on the back nine today than Duval has made in three full rounds of play, and we're quite confident that were Sam Snead alive today, he too could beat David Duval.
Until last week, I was as big a Duval fan as you're likely to find these days. I was happy that he finished T13 at last year's Deutsche Bank Championship. As I said, until last week. Duval withdrew during one of the weather delays and returned to Colorado to get in some snowboarding. This week, he's +30 after three rounds. This week, right now, I just wish the guy would stop embarrassing himself.

Duval talked at the end of last year about how his golf game was coming back into form. Double D then put his clubs in the corner and snowboarded the entire off-season. As a British Open and Players Championship winner, Duval is exempt on the PGA Tour for a few more years. He can enter the field at nearly any event he chooses to. That, unfortunately, does not mean that he should.
Duval's participation steals a spot from someone more deserving. Someone without a multi-million dollar endorsement deal. Someone who's not financially secure. Someone trying to reach the pinnacle from which Duval has fallen so quickly. Someone, frankly, better than Duval. It's highway robbery, and not the Robin Hood variety – Duval is clearly robbing from the poor every time he tees it up. It's the American Dream in reverse, folks, and it's painful and infuriating to watch.
I'm pulling for a Duval comeback. I really am. But I don't understand how going +9 in three holes is going to improve Duval's confidence. I don't see how he can justify taking a spot from someone more deserving. David, go home, please. Find a driving range, hire a new instructor, do something. Do what you need to do to approach a round of even par now and then. Until then, David, please just stay away.
I say this as a fan, David: if Maury Povich is beating you, get off the damn tour.
What do you think? Comment below or discuss it in our forum.
Photo Credit: © Getty Images