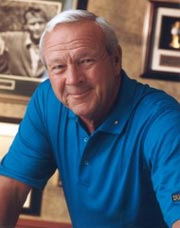 From the Associated Press comes news that Arnold Palmer, age 75, was married yesterday in what is being described as "an intimate ceremony" in Hawaii. Vows were exchanged in a seaside cottage on a course Palmer designed at the Turtle Bay Resort.
While players like Tiger Woods and Phil Mickelson are very popular, perhaps no golfer – or athlete – has been as popular as Palmer has been over the last half-century since bursting onto the scene to win the 1958 Masters. The swashbuckling Palmer's fame was further cemented when he charged to victory to win the 1960 U.S. Open, driving the first green, a 346-yard par 4, in the final round. Coming from behind by seven strokes heading into that final round gained Arnie's Army a great number of recruits. Palmer would go on to win sixty-one times in the PGA Tour.
Congratulations to the new Mr. & Mrs. Palmer.
Photo Credit: © Hear-It.