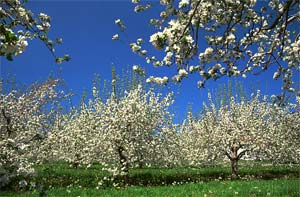 I live in Erie, PA. After yet another long, cold winter, spring has finally arrived! Sure, I kept busy putting on my indoor putting green and hitting balls in a nearby golf dome, but nothing compares to the feel of real grass beneath your feet, the breeze in your face, and an actual green in front of you.
Of course, you don't just leap out into spring. You can do a lot in the first week or two of spring to ensure you have a successful season. Here, for your enjoyment, is the Official Sand Trap Guide to Spring.

Your Swing
Most golfers start the year with a nice, easy swing. Great! Try to keep it that way. Tiger Woods swings at 80%: you should too. It's amazing how well you play when you have good tempo and a nice relaxed swing.
Instead of spending time on your long game, which may in fact be better than you left it, focus on your short game. Take some old balls to a yard or a nearby field and practice your pitching and chipping. Hit to specific targets. Develop a feel for your short game to complement the long game, and you'll start the season on the right foot.
If you must practice your long game, spend a good amount of time stretching. Refresh your muscle memory, and take it easy.
Your Course
Springtime brings rain and wind. We've certainly seen it on the PGA Tour! Your course will play longer and tougher than you remember. The greens will be bumpy.
Practice hitting knock-downs and low shots. You won't need to worry about spinning the ball a lot – the soft greens will more than make up for the lower shots with less spin. Instead, concentrate on keeping the ball out of the win and controlling the distance. Combined with your relaxed, 80% swing, knockdowns are the key to scoring in wet, windy conditions.
Accept that the greens are bumpy. Strike putts firmly and take extra care in getting the speed right. A bumpy green may knock your ball a foot offline, but if you get the speed right, that's just a tap-in.
Your Equipment
Hopefully you've not let your equipment just sit around all winter! Here's our five-step guide to getting your equipment ready for a new season:
Clean out your golf bag. You probably don't need that old energy bar, your worn-out glove, dirty socks, or seven divot tools. Put in a new copy of the Rules of Golf, some dimes for those times you forget your ball markers in your car, and a bunch of tees.
Clean your clubs. Get a soft scrubby brush, some soap, and some hot water. Dry them well.
Change your spikes or get new shoes. Waterproof shoes last a good 2-3 years these days, but a golfer with wet feet lasts only a few holes.
Get your clubs re-gripped! Arnold Palmer says it all the time, and that's good enough for us! Regrip your clubs at the beginning of the year, if not more frequently. Once you've cleaned your clubs and re-gripped them, they'll feel like a new set.
Buy a box of Precept Ladies. Or, if you can't handle the attack on your manhood, the Precept Laddie. The balls are lower-compression and will travel nicely in the chillier days of early spring. These balls are a cult hit for a reason.
The Masters
If you've not already reminded your wife that you're not to be disturbed – and that you will no be finishing any chores – on April 9 and 10, do so now.
Get Out and Play
Like you need to be told! Sheesh!
Photo Credit: © greyroots.com.