As I continue through my off-season plan (which you can read here and here), one aspect that I have tried to work on is a more golf specific fitness plan. Not the "I made a resolution to workout, blah, blah, blah" plan, but to actually incorporate exercises that will help ingrain better muscle memory for my golf swing, increase flexibility, and prevent me from losing any time during my golf season due to injury.
I also have another motivating factor which is purely selfish as I want to be one of the first men not to gain any "sympathy weight" during my wife's pregnancy.


Rather than spend money on a gym membership and risk the chance I would be too lazy to drive there, I built a small gym in my basement. Over the last three years I have purchased an elliptical, a treadmill, a Bowflex, a Swiss Ball, some dumbbells, and a five-pound medicine ball. I still need the 50-inch plasma, but that's for another time… <grin>
I have moved from the "how much can I bench press follies" of my youth into a total body workout plan that incorporates not only exercises to generate power and create muscle mass but also even more important, to develop and maintain flexibility. Flexibility and stretching is one area that I personally did not pay any attention to in the past and this lack of focus has caused a few minor injuries over the years. There's nothing worse than having to miss out on part of your golf season due to injury or having to cut your golf trip short because you can't finish the first day's 36 holes.
With all the different workout equipment available as well as several magazines, DVDs, and infomercials, it can be a bit daunting to put together a fitness plan. Your plan doesn't have to be that elaborate nor do you need to spend thousands of dollars on equipment that will end up being nothing more than a place to hang clothes to dry. Doing a little research before you start can save you time, money and frustration.
One of the better websites that I have used is the Titleist Performance Institute. Since Erik's review, MyTPI has gone from charging for their services (and individualizing your workout) to a free site that contains a great deal of information. They have quite an extensive article database you can use to find different exercises to assist in building a workout plan, video tips that show you how to do all the exercises as well as the Golf Fitness Academy clips that you may have seen on The Golf Channel.
If you are looking for a starting point to help build a workout plan, MyTPI is the place to go. Some other good resources I have found were the fitness sections at Golf Digest , Golf Magazine, Men's Health and The Golf Channel. All contain various golf specific exercises and workout plans that you can pick and choose from to develop a routine that is tailored to you.
If you have a gym close by or need a personal trainer to motivate you to keep you on your plan, then joining a gym may be a good idea. You have numerous pieces of fitness equipment available to use as well as the assistance of a staff of personal trainers that can help design a fitness plan that can help you reach your goals. Also, you have different classes you can take so don't get bored doing the same routine over and over. The last gym I belonged to even went so far to cater to golfers as to develop not only golf specific exercises their members could incorporate into their routines but also set up entire workout classes for golfers.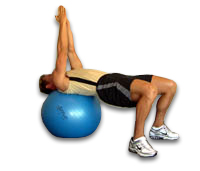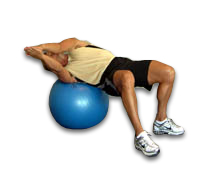 Cardiovascular activity is also a very important component to your workout routine. According to the the American Sports Medicine Institute:
Cardiovascular fitness is a special form of muscular endurance. It is the efficiency of the heart, lungs, and vascular system in delivering oxygen to the working muscle tissues so that prolonged physical work can be maintained. A person's ability to deliver oxygen to the working muscles is affected by many physiological parameters, including heart rate, stroke volume, cardiac output, and maximal oxygen consumption.
Walking briskly, running, biking, swimming, cross-country skiing and playing basketball are just some examples of activities you can do to get into better shape. Also, taking the stairs rather than using an elevator or parking your car further away from the entrance/exit door at work or at the mall are some other subtle ways you can exercise everyday.
Conclusion
Building an exercise plan doesn't have to be a difficult proposition. You don't need to spend hours upon hours putting together a complicated plan that you will abandon in a few weeks. Start with simple and easy exercises and move up as your strength, flexibility and motivation increases. It could be something like walking on a treadmill while watching golf on the weekend or jumping rope in your basement or garage several times a week. It doesn't have to be expensive either. Jump ropes, medicine balls, swiss balls, free weights and tubing are all examples of fitness equipment that is inexpensive and will provide you with many ways to gain strength and flexibility. Whether you buy a gym membership or pick up some equipment to use at your home the most important thing you can do is to start exercising today. Exercising not only will help out your golf game next season but will also help ensure you have plenty of golf seasons to come.
Photo Credits: © Golf Link, © MyTPI, © About:Golf