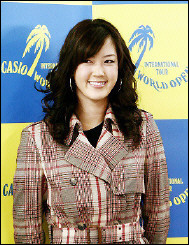 Michelle Wie is fine-tuning her language skills this week as she ventures to the remote island of Kochi, Japan to play in the $1.2 million men's Casio World Open. She will be playing her first professional event since being disqualified at the LPGA Samsung World Championship over a month ago after signing an incorrect scorecard.
Several hundred people were at the airport to greet Wie as she stepped off the private jet flown from her home in Honolulu to Japan. "Konnichiwa, I am very much moved by your welcome," the sixteen-year-old said in Japanese. "I will do my best and please cheer for me!"
Since her parents are originally from South Korea, Michelle is already fluent in Korean. The Wie's settled in Hawaii in the 1980's. The younger Wie is currently taking up both Chinese and Japanese as "Wie Inc." expands into an ever-growing Asian market.

Although Michelle has had the opportunity to shine in six assorted men's tournaments including three on the PGA Tour, she has been unable to make the cut.
The above statistic doesn't mean that the Hawaiian isn't qualified to play alongside the top golfers in the world, both male and female. She has been playing golf since the age of four. At the tender age of ten, Wie qualified for the U.S. Women's Amateur Publinks tournament by shooting a 64! By the time she turned eleven Michelle had won almost every junior tournament she entered.
It took her another two years from that amazing round of 64 (she was twelve) to qualify for her first LPGA event. In 2004 Wie qualified to play at the PGA Sony Open and became the youngest golfer ever to do so. She convinced even the biggest naysayers that she could play alongside the men. With rounds of 72-68, Wie missed the cut by a single stroke and she was only 14 at the time! The year prior the Hawaiian teenager finished in a tie for 47th place out of a field of 97 men (pretty much right in the middle) playing from the same tees!
In LPGA events, Wie has been dynamic. She has four top-ten finishes in eight major events. Just this season Wie tied for second in the LPGA Championship (Sorenstam won) and had a third-place finish in the British Open.
The tour players all have something to say about Wie. Tom Lehman played alongside of Wie in a pro-am and dubbed her "the Big Wiesy" after comparing her swing to top golfer Ernie Els ("the Big Easy" rhymes with Wiesy). Being six-foot tall and hitting the ball about 300 yards off the tee is also a good comparison to Els.
Even the top golfer on the PGA Tour thinks that Michelle can qualify this week in Japan. A prodigy in his own right Tiger Woods can't say much about the course she'll be competing on because he hasn't played there, but he believes Wie "has all the talent in the world and if she puts it together, I don't see any reason why she can't make the cut."
Wie even arrived a week early so that she can get accustomed to the course and the culture shock.
"It's the first time for her as a pro in Japan and the pressure will be very new to her but I think she'll handle it well," stated Woods who will be competing in the Grand Slam of Golf this week.
Michelle Wie isn't the only female to have appeared in this particular event. LPGA Tour player Sophie Gustafson tried but failed to make the cut back in 2003.
But Michelle isn't like the other female golfers. For one thing her management is all Hollywood. The William Morris Agency has given Wie the opportunity to sign contracts with giant corporations Sony and Nike to the tune of $10 million dollars. Just recently Wie even donated $500,000 to Hurricane Katrina relief victims with all of her new-found wealth.
But celebrity status brings out all of the crazies who say they know you too! Korean police recently apprehended a man who claimed to be Wie's "close relative" after he bilked people out of millions with a golf-course scam and "shoe-sterilizing factory" in her hometown of Jangheung, Jeonnam. But that's what it's like to be a celebrity in the public eye. Wie better get used to it!
But I'm straying from the importance of the task at hand. For Wie that is to compete successfully this weekend in Japan. All of the accolades and nuances of her status can wait until Wie wins a professional tournament.
After playing a few rounds this week Michelle has been getting accustomed to the layout of 7,220 yard Kochi Kuroshio Country Club. She will be competing against first-round veterans Shinichi Yokota and Taichi Teshima.
"The greens are quite fast and undulating," stated Wie. "There are a couple of really long, challenging holes and I love the snack stands that they have between holes. I wish we had those in America."
Spoken like a true-teenager.
Photo Credit: © Todayonline.com.