During a recent trip to the PGA Tour's stat website, I stumbled across some more stats that they are keeping. Yup, that's right, more numbers in which to drown myself. Stats such as proximity to hole, GIR % from other than fairway, average distance of putts made and others popped up and got my interest.
This week in The Numbers Game, I'm taking a closer look at a few of these to answer a question or two I had. Also I wanted to throw out a few factoids for you to chew on.

Rough Tendency
Yes, I have a tendency to hit the rough. We all do. Something I've always wondered is if I miss the ball more right or left off the tee. I don't keep that stat yet, but for the pros there is both a Left Rough Tendency (LRT) and Right Rough Tendency (RRT) stat kept on tour. Using them I wanted to find out what the trend was.
I took each player's place on the LRT list and subtracted the RRT place from it. The result gave me a differential that if negative meant the player missed in the right rough more frequently. If positive, well, obviously they went left more than right. Here is the distribution of the results: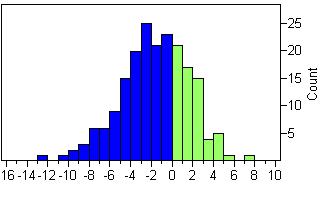 Skewed a little toward players missing it right (in blue), huh? More than twice as many people hit it right off the tee than left (132 to 64 to be exact). I was a little surprised at this. I didn't think it was going to be slanted that much.
Other than this telling us that players miss it more right than left, it says one more thing: where you should stand if you want to get a close-up view of the tour players. If it was up to me, I'd be walking down the right side of the hole. That is unless you're watching Phil, then you'd want to be on the other side. He's missing it left 20% of the time and to the right only 12.1%. Others of interest are Fred Couples who is on the opposite end of the spectrum… 21.6% right and 8.9% left, and Ernie Els who is the only person missing it just as much right as he does left.
I may have to rerun these numbers before going to my next PGA Tour event!
Average Distance of Putts Made
Another stat I found interesting. There are two provided as well. First, there is the average length of each putt made. The leaders in this area are around the 4'8″-4'10" range. Also, the average distance of putts holed in a round is there along with with each player's best round. I did expect the best putters in the game to be at the top of the list. Ben Crane jumped to #5 on this list from #12 with last week's great showing.
Len Mattice is #8 which is a surprise. He is near the bottom of the putting average list, but is holing longer putts. The reason why (or I should say most likely reason why) he is up so high is most likely because his proximity stats are so bad (proximity being another one of these smaller stats that I've been looking at). It basically means how close a player is hitting their approach shots. Mattice is dead last in proximity so he is getting more than his share of opportunities to make longer putts or have his first putt come to rest further from the hole than the average player.
Thinking forward, I may want to correlate proximity to putting average. People who are low (or bad) on the proximity stat, but towards the top of the putting average list would mean their putting was that much better. Another column for another day…
Lowest Round
Lefty has the lowest round of the year with his 60 at the FBR Open. Davis Love III follows him with the 61 he shot at the Hope. But as you know, there are the guys at the other end of the list. I filtered out anyone who had played less than 15 rounds since there are plenty of players that have only had a couple rounds this year. This was to spare a certain player who shot 106 in the first round of the Masters this year.
Anyway, out of the players that have been on the tour with some regularity there are four that are tied for the highest low score (sounds like an oxymoron). David Duval, Per-Ulrik Johansson, Miguel Angel Jimenez, and Hal Sutton all are stuck at 69. Now I'm not saying 69 is bad, because I'd love to shoot one at a tour event. Also, everyone knows Duval's struggles and I'm rooting for him to turn it around. I just wanted to put these names out there because I was slightly surprised (except for Duval) because they are all fairly well known players. Anyone who follows the tour has heard of Hal Sutton, especially after last year's Ryder Cup. I fully expected to see some 'lesser' names. Possibly a Garrett Willis. Or a David Gossett.
It Goes On…
There are some other cool stats like driving percent over 300 yards, going for the green and multiple scrambling stats. I'm going to try and make some more use out of these in the future. I had not given them too much of a thought at first glance, but when used together like I did for Len Mattice, a better idea of a players true game can be understood.
Take a look for yourself on the Tour's website. I only found some of these by drilling into a player's stats like Tiger, scrolling to the bottom and going through them all.
Please leave me a comment or email on your thoughts about these or other stats.