This year's PGA is being held at Baltusrol. The numbers are already rolling in. 7,392: The longest par-70 in PGA Championship history. 500: Two of the par fours will be longer than this. 647: The length of #17… which happens to be 17 yards longer than it was in the 1993 US Open.
So you get the picture. This year's PGA will be a test for sure. Predicting the PGA this year may be a bit more complicated than picking the long hitters. As I've talked about previously, there are more important things than mashing the ball 300+ yards… but it may help a bit this week and is factoring into my predictions.

It is hard to think of any one stat that may provide some insight into who might win this year's PGA. When you look at the list of past winners in the PGA, especially recently, you see a lot of first time major winners. Rich Beem, Shaun Micheel and some other one-hit wonders have found victory. Their stats for that year were all over the place.
Again, given last week's article, I'm a big fan of GIR and Putting Average. I think that Total Driving may be something worth factoring in because of the length of the holes and also width (or lack thereof) of the fairways. Ball striking is a factor in any major and this year everyone thinks that Baltusrol is set up to make it an even larger factor.
I'm just going to list the usual suspects and some others I feel may be there in the end. I didn't do too well with my British Open predictions, so take these with a grain of salt. And sorry, no graphs this week…just numbers.
Favorites
Tiger – GIR 6th, Putting 12th, Total Driving 63rd
In the two money stats, GIR and Putting, Tiger is near the top. He is having one of his best years on tour and is equally impressive statistically. For anyone thinking his woman would hurt his golf game, sorry. It isn't happening. If he isn't in the top 5 after Sunday, I will be shocked.
Vijay – GIR 2nd, Putting 48th, Total Driving 11th
Vijay has been nearly as (or in some cases more) impressive as Tiger. If he didn't struggle with his putter during the Open and middle of the year, I'm betting that we'd be talking just as much about him as we would Tiger. Vijay isn't the most accurate driver on tour, but still manages to hit 64.8% of the greens from the rough. Good enough to be 2nd on tour. Mr. Personality will be there in the end as well.
Phil – GIR 43rd, Putting 17th, Total Driving 63rd
Phil just hasn't seemed to put a string of good rounds together in a major this year. His putting is pretty good, but as for ball striking, is having a slightly off year. I just don't get a good feeling about his game now. I think he will have two good rounds, one fair round and then a poor one.
Retief – GIR 21st, Putting 69th, Total Driving 20th
Always a solid pick in the majors. But even with his win last week, I don't feel as good about him as I do the others. My guess is that he will make the cut, finish somewhere in the top 25, but never really sniff the lead at any time. His putting just hasn't been there for him to win. If it comes around, watch for him though.
Ernie – Windsurfing 194th, Vacationing 155th, Stupidity 2nd
He has the right to do what he wants. I have no problem with that and Ernie will be Ernie, but I also have the right to think he's crazy to be windsurfing right before the last major. Oh, if you are wondering, Johnny Miller is and will always be #1 on my stupidity list.
2nd Tier
David Toms – GIR 21st, Putting 9th, Total Driving 14th
It's hard to imagine with his numbers that Toms wouldn't be a favorite. He's a very steady player that does a lot of things well and putts extremely well (as evidenced by his numbers above). Majors like players that don't make mistakes and Toms is that type of guy. I feel really good about Toms this week. Better than Phil or Retif. Of course I did feel really good about Furyk going into the British Open and we know how well that worked out.
Adam Scott – GIR 21st, Putting 64th, Total Driving 47th
One thing that was interesting about Scott's stats when looking over them is that of all his 'major' stats (i.e. GIR, Putting Average, etc), Scoring was tied for lowest. He does everything well and scores very well. Scott will break through sometime and it should be sooner than later. I'm not sure it will be this week, but I wouldn't be surprised if it is.
Sergio Garcia – GIR 4th, Putting 199th, Total Driving 38th
Another great ball striker, but you can see where his deficiency is. It is stunning that he finished 3rd in the US Open and 5th in the British Open putting as poorly as he did (1.894 and 1.982 putts per GIR respectively). A couple times he managed to get under 1.8 putts per GIR he won the Booz Allen and lost in a playoff at the Wachovia by incidentally 3 putting from 45 feet and missing a 6 foot par putt.
I love watching him play and will root for him, but can't see the 3rd worst putter on tour winning the PGA. Sergio can overpower most golf courses and hit a ton of greens, but if the ball isn't going in the hole, what's the difference? The distance between himself and Tiger, that's what.
Chris DiMarco – GIR 81st, Putting 5th, Total Driving 159th
Not the longest hitter by any means and not the most accurate. This probably spells doom for DiMarco. But this is the same guy who nearly won last year playing a monstrous Whistling Straits and almost won the Masters this year. I love Chris because he rises to the occasion and never gives up. I don't think he'll win this year, but never ever count Mr. DiMarco out.
Sleepers
Sean O'Hair – GIR 40th, Putting 150th, Total Driving 8th
Awful young guy to be here, but I've been very impressed with him. Since missing the cut in 3 of his first 5 tournaments, he has only missed making the weekend once. He won the John Deere, finished 2nd at the Byron Nelson. I think this is the beginning of another solid golfer. His ball striking is wonderful. Not the best putter in the world, but if he gets it going for the week, watch out. If he does manage to be near the top during the weekend, will the pressure get to him?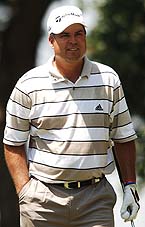 Kenny Perry – GIR 5th, Putting 141st, Total Driving 1st
If Kenny gets hot with the putter, watch out. He is the #1 ball striker on tour and also is 9th best in proximity to the hole. The amazing thing is that even though he hits it on the green with more regularity and closer than most, his putting stats are iffy at best. I want to believe that he would be better just by virtue of being closer, but it isn't so. Another person that if he manages to get comfortable on the greens, he may just make a good run.
Two items to chew on about Kenny: He's finished 11th or better 7 out of 18 times this year. Also, he finished 25th in the '93 US at Baltusrol.
Luke Donald – GIR 25th, Putting 33rd, Total Driving 108th
Haven't heard much from him in the past few weeks. Luke finished 52nd in the British Open and 40th in the international last week. Here is another steady guy that I think is ready to win a major. The only problem is that he isn't a long hitter and is in the bottom half of Total Driving.
Final Thoughts
I love the few days before any major. There is always more reporting, talk and controversy surrounding these events. It seems that the length of whatever course the tournament is being played at is at the heart of it. This week is no different. The "Beast of Baltusrol" is waiting to be tamed, but by whom?
Cody seems to think that a younger champ such as Sergio or Adam Scott will walk away this week. I can't get by Tiger this week though. He is playing at such a high level and has such a command of his game that it's hard to imagine him not taking the Wanamaker Trophy home on Sunday. Putting Tiger aside, if I had to pick the guys right behind him it would be Toms, Vijay and Perry.
Let me know what you think. Post a comment and sound off.
Photo Credits: © Unknown, Steve Grayson/ WireImage.