The 2008 Ryder Cup is still five months away, but it's definitely sneaking up on golf fans. The United States hasn't won The Ryder Cup since 1999, but the Americans will be looking to change that this year on home soil. They were embarassed four years ago on home soil, but there will probably be a lot of different golfers teeing it up this time around.
In a couple weeks, I'll break down the current status of the European Ryder Cup team. This week, however, it's the underdog United States side that gets the spotlight. I'll start with the usual suspects that have almost guaranteed their spot on the team already, and then I'll talk about some middle-of-the-pack guys, possible first-timers, and more. It's still early, but that doesn't mean we can't start thinking about the greatest event in golf.

The Usual Suspects
The top four in the U.S. Ryder Cup standings right now are Tiger Woods, Stewart Cink, Phil Mickelson, and Jim Furyk. All four have played solid this year and have nearly wrapped up their respective spot on the team. These guys are also very experienced when it comes to The Ryder Cup. Mickelson has played in six, while Woods and Furyk have played in five. Cink has played the last three.
To say these four will be a huge key at this year's Ryder Cup is a huge understatement. They are going to have to step up their game and lead the United States all week. Woods has a decent singles record, but his overall record is below average (10-13-2). Mickelson (9-12-4), Furyk (6-12-2), and Cink (3-5-4) haven't been very solid either. If the U.S. wins this year, these four guys will have to be above .500. They are the experienced veterans, and they will have to lead on and off the course.
The Next Tier
The next four in the current standings are Boo Weekley, Steve Stricker, Zach Johnson, and Justin Leonard. This group has played in a total of three Ryder Cups between them. Leonard played in 1997 and 1999, while Johnson's only appearance was two years ago at The K Club.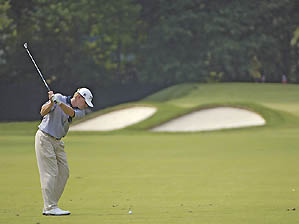 It's hard to believe Stricker hasn't ever played in The Ryder Cup, but he will be teeing it up this year unless he hits a huge slump the next few months. He played very well at The Presidents Cup last year, and while that isn't the same, it's still something to build upon. Stricker's solid short game is perfect for team competition, and his presence will be huge.
Boo Weekley is currently fifth in the standings, and it's hard to say whether or not he will hold down his spot the rest of the way. He obviously has the game to be on the team, and his cool demeanor would be a welcome addition. That being said, he isn't a must-have for the United States right now unless he continues to build on last week's victory.
The same can be said for Justin Leonard. While he did make the famous winning putt at Brookline in 1999, his overall record is less than par (0-3-5). That's right, Leonard has never won a match in his Ryder Cup history. It's been nice to see the Texan playing well the last six months or so, but he is going to have to win some matches if he makes the team this time around. If Leonard falls out of the top eight, he probably won't get a captain's pick.
That brings me to Zach Johnson. The 2007 Masters champ made his Ryder Cup debut in 2006 and played decent. His record was 1-2-1, but he was actually one of the few bright spots for the American side. At times, he carried his respective team. Regardless of where he ends up in the standings this year, Johnson will be on the team. He will be a captain's pick at the very worst. His gritty mentality is perfect for team competition, and his solid short game is always a plus.
Young Guns on the Rise
All the golfers mentioned above are over 30 years old which seems to be an American trend in recent years. However, there is a solid group of young guns in the 9-14 range in the standings. This group includes Brandt Snedeker, Sean O'Hair, J.B. Holmes, D.J. Trahan, and Hunter Mahan. All five guys have won in the last calendar year, and they all have a ton of potential.
The three that stand out to me the most are Snedeker, O'Hair, and Mahan. Holmes and Trahan have what it takes as well, but they won't be as consistent as the other three. Snedeker had a tough final day at this year's Masters, but his creativity around the greens is perfect for Ryder Cup play. His drive and will to win also impress me, and that's something the U.S. sorely needs right now.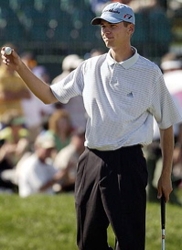 Sean O'Hair has as much talent as any American, and he also has a very calm demeanor. It's questionable whether or not O'Hair has the killer instinct needed to win Ryder Cup matches under pressure, but it would be nice to see him give it a shot. Mahan is one of the best ball strikers on the PGA Tour, and he is very dangerous when he gets the putter going. His consistency worries me a little, but his play at last year's Presidents Cup was very impressive. Mahan and Stricker were dangerous as a team last year, and it would be interesting to see if they could do it again.
It would be nice to see these young guns qualify on their own, but a couple of them need to be on the team regardless as long as they continue to play well this season. The U.S. needs to continue to develop golfers under 30, and Ryder Cup pressure is one of the best ways to do that.
Also keep an eye on Anthony Kim and Nick Watney. Both golfers are starting to come into their own and could have a breakout at any time. More than likely, neither will be a captain's pick, so both will have to play their way into the top eight in the standings. It probably won't happen, but you never know. Both Kim and Watney are worth mentioning if nothing else.
Possible Captain's Picks
United States Ryder Cup Captain, Paul Azinger, has changed the way the American team will be selected this year. In the recent past, the top-10 golfers on the list qualified, and then the captain made two picks. This year, there will be four captain's picks. There are several golfers on the watch list including Woody Austin, Scott Verplank, David Toms, and Davis Love III. Other than Austin, the others have past Ryder Cup experience.
Woody Austin has been playing well enough over the last year to qualify on his own. His play at The Presidents Cup last year was solid as well, and he would be a welcome addition to the U.S. team. "Aqua Man" is one of the best ball strikers on the PGA Tour, but his putting is inconsistent at times. Nonetheless, I expect Austin to be a part of his first-ever Ryder Cup.
Scott Verplank has played well in his two Ryder Cup experiences, and his grit and determination is a great quality to have. The Texan hasn't played well as of late, but maybe this week's EDS Byron Nelson Championship will get him going in the right direction. If he is playing decent golf around selection time, he will be a captain's pick at the very least.
Speaking of not playing well, David Toms fits the bill. Toms has been one of the most consistent American golfers since 2000, but he has struggled lately. He has missed three cuts in seven events this season and has fallen to 34th in Ryder Cup standings. He still has plenty of time to make the team, and a healthy and focused David Toms is definitely an asset. Unfortunately, a late-season run seems highly unlikely judging by his recent performance.
Last on the list is my surprise pick to make the team, Davis Love III. Fans haven't seen the dominant DL3 in awhile, but he has had a very focused look in his eye lately. His play has also started to come around. He is 50th on the qualification list right now, but he is going to make a run in the next few months. Love has stated he feels great, and it's only a matter of time before he contends on a regular basis again. It wouldn't surprise me to see him win a tournament before selection time. DL3 was left off the last U.S. Ryder Cup team, but something tells me it won't happen again.
The Final Say
There is a ton of time left before the U.S. Ryder Cup team will be selected, and the standings will more than likely be jumbled up several times between now and then. However, it's still not too early to talk about the status of the standings. This event is the best in golf, and it deserves the attention.
It's nearly impossible to pick the team right now, but here's my guess as to how things will finish. The eight that will qualify automatically are Tiger Woods, Phil Mickelson, Jim Furyk, Stewart Cink, Steve Stricker, Zach Johnson, Brandt Snedeker, and Woody Austin. The four captain's picks will be Hunter Mahan, Sean O'Hair, Scott Verplank, and Davis Love III. That will give two young guns and two gritty veterans. Whether or not that team has what it takes to end the losing streak is an entirely different story.
It's your turn to let me know what you think about the current status of the U.S. Ryder Cup team. Which guys worth mentioning did I forget to talk about? Also, feel free to list your 12-man prediction for the team. Finally, does the U.S. side have a chance to break the losing streak this year on home soil? If you have anything to add, please comment below or discuss it in the forum. Thanks for reading this week's Thrash Talk!