The 2007 LPGA Tour season is in full swing, but it's been flying under the radar of many. The first major championship of the season wasn't nearly as exciting as last year's edition, and that has definitely hurt things a little. I was happy Morgan Pressel won the Nabisco Championship, but the way she won it wasn't very thrilling. She basically finished her round and watched the leaders crumble coming down the stretch.
In other action on the LPGA Tour this season, a young gun returned to the winner's circle for the first time in over a year, someone other than Annika is number one in the world, and the Korean contingent is still looking for their first victory of the year. There have been some positives and negatives so far in 2007, and I'm here to break them down.

Positives
A New Number One
Even though the Rolex Women's World Golf Rankings debuted just last season, Annika Sorenstam was considered the world's best female golfer long before that. Sorenstam's stranglehold on the world rankings was second only to male counterpart, Tiger Woods. Fortunately for golf fans, Lorena Ochoa recently knocked Annika off her pedestal to become the world's top female golfer.
I have nothing against Sorenstam, but it's nice to see a little shakeup in the world rankings every once in awhile. It was the same when Vijay Singh finally knocked Tiger off the top in late 2004. It didn't last long for Singh, but it was still pretty cool to see a fresh number one for a change.
Lorena Ochoa has a lot to prove now that she is number one in the world. She hasn't had a perfect 2007 season so far, but she has played solid golf for the most part. Until she wins a major championship, however, the critics (including myself) will remain. All in all, it's nice to see her at the top, and she will more than likely be there for awhile. Also, I'll be surprised if she doesn't win a major this season.
Morgan Pressel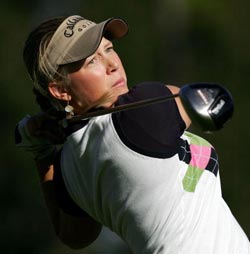 Since Morgan Pressel made waves at the 2005 U.S. Women's Open, I have been a fan. Most people seem to be Michelle Wie fans, but I consider myself a Morgan Pressel fan. I never thought Pressel would win an LPGA major before Wie, but I'm extremely happy she did. Even though Wie wasn't in the field due to injury, the victory was still sweet as a fan.
Michelle Wie is probably more talented than Pressel, but she still hasn't won an LPGA Tour event. Pressel not only has a win, she has a major championship victory. That's definitely the number one bright spot so far in the 2007 LPGA Tour season. It will also make things more interesting once Wie returns from injury. The Big Wiesy will have to answer a lot more questions about Morgan Pressel winning before her, and I can't wait to hear some of the responses.
Paula Creamer's Return to the Winner's Circle
Paula Creamer took the golf world by storm in 2005. The Pink Panther won two LPGA Tour events two years ago and carded 11 top-10 finishes overall. Also, the young gun put together a dominant performance at the 2005 Solheim Cup. It definitely looked like Creamer was going to be Annika's top challenger for years to come.
The Pink Panther played well last year, carding 14 top-10 finishes. However, she didn't find the winner's circle, and that's what separates the great golfers from the rest of the pack. At the first LPGA Tour event of 2007, Creamer made an early statement by returning to the winner's circle for the first time in over a year. Something tells me it won't be her only win of the season.
Paula Creamer is very talented and marketable, so it's definitely a positive to see her win again. I'm sure I'm not the only fan that wants to see a Creamer vs. Ochoa rivalry start up this season. Both are filled with youth and talent, and it would help spice things up on The LPGA Tour. Mix in Annika, Pressel, and Wie, and we have ourselves a great foundation to build upon.
Negatives
Golfers Missing in Action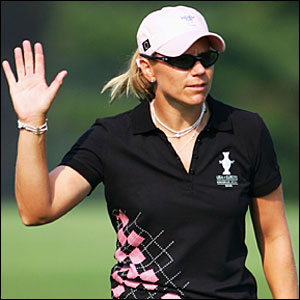 I already mentioned both Annika Sorenstam and Michelle Wie in this week's article, but it never hurts to mention their names again. Sorenstam has only played in three LPGA events this season, finishing in a tie for 30th at the season's first major championship. Golf fans won't be seeing Annika as much this year because of a back injury. No Annika isn't real good for women's golf right now.
Michelle Wie, on the other hand, hasn't played any LPGA Tour events this season due to a broken wrist. Wie was smart to finally have surgery, but her absence has been boring. I'm not a Wie fan, but she is still great for the game just as Tiger and Phil are on the men's side of things.
Sorenstam and Wie can't get back into the action soon enough. Any time the two highest-profile names are out, interest decreases significantly. It's nice to see others step up their respective golf games, but it just isn't the same without Sorenstam and Wie. Wow, I never thought I would miss seeing Michelle Wie, but I actually do. I have to have someone to pick on right?
Natalie Gulbis' Struggles
My favorite LPGA Tour golfer is Natalie Gulbis, and it's not because of her good looks (that doesn't hurt the situation any). Last year, Gulbis was very consistent and seemed to put herself in contention on numerous occasions. She had a couple close calls in finding the winner's circle, including a major championship, but she still hasn't gotten the job done.
It looked like Gulbis was going to be a consistent star for years to come, but she hasn't been close to consistent in 2007. In six starts, she has missed three cuts and has zero top-10 finishes. It hasn't been good so far, but Gulbis did finish in a tie for 11th at the last event. Maybe things are starting to turn around for the young gun.
Like Creamer, Gulbis has a world of talent and is as marketable as it gets, so things can only get better if she is playing well. Whether or not Gulbis regains her consistency from a year ago remains to be seen, but it would be nice to see her play well and even win a time or two. Her struggles this season have definitely decreased my interest level in The LPGA Tour.
The Final Say
There are probably more things to talk about when it comes to The LPGA Tour, but these are the main topics from 2007. Like I said earlier, I haven't been as interested this season as I was last season, but that could change. The season is still very young, and I'm sure fans will witness a lot of exciting moments from now to the finish line. I hope so anyway.
Now it's time for you to tell me what you think about this week's article. What have you enjoyed most about the 2007 LPGA season? Also, how much does it hurt having both Annika and Wie out due to injuries? Finally, will Natalie Gulbis bounce back and be as consistent as she was last season? If you have anything to add, feel free to comment below or discuss it in the forum. Thanks for reading this week's Thrash Talk!
Photo Credits: © Getty Images, © BBC Sport.