Byron Nelson holds one of the most impressive records in the history of any sport. When you consider that golf is an individual not a team game it is even more remarkable.
He won with one of the most fluid easy swings in the history of the game. His compact swing became the template for future players. "The mechanics of my swing were such that it required no thought," said Nelson. "If you have to think about your swing it takes that much away from your scoring concentration."
And he did score. And win. Take a peek…

Number Five: 52 PGA Tour Titles
Only five men have won more events on the PGA Tour than Byron Nelson: Tiger Woods (56), Arnold Palmer (62), Ben Hogan (64), Jack Nicklaus (73), and Sam Snead (82).
Nelson won a total of 51 events between 1935 and 1946. He owned the Tour throughout his twenties and into his early thirties. It would have been easy, as Tiger Woods pointed out, for Nelson to collect more wins that Sam Snead had he continued playing into his forties.
Number Four: 18 in '45
It is noteworthy that Lord Byron won his record number of events in the same year as our boys began mopping up Hitler's mess in Germany. It was 1945 when Nelson began his defining professional year.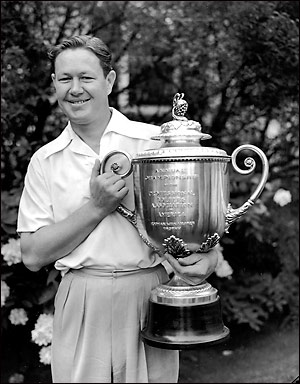 Ben Hogan won eight events in 1948, Sam Snead 11 in 1950, Hogan 13 in 1946, and Nelson 18 in 1945. The second most events Nelson won came a year before in 1944 when he won eight. In the modern era, only Vijay Singh (2004) and Tiger Woods (2000) have sniffed Nelson's remarkable feat of 18 wins in one season, and they only got halfway there. I don't think this record will ever be broken. Tiger would have to win every event he enters.
Number Three: Five Majors
From 1936 to 1951 Nelson finished in the top ten 27 of the 32 times he teed it up, an astounding 84%.
He won two Masters (1937 and 1942) and finished in the top ten fourteen additional times at Augusta National. He played the Masters every year it was held until 1966. He finished T15 at the 1965 Masters, one year before his final competitive appearance. He had the role of honorary starter at the Masters for many years after his competitive years were past.
He won the 1939 U.S. Open for his only USGA championship, and notched four other top-five finishes at the U.S. Open. He won two PGA Championships (1940, 1945). Unfortunately for Nelson there were few majors through the war years. Imagine what he might have done if a few more majors had been available to him in his prime.
He played the British Open only twice and never won it. In 1937 he finished fifth and in 1955 he finished T32.
Number Two: Eleven in a Row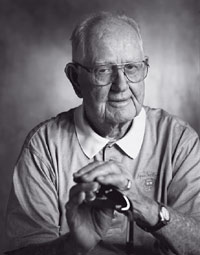 Nelson said of his 11-in-a-row streak, "The streak was something I never thought could happen. I look back on it now and if I didn't see so many facts and figures, I'd almost think it was a good, long dream."
Arnold Palmer said, "I don't think that anyone will ever exceed the things that Byron did by winning 11 tournaments in a row in one year." Eleven in a row implies that every players you go against doesn't have an answer for what you throw at them. It requires that you play consistently better than anyone else for three months.
This is the same year that he finished second seven times and never finished outside the top ten.
Number One: Character
Never could there have been a gentler or more humble champion. Nelson was a prolific winner who knew how to edge out his opponents. He wasn't scared of anyone. Even Hogan, that Hawk, couldn't seem to beat him when the chips were down.
Nelson always had owning a Texas ranch in mind through his career. Every bit of prize money was another acre, a tractor, a cow, and another step towards the fulfillment of a dream. It appears that he had the right things in mind: family and a simple quiet life.
The tournament named in his honor has given more charitable dollars away than any other which speaks highly of Mr. Nelson's giving heart. On hearing of his death, Augusta National chairman Billy Payne said "Today we have lost a truly wonderful gentleman."
PGA.com's Grant Boone said:
Nelson never brandished his faith as a weapon, choosing instead to extend an empty and open hand in friendship to all comers. And did they ever come. Wherever the debate over which golfer is the best of all time ends, Byron Nelson was the game's finest man, hands down.
Nelson will long be remembered for his winning ways but over and above his ability to win at the game we call golf he was a gentleman. And he will be sorely missed.
Photo Credits: © SI Golf, Golf Digest .com.