Golf is hard.
Add to this the fact that most instructional golf books are not worth the paper they are printed on. Most players trying to learn how to play the game from a book have so many swing thoughts they're unable to take the club back. They stink.
Until recently, most golf instructional books were written to either help you improve your swing or trying to help golfer on the mental side of golf. The problem is that it's quite difficult to learn and build a golf swing from a book. Sure, they have pictures and illustrations, but how much can aspiring golfers learn from looking at a static picture of Tiger hitting a 300-yard drive? More importantly, how much can they teach themselves from staring at a picture of Tiger Woods?
Recently, though, the trend in instructional books seems to have shifted a little. Now you are starting to see books that help golfers from more of a statistical point of view. Recent books from Mark Broadie, Every Shot Counts, and Erik J. Barzeski and David Wedzik, Lowest Score Wins, are some examples of books that take a fresh approach using statistics to help you focus in on how to get better faster.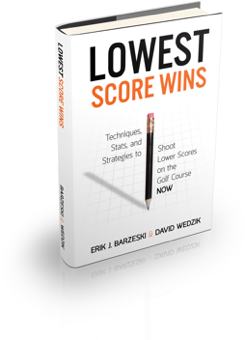 You might be asking what statistics have to do with getting your ball into a tiny hole hundreds of yards away. This is what I like to call the "old" or even "stupid" way of thinking, and helps to explain why so few books on golf strategy have ever been published. Jack Nicklaus's book Golf My Way and Tiger's book How I Play Golf offer golfers little insight on how to work your way around the course. These books offer no strategy, no plan for you get better. Listening to Jack and Tiger tell me that I need to have a good grip does not do much to lower my handicap or get me around the course in fewer strokes.
These new books shed light on how to make the best use of the limited time that most of us weekend warriors have available for golf. Take for instance that Lowest Score Wins tells us that we should not bother practicing fifteen to twenty-five foot putts. It alludes to, but doesn't say completely, that the types of putting practice we most commonly do is, for the most part, a waste of time. Holy smokes! Had I known that growing up my life would have been very different. I listened to the codger-y old men tell me to "drive for show, putt for dough." I now would have told them "Nonsense! I am headed to the driving range to practice my driver." In reading Mark Broadie's book one can most likely reach the same conclusion. Neither book says that putting is not important, but do illustrate that there are better ways to spend your time. As a golfer with an extremely limited practice budget (in more ways than one), this was groundbreaking news.
Books like this are going to be the new norm in my opinion. Golfers will learn to plot their way around the course based on their "Shot Zone" (a term from Lowest Score Wins). One of the many eye-opening parts of Lowest Score Wins is that your typical shot landing area may be a little right or left (and long or short) of your target. This can help you to aim at the right spot when facing a trouble shot with water on the right or left.
The point is to improve where you are likely to lose the most strokes. Like avoiding fairway bunkers because they basically cost you a shot. Details like this to help you chose driver or three-wood off the tee, which makes more sense.
The only book I have found that even resembled topics like this was written was Butch Harmon's Playing Lessons. This book went through a number of famous holes and Butch outlined a strategy for a 90s, 80s and 70s golfer. This was a very good book at the time. The challenge with this book is that it never offered any concrete reasons for why we should follow the recommended strategies. It never offered suggestions on where to improve but was more of a "hit your three wood to the left side of the fairway, hit in the bunker, blast out," then followed with a bunker tip that could be found in Golf Digest. It has the makings of a really great book, but missed the target on how to make me a better player.
Lowest Score Wins directs you to work on aspects of your game that will help you get better faster. For example, it tells us that most players should aim at the center of the green when more than 60 yards from the hole, then provides sound data on why this is true. It helps golfers like us turn three strokes into two over enough samples. Another? If you're in a greenside bunker, the first priority is to get the ball on the green, not to worry about where the hole is cut or getting close. This is very valuable, for both a new golfer who is just starting in the game and even an old dog such as myself.
I look forward to seeing more books written like these books where we can look to get better by analyzing where I should spend my time practicing or telling me to aim at the center of the green, even the detail of how to aim away from trouble effectively. Golfers are only going to benefit.
Photo credits: © Zimbio.