Tiger Woods, Phil Mickelson, Henrik Stenson, Charles Howell III, etc. have had great starts to their 2007 season. Their names have been in the headlines all year and will be favorites to win the season's first major championship next month. Other top golfers like Jim Furyk, Geoff Ogilvy, and Ernie Els haven't won any events in 2007, but they have still contended a little.
Now it's time to turn to the bad side of the spectrum. There are a few household names that have showed up to play golf in the past year or so, but they haven't played very well. Camilo Villegas almost made the list, but he snapped out of his slump at The Honda Classic two weeks ago. I'm going to list the struggling golfers, talk about their reasons for struggle, and make some predictions regarding their future.

Justin Leonard
When Justin Leonard won the 1997 British Open and 1998 Players Championship, it looked like he would be a future superstar. Leonard had a couple solid years after that before going into a slump just after the turn of the century. Before the 2005 PGA Tour season, the Texan made an equipment switch to Nike and went on to win twice in a four-month stretch.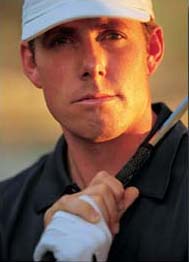 It looked like Justin Leonard was going to be a true factor once again, but things changed in a hurry. After a decent start to the 2006 season, Leonard fell into another slump. That slump is still going strong. In fact, he has missed the cut in all six events he has played this season. Leonard barely maintained his card last season, and things are looking a lot worse in 2007.
It's very difficult to pick out a key reason for Leonard's struggles because most of his statistics are awful. The Texan is still one of the most accurate golfers off the tee, but he is 88th in greens in regulation. On top of that, Leonard's putting is very shaky. He has always been considered a great putter, but he is currently ranked 167th in putting average.
Justin Leonard hasn't shown much fire since the 2005 Presidents Cup, and that will have to change for him to find future success. It will probably be a couple years at least before the Texan contends on a consistent basis again. His game is very shaky right now, and it will take him some time to iron out the wrinkles. I'm confident Leonard will get the hunger he once had and return to the PGA Tour winner's circle someday. Whether or not that's just wishful thinking remains to be seen.
Fred Couples
Fred Couples has always been a huge fan favorite, and it's been tough to watch his recent struggles. Couples finished in a tie for third at the 2006 Masters, but he hasn't played worth a flip since. In 13 PGA Tour events since last year's Masters, Freddie's best finish was a tie for 25th at Colonial. He also missed five cuts, withdrew from three events, and didn't even start one event during that same stretch. On top of that, he was also disqualified from a tournament during that timespan.
Needless to say, things on the golf course haven't been as smooth as Fred Couples' golf swing. Like Justin Leonard, Couples has struggled mightily with his putting stroke in recent years. Last year, he was ranked 181st in putting average! He has only played one event in 2007 (he also withdrew from Pebble Beach), and he missed the cut in that one.
I've given up on Fred Couples a few times in the last decade, but he always seems to return to form. Unfortunately, we have probably seen the last hurrah from Couples this time around. His health (bad back) has been slowly deteriorating in recent years, and he obviously isn't getting any younger. His motivation to play has also been questioned in recent years, so he may not care to play at a high level anymore. The next time we see Couples contend on a consistent basis will probably be as a member of the Champions Tour.
Scott Verplank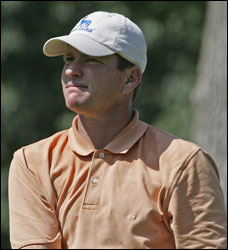 Scott Verplank is one of my favorite PGA Tour golfers, but that doesn't make him exempt from this week's list. Verplank was one of my sleepers to win last year's Masters, and he was playing consistent enough at the time to get the job done. His game since then has gone way downhill though. In the 23 events since the 2006 Masters, Verplank has only two top-10 finishes. In five events in 2007, Verplank has missed two cuts and was ousted in the first round of the WGC Accenture Match Play Championship.
The reason for Verplank's struggles is pretty simple. He is still pretty accurate off the tee, but his accuracy has dropped over the past year or so. His greens in regulation percentage, however, has dropped significantly! Verplank is a hell of a putter, but he won't score very well if he is putting for pars and bogeys instead of eagles and birdies. His iron play needs to improve for him to have a chance to contend against the big bombers on tour.
Scott Verplank is still only 42 years old, and his best days may still be ahead of him (similar to Vijay Singh). However, he must return to his form from late 2005 and early 2006. If anyone can return to form, it's Scott Verplank. He made one of the most amazing career comebacks over the past decade, and I have confidence he can do the same this time around. Don't count Verplank out in future major championships either.
The Final Say
These three golfers have all been favorites of mine for quite some time, and that's probably the reason they were listed in this week's article. Other golfers stuck in a career slump include Darren Clarke, David Duval, and John Daly. Golf fans around the world would love to see all these guys succeed as well. Unfortunately, the struggles are just part of being a golfer and fan. It's the nature of the beast.
The season is still young, and there is plenty of time for all these golfers to make a mark in 2007. Things haven't looked good so far, but sometimes all it takes is one good showing. Once the confidence returns, the top-10 finishes seem to follow shortly thereafter. Let's hope all these guys contend in big tournaments throughout the season.
Now it's your turn to tell me what you think. Which of the three golfers I talked about in detail has the best chance of contending in the future? Also, which one will have the hardest time contending once again on the PGA Tour? Finally, which other slumping golfers did I fail to mention? If you have anything to add, feel free to comment below or discuss it in the forum. Thanks for reading Thrash Talk, and enjoy Arnie's tournament this weekend!
Photo Credits: © Unknown, © Morry Gash.