We're predictions fanatics at The Sand Trap, and this week's installment of the Trap Five underscores this compulsion. It has been an exciting start to the season for young talent. Charley Hoffman, Aaron Baddeley, Charles Howell III, and Henrik Stenson have all, as relatively young players, won on the PGA Tour. While the number of Americans (outside of Woods, Mickelson, and Furyk) is lacking, there are plenty of current European and Australian players making history on the PGA Tour.
Besides the usual suspects vying for another slice of history there are some viable candidates for first-time major championship winners in 2007. The year has already showcased a few talented young players and odds are good that this trend will continue. Perhaps there is a Tiger-slayer in training we aren't aware of. Perhaps one of the candidates for first time major winner below will be the one to take a title from him. Let's take a look…

Number Five: Luke Donald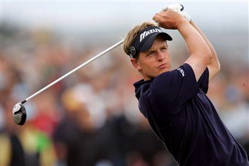 Donald hasn't gotten off to a tremendous start in 2007. His seventh-place finish at the Mercedes-Benz Championship and T2 at the Sony Open were sullied by two missed cuts and a couple more mediocre finishes.
There is some question in my mind whether a player who hits the ball some thirty yards shorter on average off the tee can win a major against a field packed with bombers. But, if any short-knocker can do it, it's Luke Donald. Erik J. Barzeski and I, in the Golf Talk Podcast, have given him some grief for playing "Luke Donald Golf" but I think that's just the attitude he may need to win a big one. He should get out there and play his game and like DiMarco has been known to do, hit his long irons inside someone else's wedges.
Donald is 154th in driving distance in 2007 at 275.6 yards but is 7th in driving accuracy, hitting 73.03% of fairways. His driving accuracy gives him a distinct advantage at the U.S. Open where hitting fairways is a premium. In fact any one of the majors, apart from maybe the Masters, he's got a pretty good chance of playing well.
I am hopeful for Luke Donald in the major department. He has a load of desire and wants to snag a major as bad as anyone on Tour. That fire and his straight-shooting ways stand him in good stead to win a major by the end of the season.
Number Four: Robert Allenby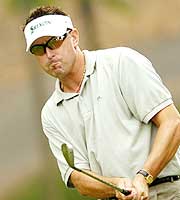 A forum member was quick to point out Allenby as a possible first-timer. After giving it some thought I think I agree. Allenby is a long hitter, currently averaging over 300 yards, and his putting has been good this year. He has five top-tens in six starts which means this could be his year.
Allenby is second in scoring average at 68.56 per round. The short story is that he's been on a tear since the 2007 season began.
He is no stranger to the winner's circle and probably has sufficient confidence to play well in, say, the Masters. He has the length to tame Augusta and could very well get it done there very soon. He seems to possess many of the qualities of a major winner. Maybe just tightening up his short game a bit (like we should all do) would mean he'd win a major the next time he played in one.
Number Three: Charles Howell III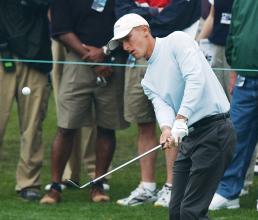 I have to admit I didn't have much hope for either Howell III or any American for that matter to win a major this season but Howell III's strong play (plus the opinion of a few of our forum members) opened my eyes.
Five top-10 finishes including a victory at the Nissan Open in seven events is really good for Chuckie Three Sticks. He currently is at the top of the FedExCup points standings by a fair margin. While only one win stands between him and a handful of players he's earned his early success.
While there were five long years between his first and second wins on the PGA Tour I got a hunch it won't be as long next time. It takes players (not named Tiger Woods) a while to learn how to hold a lead out there and Howell III is coming into his own. He's back with Leadbetter after what was probably a beneficial time away from his long-time teacher. While I don't think a Masters is in the cards this time around, there are three other events that he could snag if he strung some good putting together into the weekend.
Number Two: Adam Scott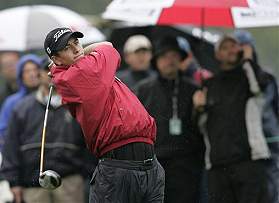 No surprises here. Scott has been knocking on the door for a while. The only thing I doubt are his choice of hair styling and his desire. He has the closest swing to Tiger Woods than you'll find on the PGA Tour but is still searching for the desire.
Quite honestly, I think he has plenty of desire but he does need to learn how to put his foot on the accelerator when he has a lead on the weekend.
He's won The Players Championship and The Tour Championship so he knows how to win with lots of big names in the mix. It may be only a case of solid play for four days and a few lucky bounces to vault Scott into the major-winner's circle.
After all, you don't get to be number four in the world by being a slouch.
Number One: Henrik Stenson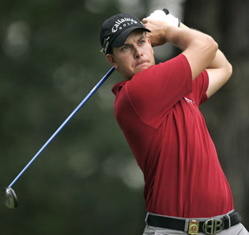 This is an easy pick for me. Swedish European PGA Tour player Henrik Stenson stood out to me last year for his solid play, buttery swing, and calm demeanor. He has fought through swing changes in recent years but has come out the other end in pretty good shape.
Stenson is first on the European Tour's Order of Merit and with only five starts has two victories and three more top-10's to his credit. He's played one event on the PGA Tour and won it. Talk about a cherry-picker! It took nerves to stare down U.S. Open champ Geoff Ogilvy at the Accenture Match Play Championship. Stenson didn't flinch winning 2 and 1 in the 36 hole final.
I wouldn't be surprised to see Stenson win a couple of majors in the next five years and a win this year wouldn't surprise me either. He's been playing very well during the last twelve months.
Photo Credit: © Jeff J. Mitchell/Reuters, © Nick Wass, AP, © Augusta.Com, © Sign On SanDiego, © Callaway Golf .com.