The only things I heard last week about the Presidents Cup was the constant talk of the event being the "Ryder Cup wannabe." I could care less about all the talk because the Presidents Cup is one of my favorite events in all of golf. The last time the event was played, it ended in a 17-17 tie, and that gave the critics a bigger excuse to moan and groan. Well, the 2005 version has come and gone, and the winner wasn't decided until the birdie putt was holed by Chris DiMarco on the 18th hole in the final pairing at Robert Trent Jones Golf Club.

The overall score was very close after each day, and it could have ended in a tie very easily when all was said and done. That's all I ask for in an event. The competition was great, the camaraderie was awesome, and the crowd was just as excited as they are for any other team competition. The course played very fair and yielded a lot of eagles, birdies, pars, and some bogeys. The excitement at the par-5 12th hole was as good as I have seen in awhile.
The term "Ryder Cup wannabe" should no longer be used by golf fans. If you can't appreciate the competition of the Presidents Cup, I seriously doubt you are a fan of the sport. I feel that strongly about it. I am one of the biggest fans of the Ryder Cup, but that doesn't mean I can't love the Presidents Cup as well. The last two Presidents Cups have been far and away better than the past two Ryder Cup events.
The last decent Ryder Cup was in 1999 at Brookline when the Americans made the enormous comeback on Sunday. Even then, the competition wasn't very close until halfway through the singles matches on the final day. This year's Presidents Cup was neck-and-neck the entire time. The United States jumped out early Sunday in the singles matches, and it looked like they might run away with the event. The International team hung in there, however, and were a putt or two away from winning.
As always, there were a lot of great things at the 2005 edition of the Presidents Cup, and a few bad things as well. I'm going to break down some of the positives, negatives, suprises, and disappointments from Robert Trent Jones Golf Club.
Positives
It looks like Jack Nicklaus and the rest of the United States team watched the Solheim Cup a few weeks ago and took some notes. The U.S. team actually looked like a "team" this past weekend! As a fan, I was both shocked and excited to see the players getting along so well. Yes, even Tiger was a team player this year. The entire United States team was determined to win this Presidents Cup for Jack, and that's exactly what they did.
Tom Lehman, the 2006 Ryder Cup captain, was in attendance. I hope and pray he learned something about the U.S. squad because most of U.S. team will be playing in the Ryder Cup this time next year. Jack Nicklaus gave his team choices on who they wanted as partners, and the team responded in a big way. Tiger said he wanted to play with Jim Furyk, so Jack paired them together three times. Woods and Furyk went 2-0-1 as a team!
Tiger's long-lost buddy Phil Mickelson also found a new partner this past weekend. The intense Chris DiMarco was Lefty's partner, and the duo went 3-0-1 as a team. Finally, who would have predicted that Justin Leonard and Scott Verplank would go 2-1-1 as a team? Well, I loved the team, but I still didn't think they could have that much success. They are great friends, and their golf games are very similar. The duo of Verplank and Leonard were very comfortable playing together, and it worked out very well.
Speaking of Chris DiMarco, is this guy awesome in match-play events or what? I love watching him play, and I would have him as my anchor in every event possible. He has no fear whatsoever, and he gets the crowd going like no other. In the SandTrap staff predictions article, I said DiMarco would be the leading point winner. And sure enough, I was right for once. It was awesome seeing DiMarco sink the winning putt against Stuart Appleby on the 18th hole, even if he did say he was looking forward to the six-pack of beer shortly thereafter.
Tiger usually wins my "worst team player" award in the Ryder Cup and Presidents Cup. This year, however, Mr. Woods shocked me. He looked a little shaky the first day when he and Fred Couples lost to Adam Scott and Retief Goosen, but everyone looked shaky against that duo. That being said, Tiger was still helping Freddie read putts and make decisions. This was awesome to see, and I am very proud of Tiger's team spirit at the Presidents Cup. Tiger and Jim Furyk were an awesome team, and they really fought until the end and carried each other at different times throughout their matches.
Negatives
I didn't see a lot of negatives at the Presidents Cup, but a couple do come to mind. The point system was a little bit confusing to me for the singles matches and obviously to Phil Mickelson as well. The announcers did do a decent job of explaining the rule changes to the viewers, however, but the end results still confused me. As a matter of fact, I still don't understand them. Mickelson and Angel Cabrera ended their 18-hole match all square and went to extra holes. I understand that part. However, after Chris DiMarco sunk the winning putt on the 18th hole, the Mickelson/Cabrera match was halved. That confused the heck out of me.
The other minor problem I saw occurred during the Saturday foursomes matches. The match pitted Davis Love III and Stewart Cink against Trevor Immelman and Mike Weir. Love III hit his approach shot at the 17th hole to about a foot. Without getting full approval from the International team to pick his ball up, Love picked his ball up anyway. I know Love probably thought he heard Weir tell him to pick his ball up, but that should have been a penalty stroke nonetheless.
That would have squared the match going to the 18th hole, and the overall outcome could have been a lot different. That being said, Love's approach shot was within a foot, so he deserved a birdie anyway. I definitely agreed with Immelman, however, that rules are rules. NBC did a good job in getting the actual ruling. After hearing the official ruling from the marshall, I was indeed wrong in my assumptions. The whole situation seemed pretty questionable.
Surprises
The number one surprise on my list was the play of Justin Leonard. The guy has had zero success in past Ryder Cup and Presidents Cup events, and he has been pretty inconsistent this year as well. From day one when he was paired with Scott Verplank, Leonard seemed to be on a mission. He had the putter going all week, and his final record of 3-1-1 proved to be very crucial for the United States team. I was very happy to see Leonard play so well, and I hope it leads to a great 2006.
On the International side, I was very surprised by Mike Weir's moderate success. Weir has been non-existant the past year or so, and he really came out of nowhere to give the International side a big lift. He was hitting very crisp iron-shots, and the putting fans have become accustomed to seeing was back in effect. Mike Weir will have a strong finish to 2005 and a huge 2006!
The final surprise was Fred Couples' win over Vijay Singh in their singles match on Sunday. Couples really didn't putt worth a flip the first three days of the Presidents Cup, and it didn't get much better against Singh. However, Vijay Singh played the worst round of golf I've seen out of him in a few years. As bad as Singh played, Couples still couldn't put him away. He saved the best for last, however, and added another memorable moment at Robert Trent Jones Golf Club to his resume'. That is the true beauty of match play.
Dissapointments
Speaking of Vijay Singh, he wins the award for biggest dissapointment. I know there were golfers who had less points overall than Singh, but he is the second-ranked player in the world for crying out loud! He managed just three halves and two losses all week, and that was unacceptable. If Singh would have played to his potential, the International side would have won the Presidents Cup.
I mentioned how Tiger Woods usually wins my "worst team player" award. This year, that award goes to Vijay Singh in a landslide. I'm already picking on him, so I'll just keep the train rolling down the tracks. Singh looked like he would rather be sitting at home watching the Presidents Cup instead of playing in it. He acted like he was too good for the rest of his team, and he got his butt handed to him by Fred Couples, among other members of the United States team. If a match-up with Tiger Woods can't motivate a guy, I don't know what can. Come on Vijay, suck it up and give us your full effort. I try hard to like you, but it just isn't happening. Then again, I'm not sure what more I can expect from a guy who doesn't always give it 100%.
It's hard for me to consider Tiger's week a dissapointment, but it all depends on what you consider a dissapointment. The golfers like Fred Funk and Kenny Perry weren't favored to win all their matches like Tiger was, so they weren't expected to win as many points. Many people predicted Tiger would win five points for his team, and he came away with half of that. He is the best golfer in the world by far, and he should have won another point at least. So I'm considering Tiger's play more on the dissapointing side than on the successful side. I'm still very proud of his team spirit though, does that count for anything?
The Final Say
There are only certain golf events I will plan a weekend around to be sure I'm home to watch the entire thing. The four majors are obviously on that list, as well as The Players Championship and Ryder Cup. I might be in the minority, but the Presidents Cup definitely makes that list as well. The Presidents Cup is not only a great event, it's the most underrated event in all of golf.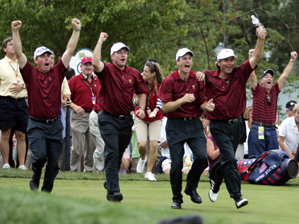 I get sick of hearing the "Ryder Cup wannabe" talk, and I hope golf fans saw that the Presidents Cup is anything but a wannabe this past weekend. The competition was great, and that's all I ask for. I don't think two teams have to hate each other for the event to be considered great. That is actually pretty absurd. The United States team and the International team get along for the most part, and that's how golf was intended to be played. And besides, there are just as many Europeans playing on the PGA Tour as there are International players.
I think the Ryder Cup is great, and I think the tradition is what separates it from the Presidents Cup for the average golf fan. Let's not forget how young the Presidents Cup actually is. This was only the sixth time the event has been held, and it's gaining a lot of steam with each and every playing. There is nothing wrong with a tie in golf, and people need to understand that. Ties can occur in the Ryder Cup just the same. If two teams battle it out and end in a tie, both should hold the cup. There is always the next time.
I'm not saying the Presidents Cup is better than the Ryder Cup. That would be silly. However, I think it held its own in 2003 and this past weekend. The Presidents Cup has arrived and it's here to stay. And besides, if golf fans want to watch the "best" golfers in the world battle it out, look no further than the Presidents Cup. The International team would wax the European team, especially with the "Big Easy."
That's all I have to say this week. I am a very big advocate for the Presidents Cup as you can hopefully tell, and I hope to see a lot more fans jump on the bandwagon after the great finish this past weekend. What was your favorite memory from the 2005 Presidents Cup? What was the biggest disspointment? Finally, would the outcome have been any different if Ernie Els was healthy? If you have anything to add, feel free to comment below or discuss it in our forum. Thanks for reading Thrash Talk and have a great golf week!
Photo Credit: © Rogash/WireImage, AP.