Football season is entering crunch time, and many golf fans have gone into hibernation until 2007. That's usually the case for me as well, but it's been a little different this year. I've realized there are a lot of quality tournaments around the globe to keep me excited deep into the calendar. This part of the golf season is usually referred to as the silly season, but that can't be farther from the truth.
I've never watched the LPGA Tour in November prior to 2006, but I've watched the last two events this season. The ADT Championship this past weekend was one of the most exciting LPGA Tour event I've ever watched. It seemed like I was watching a major championship instead of a regular event, and that's a bonus this time of year.

Tiger Woods was also in action for the second consecutive week. He finished second two weeks ago, and he lost in a playoff at the Dunlop Phoenix this past weekend. Tiger must be in a slump after going two stroke-play events in a row without a win. Then again, I'd sure settle for two runner-up finishes in a row. All in all, this silly season has been pretty solid so far.
ADT Championship Format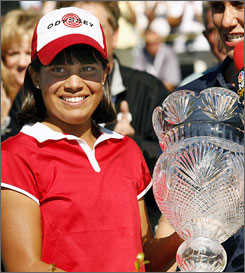 I remember hearing about the different format implemented for this year's ADT Championship, but I had forgotten all about it until last week. The LPGA Tour went out on a limb and created something very unique for the world's best female golfers. After hearing numerous player interviews, it's safe to say it was controversial at best. Some of the golfers (Juli Inkster comes to mind) wanted things to stay the same, but that would have been boring.
For those who didn't keep up with the event, the top 32 golfers on the LPGA Tour money list started off the week. After two rounds, the top 16 advanced to Saturday's round. A playoff was held to break any ties. The top eight after Saturday's round advanced to the final round with a chance to win a million dollars. In the end, 20-year old Julieta Granada walked away a millionaire after playing brilliant golf all week, most notably on Sunday.
I mentioned earlier how intense the action was every day, and that made the event a lot more exciting. Golfers were really grinding to make the respective cuts on the weekend. This provided a very unique format, and I was hooked to the event. I definitely give two thumbs up to the LPGA Tour on this one.
As great as the event was, it wasn't perfect. If I was making decisions, I would make one minor change. Every golfer in the field of 32 should receive a share of the purse for earning their way into the event. The winner received $1 million, and the runner-up won $100,000. After that, the winnings were very minimal. All these golfers worked hard to play in this event, and they deserve a little more for their efforts. This would also keep the money title issue in check a little better. Maybe this will be implemented in the future.
It would have also been nice to see Annika Sorenstam battle for the million dollars on Sunday, but she only has herself to blame for that. She didn't play well enough the first two days to earn her spot on the weekend, and that's just part of it. You win some and lose some.
In closing, PGA Tour fans deserve an event like this as well. Whether or not it counts for the money list doesn't really matter to me. I just want to see the world's best battle it out in a "play well or go home" type of tournament for a huge prize. I'm sure the PGA Tour officials were watching the ADT Championship this past weekend, and I hope they give a lot of thought to implementing something like this in the near future.
Tiger's Playoff Loss in China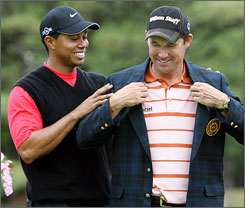 I watched the ADT Championship for the most part this past weekend, but I also kept an eye on Tiger's chase for three consecutive Dunlop Phoenix titles. He was looking good heading down the back nine on Sunday, but he couldn't hold off Padraig Harrington. Harrington caught him down the stretch and beat him on the second playoff hole. It's unlike Tiger to give up a 54-hole lead, and it's even crazier that he lost a playoff.
Tiger's win streak is as good as dead now. The PGA Tour and The Golf Channel will still be hyping it early next season, but it's all for naught. Woods has finished runner-up two weekends in a row which definitely ends the streak. He has still played very well late in the season and will be a force again in 2007. Just do yourself a favor and end all the talk about winning streaks.
It's always good to see another golfer take Tiger down late in an event, especially a playoff. Padraig Harrington won the European Tour Order of Merit, and the playoff win certainly meant more for him than it did for Tiger. Woods will bounce back as always, but maybe this will propel Harrington into 2007. The Irishman is one of the world's best without a major championship, and it would be nice to see him get his first next year. Congrats to Harrington for slaying the Tiger.
The Final Say
I don't remember watching very much golf in November and December in recent years, but that has been different this season. After this past weekend, things will slow down quite a bit until early December when the WGC-World Cup and Target World Challenge are played. Also, the journey through Q-School will be wrapped up early next month.
I hope I'm not the only person who enjoyed the ADT Championship this past weekend. It seemed like the announcers and fans loved it, and I'm sure Julieta Granada is crazy about the event! It's nice to see a change in format sometimes, and as I mentioned earlier, I hope the PGA Tour took notice. Between the excitement on the LPGA Tour and Tiger's playoff loss, this past weekend of silly season golf wasn't silly at all.
Now it's time for you to speak your mind. Did you enjoy the new format for the ADT Championship? Also, would you like to see the PGA Tour implement something similar? Finally, will Padraig Harrington's playoff victory over Tiger propel him to a great 2007 season? If you have anything to add, feel free to comment below or discuss it in the forum. Thanks for reading this week's Thrash Talk, and here's to hoping the cold weather hasn't forced you into golf hibernation yet.
Photo Credits: © Marc Serota, Reuters, © Toru Yananaka, AFP/Getty Images.