Recently, in his monthly contribution to Golf Magazine, David Feherty made reference to an interesting dynamic which he has seen at work in the world of golf this year.
"In Tiger's absence," the iconic (and perhaps iconoclastic) Irishman writes, "I've noticed that more and more people have started referring to him as you-know-who, as if he is golf's equivalent of Lord Voldemort from the Harry Potter novels." For those of you unfamiliar with the Dark Lord, Feherty's description is more compelling than any I could hope to produce: "Voldemort is the all-powerful dark wizard whose black magic is so terrifying that saying his name out loud can induce involuntary brown magic in ones Fruit-of-the-Brooms."

As per usual, Feherty makes an offbeat assessment which contains within it an element of truth. Since Woods' victory at the U.S. Open this year, and the resultant revelations about his physical condition during the event, then stories of his plans for surgery and occasional details regarding his recuperation since, there has been a strange hesitance on the part of commentators and journalists to mention Tiger's name, at least in comparison with the enormous quantity of air time and newspaper column ordinarily devoted to covering his every move. Really, there hasn't been an appropriate context for any discussion of the golfer. The attempt to make reference to his long shadow – which extends over all Tour events, particularly the Majors – in any newsworthy way, has seemed awkward, or in the least, unnecessary.
Channeling Herbert Warren Wind (a necessary addition to the World Golf Hall of Fame) wearing Harry Potter's dark-rimmed spectacles, David Feherty points out, "For the last six months, there has undoubtedly been a strange symmetry between these two characters, with Tiger's influence permeating every nook of the game while he remains invisible. Nobody wants to bring up his name or ask the questions: Should majors in which you-know-who did not play have an asterisk?"
That question, however, was posed a number of times to different players at the British Open. In a rare moment of lucidity and tact, Sergio Garcia responded to a reporter's inquiry as to whether or not the Open should have an asterisk since Woods was not a participant, "With all due respect", he stated, "The Open is bigger than any of us, even Tiger Woods." Garcia's proclamation is both carefully considered and true, or at least it should be.
The PGA Tour and the world of golf are certainly self-sufficient entities, surviving this year without Woods, and both having existed long before he dominated the former and captured the attention of the latter in the late 1990's. The quality of play in Tiger's absence this year has been superb. We have even had a multiple major winner in Padraig Harrington, who won with a combination of great play and steely resolve formerly displayed only by Woods on golf's greatest stage in recent years. Yet something is certainly missing. This variable may be nothing more than Tiger-centric coverage, carefully constructed highlight reels, and waxing poetic (by commentators, journalists and common viewers), on the merits of determination, hard work, single-mindedness and whatever other ideals the highly-malleable and all encompassing. Woods is thought to personify.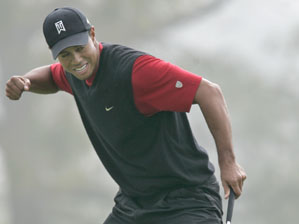 Conversely, it may be that the world of golf is without its most accessible symbol and its essence. Extending Feherty's comical characterization, the consideration of Tiger Woods' return to competitive play carries with it great emotional baggage, for his fans, and great conceptual significance, for the media at large. Will he reappear more powerful than ever, like Lord Voldemort, or will he be forever compromised by his injury, doomed to mediocre showings, chronic pain and repeat visits to the surgeon? Whether he is the consummate golfer or not, whether he is the worthy heir to all the glory heaped upon Hogan, Palmer, and Nicklaus, it's clear that Woods' return next year will create a compelling narrative, whether he resumes the dominant form which he displayed leading up to the U.S. Open, or simply struggles to make cuts, as he did for a time in 2003/2004.
This narrative richness and abundance, either genuine or manufactured, is both what has been missing from the Tour this year and the marrow of the ever-unfolding Woods mythos. His success and ability are certainly noteworthy, but so are Vijay Singh's, who is a great story in his own right but has been relegated to a place of dramatically less significance by the sports media and sports fans in general. The designation between the "sports" media and the "golf" media is important here, but ultimately that designation remains a relatively minor point.
Woods' prominence in the world of sports and the popular imagination is a product of his ability to inspire the multitude of stories and constructions which surround him. To the cynic, it's a precisely crafted and highly marketable image which has fuelled the ten plus years of Tigermania. In the eyes of the believer, it is recurrent heroism and the individual will personified that place Tiger so firmly at the center of golf and sport. Regardless of where truth lies on the continuum between these two views, I join David Feherty in saying, "like almost everyone else in golf, I want my you-know-who back."
Photo Credit: © AP