Ah, the range! It's the place where most of us work on our games. If you're like me, you go through a jumbo bucket or so every week… sometimes two when the game necessitates it.
I've had some great experiences at ranges. Once, back when the LPGA used to come to town, I found myself hitting shots next to Vicki Goetze-Ackerman, whose best career finish is T2. Now, as a top-level professional, I'd have expected any LPGA player to be pretty consistent. But hitting balls there beside her, I quickly learned just how consistent these players are. She was hitting irons to a target green, and every shot was landing within a circle about ten feet in circumference. Not only that, but each consecutive shot seemed to follow the hole in the air punched by the shot before it. It was amazing… and humbling. But it also taught me just how consistent you have to be to play really good golf.

Now if you really want to be humbled, try hitting next to a men's collegiate player. As his 3-irons are flew past my best drives, I began to understand the order of the universe. I didn't really like it, but on the other hand, it was great to see how far an elite player can hit the ball. I don't have that kind of top end, but it's good to understand that and stick to the game I do have.
At a range this summer, I actually hit the same flag on consecutive shots. One actually came down on the very top of the stick and bounded almost straight up. Luckily, the guy next to me saw it or I would have figured my eyes were playing tricks on me. I've also hit an enitre small bucket of shanked irons in one session (once before a tournament).
But as bad as a case of the dreaded "S" word on a crowded range is having a guy set up shop next to you and proceed to annoy the heck out of you. (I use the term "guy" here, but in truth I can be equally bothered by people of both sexes.)
Now the range is not a golf course. The same etiquette need not apply, but some etiquette should. What follows are several characters that I've encountered on ranges, much to my dismay. Perhaps they'll sound familiar.
Number Five: Cell Phone Guy
OK, it's 2008… I agree that somebody might have good reason for keeping their cell phone with them on the range. That's fine. Even a ringing cell phone isn't that annoying (depending on the ring tone, of course).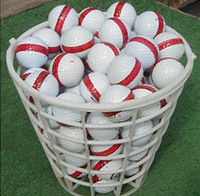 What kind of grinds at me is when Cell Phone Guy carries on a lengthy conversation right between the range ropes. Generally, quite loudly.
I've taken calls on the range, but I walk away from the firing line to try to keep from bothering others. I don't think it's too much to ask to expect that from others. Still even if somebody talks on the phone right next to me, it's not that big of a deal, unless, like Ken Tarmac, they are talking like the person's on the far side of the room.
Number Four: Over-Instruction Guy
Over-Instruction Guy partially annoys me and partially amuses me. You've probably seen the type. He can be found providing loud instruction on the golf swing to a friend, a child, or (the best) his wife or girlfriend. The problem is that while he may understand some basics, he tends to apply them wrong. And worse, he provides the instruction in rapid fire manner so that his protege is left bewildered by the complexity of this game rather than enjoying a few modest successes from the range trip.
I firmly believe that golf swing can only be learned two ways, by imitation and one skill at a time. Imitation only works for some naturally gifted athletes who can copy a good swing (like Tiger Woods did his father's), simply by watching it. For the rest of us, focusing on much more than a single key move on any one swing can be the recipe for disaster. Even those who learn through imitation have to resort to one skill at a time learning if they need to make a swing change to the sequence they seemed to learn so naturally.
Number Three: Angry Guy
Don't be Angry Guy on the range, even if you are hitting chili peppers up Lee Janzen's… donkey. Thankfully, I've only encountered Angry Guy on the range a few times (he's much more common, understandably, on golf courses). Angry Guy gets so worked up by miss-hitting ball after ball, that he starts slamming clubs around, swearing, perhaps even kicking or beating his golf bag (I saw that this summer).
Talk about bothering those around you! If you can't keep your cool on the range, even if you aren't hitting the ball as well as you'd like, how are you ever going to keep it together on the course where bad shots cost strokes and golf balls?
I'm not talking about an isolated eruption here: a half-hearted club thump or a curse under your breath after a bad shot. Angry Guy carries on shot after shot. Loudly. Those around him tend to clear away if possible, just for self preservation. Angry Guy is scary because his antics border on insanity.
Number Two: iPod Guy
There's nothing wrong with using your iPod at the range. I get bothered by the wires, but that's just me. No, iPod Guy causes offense by commenting on his shots at an abnormally loud volume.
It's the old headphone trick. People often fail to moderate their voices when they're wearing headphones. And since they can't hear themselves, they apparently don't think that others can hear them. We can.
I happened to be hitting next to iPod Guy the other day. After about every other shot, he'd say something like, "That's the stuff" or "Swing smooth, jackass." Once or twice would have been no big deal. But a loud comment on 50% of his shots through a large bucket got pretty annoying.
Number One: Venus Williams Guy
Venus Williams Guy doesn't necessarily have the iPod headphone excuse, but I have seen the two combined. Venus Williams Guy grunts on every single shot he hits, just like the tennis star does on her serves. Perhaps I should call him Remax-Long-Drive-Wannabe Guy, because that's the only other place in golf I've heard players giving each shot a grunt to try to get extra distance. Which to me, seems like just one more thing to have to execute at the right time in the swing. I don't think it could be beneficial at all. But it does seem to work for tennis players, so who knows.
I can tell you one thing with certainty; however, Venus Williams Guy can be very annoying on the range.
Photo Credits: Unknown, Unknown.