I'll admit that I have never been a big fan of the LPGA. I know a lot of people who aren't, but they shy away from the question. I have enjoyed watching the PGA Tour since I started playing golf around 1996. The PGA Tour is the home of the best golfers in the world. I always believed the LPGA was just a sideshow like the WNBA is to the NBA. Don't get me wrong, I have always respected the women that play the LPGA Tour, as many of them are just as athletic as their male counterparts. The LPGA Tour just didn't have anything that set it apart from other sports. It was too easy for me to watch something else on television when the LPGA was on.

I am a huge sports fan, so I tune into SportsCenter every night like a lot of other sports fanatics do. By doing this, I started keeping up with Annika Sorenstam's golfing career. Sorenstam has amazed me the past few years. She has had a couple years that may have been even better than Tiger's great year in 2000. Sorenstam was really the only reason I even watched LPGA highlights when they would come on. This year, Annika has started off on fire by winning six out of the nine tournaments she has entered on the LPGA Tour. These victories include the first two LPGA major championships. While her chase for the "Sorenslam" didn't work out, Sorenstam is still the most dominant figure in any sport right now.
This brings me to my main point. Annika's domination has been decent for the LPGA, but I think it has become a little boring for some golf fans. I know I don't really enjoy seeing one person dominate their respective sport. I love to see the variety each sport brings. These past few months, my opinion of the LPGA has slowly started to change. Not only is Sorenstam still playing great golf, she also has some young competitors stepping up to take her down. This youth movement really has me excited for the LPGA Tour. I actually caught myself watching the U.S. Women's Open this past weekend, even though the PGA Tour's Barclays Classic was on television as well.
There was an Asian movement on the LPGA Tour that started with Se Ri Pak in the late 90s. There are still many Asian-born players on the LPGA Tour, and many of them are having a lot of success. While this was great for women's golf, it really didn't increase the ratings or fan interest in America. Also, the decline of women such as Karrie Webb has also hurt the LPGA slightly. Webb and Sorenstam really battled it out for awhile, and a duel between two greats is always fun to watch. As I mentioned, however, Webb has really fallen off the golfing planet in recent years.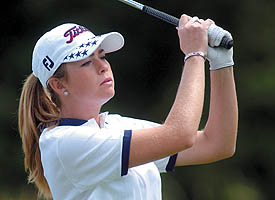 There are a few young ladies that are really making headlines on the LPGA Tour right now, and a couple of them are still amateurs. As boring as the LPGA has been to me the last ten years, I think it could be that much better the next ten years. The ladies that are going to bring women's golf to the next level are Paula Creamer, Natalie Gulbis, and Michelle Wie. Also, amateurs Morgan Pressel and Brittany Lang made a name for themselves at the U.S. Women's Open this past weekend by finishing in a tie for second. These five will do nothing but improve the LPGA Tour, and it's going to be exciting to see them begin their chase for Annika as the best female golfer in the world.
Paula Creamer is my pick to be Annika Sorenstam's next big challenger for the number one spot on the LPGA Tour. Creamer has vaulted onto tour this year and has already picked up a win. At 18 years of age, she will definitely need to mature a little more, but she is headed in the right direction. Creamer has made it vocal that she wants to be a part of the Solheim Cup team later this year. In just a few months, she has put herself right in the thick of things for that honor. And when the Solheim Cup rolls around, Creamer will definitely be playing, either by qualifying or as a captain's pick. She has the game, the look, and the fire to do great things on the LPGA Tour, and I honestly think she will be the next big thing in women's golf.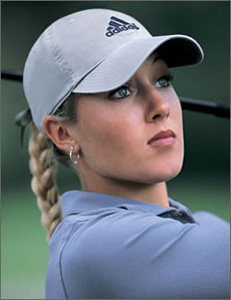 Natalie Gulbis has been referred to as golf's version of Anna Kournikova. I have to admit, I had that opinion about her until watching her play golf the last couple months. She is often noted for her beauty and for good reason. But unlike Kournikova, Gulbis is having an enormous amount of success playing her respective sport as of late. Gulbis' name always seems to be on the first page of the leaderboard and in big tournaments as well. Just in the last couple weeks, she has top five finishes in the McDonald's LPGA Championship (T5) and the U.S. Women's Open (T4). I think Natalie Gulbis and Paula Creamer are the future faces of the LPGA Tour, along with amateur-phenom Michelle Wie. That is great news for golf fans!
There isn't anything more to say about Michelle Wie. Every sports fan seems to know her story. At 15 years old, Wie is already contending in major championships on the LPGA Tour. She finished second to Annika a couple weeks ago at the McDonald's LPGA Championship. Just this past weekend, she played in the second-to-last group at the U.S. Women's Open. She was in contention going into the last day, but a final-round 82 ended her chances quickly. Wie's story is still remarkable nonetheless. Her swing is fantastic, and she really handles herself like a professional. It is only a matter of time before Wie wins an LPGA major, and then she will follow that with many more. If she was just old enough and didn't want to play so much on the PGA Tour. Those two things are her only setbacks.
The golfing world knows very little about amateurs Morgan Pressel and Brittany Lang. We all found out they definitely have what it takes to be stars on the LPGA Tour in the future. Both are still teenagers as well, Pressel being 17 and Lang being 19. It has yet to be seen if these two will turn into one-hit wonders like so many others in the history of the game. But if the U.S. Women's Open is an indication of things to come, Pressel and Lang will join Creamer, Gulbis, and Wie as future hall-of-famers someday.
Final Thought
I honestly never felt in my mind that I would become a fan of the LPGA. I just didn't like watching ladies hit golf balls. My opinion is rapidly changing, and I am starting to follow the careers of these young up-and-comers. I will always be a bigger fan of the PGA Tour, but the LPGA Tour has one thing working for them that the PGA Tour don't have. The youth playing in the LPGA is much better than the youth trying to make it to the PGA. Like I stated last week, I think Ryan Moore will be a huge star for years to come. But other than him, I can't really pinpoint any other future PGA stars.
LPGA fans, on the other hand, can look forward to seeing four or five young stars emerge in the next decade. And these young women have that desire to play the game and succeed. This ingredient is natural and can't be taught. I know the ratings for the LPGA Tour have been steadily rising the last decade, but there hasn't been a "Tiger Woods" situation to really get things going. I'm not sure if any of these young women will have that kind of impact, but there are enough of them to make a huge impact on the LPGA Tour. Don't be surprised to see many more fans of women's golf ten years from now.
That's it for this week's Thrash Talk. What are your thoughts on the future of the LPGA Tour? Does it look as bright to you as it does to me? And finally, can any of these young women overtake Annika as the best woman golfer on the planet in the next five or ten years? I want to know what everyone else thinks about these topics. Feel free to either comment below or discuss it in our forum. Thanks for reading this week, and be sure to play a little golf if you have the chance.