Tiger Woods is taking the golf world by storm yet again. To put things in perspective, Woods hasn't lost a tournament he has entered since the Deutsche Bank Championship last September. Phil Mickelson outlasted the world's number one golfer that day, but nobody has been able to stop him since. That's a win streak in excess of six months for crying out loud!
With The Masters on the horizon, the talk of Tiger's win streak is dominating the golf headlines for good reason. It's a pretty safe bet Woods won't win every tournament he enters for the rest of his career, so the win streak has to end at some point. When and where that happens is worth looking into, and that's what I'll attempt to do in this week's article.

The Streak
Tiger's win streak started at The BMW Championship last September. The event was the third in The FedEx Cup Playoffs. Woods also won The Tour Championship the following week to capture the first-ever FedEx Cup title. The last five events during the win streak include the Target World Challenge, Buick Invitational, Dubai Desert Classic, Accenture Match Play Championship, and last week's Arnold Palmer Invitational.
The question for most golf fans is this: which of these events should count towards the official win streak? Some of the golfing media have the streak at five, some at six, and some at seven. In the end, all seven should count, and the reasons are simple.
Other than the Dubai Desert Classic and Target World Challenge, the other five are sanctioned PGA Tour events, so all of them obviously count. The Dubai is a santioned event on the European Tour, so it should count as well. The field at Dubai is usually stronger than the PGA Tour event being played that same weekend. The tricky event is the Target World Challenge because it isn't sanctioned by any professional tour. That being said, the event plays host to a world-class field, and that's enough explanation for me. Tiger's PGA Tour win streak may be five, but Tiger's overall win streak is seven. Don't let anyone tell you anything different.
Upcoming Events
The next question centers around upcoming events Tiger will be playing in and how he stacks up against those specific golf courses. The next tournament on Tiger's radar is this week's WGC-CA Championship at Doral. Woods has won this event six times, and he has a great record at Doral as well. The field will be stacked this weekend, and that's how Tiger likes it most.
Second on Tiger's upcoming events list is The Masters, the season's first major championship. Woods has four green jackets already, and he loves Augusta National. Add to that the fact he hasn't won this prestigous event since 2005. Phil Mickelson won his second green jacket in 2006, and Zach Johnson outlasted Woods to win last year's Masters. Tiger doesn't need any extra motivation to win The Masters, but he will have some this year.
Tiger will take a few weeks off after The Masters and return to defend at The Wachovia Championship the first week of May. This event began in 2003, but last year marked the third time Woods had played. In the other two starts, he finished third (2004) and tied for 11th (2005). Quail Hollow Country Club will once again provide a very tough test for the world's best, but it's easy to see Tiger likes playing there. He will undoubtedly be the favorite to start the event.
The Players Championship is the week after The Wachovia Championship, and it always has one of the best fields in golf. Tiger has struggled at times playing the TPC at Sawgrass, but he also picked up a win there in 2001. In 11 starts at The Players, Woods has three top-10 finishes – below average for him. Since 2005, he has finished in a tie for 53rd, a tie for 22nd, and a tie for 37th. Then again, people said the same things coming into last week's Arnold Palmer Invitational. We all know how that story ended.
If Tiger wins all the events listed above, that will give him 11 in a row. That will tie the record set by Byron Nelson. Ironically, Woods will then head to the Memorial Tournament (Jack's tournament) in hopes of breaking the record. He finished in a tie for 15th at Muirfield Village last season, but he won this event three years in a row from 1999-2001. Like nearly all the courses listed above, this is another that fits Tiger's game very well. Can you imagine the kind of week golf fans will witness if the streak is still going this long? There will be goosebumps for everyone.
The Streak Stops Here
It's tough to predict when and where Tiger's win streak will end because he is playing better than ever right now, but I'm going to try to predict it anyway. The CA Championship this week and The Masters in a few weeks are going to be numbers eight and nine in the win streak, respectively. Doral has two or three really tough holes, but other than that, the course will be no match for Woods. The scoring should be pretty low by the entire field in general, but this one could get out of hand for Tiger's competitors. It may not get as ugly as this year's Buick Invitational, but the world's best golfer won't be stressing too much when he gets to the 72nd hole. This has blowout written all over it.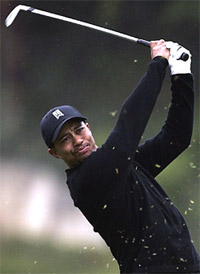 As for The Masters, it's already been mentioned how motivated Tiger will be this year. He always seems to focus a little extra at Augusta National, and it's hard to believe he will go three consecutive Masters without a victory. As always, it will be the season's first major championship, and it won't be easy for anyone to win. This one will be very competitive as always, but Tiger will walk away with his fifth green jacket when all is said and done.
This brings me to The Wachovia Championship. Most of the golf media have predicted Tiger will stumble at The Players Championship, but it will happen a week before that. Quail Hollow Country Club will be the toughest setup for Tiger because of his problems off the tee. There are six par-4s over 450 yards, and there are two par-5s at 570 yards or longer. Tiger won't have to hit driver off any of these holes, but he will need to in order to score reasonably well. If Woods hits it well off the tee, the streak will probably continue at Wachovia. However, if he is wild off the tee, he won't be able to hold off all his competitors. Tiger will still finish near the top 10 because he can keep bad rounds afloat better than anyone, but top 10 isn't first.
The Final Say
Some golf fans, including myself, have mentioned how boring it is to see Woods win so many times without a decent fight from the competition. This current win streak, however, has me glued to the television in anticipation. I've always respected Tiger because he is the best, but lately I'm starting to appreciate his accomplishments even more than before.
It is going to be a very interesting next month or two for the PGA Tour and sports world in general. Tiger is rapidly becoming the most dominant athlete in the history of sports, and all eyes will be on this win streak. It's also going to be a lot of fun watching Woods try to keep the streak alive at some of the toughest golf courses on the PGA Tour. Just imagine if he played in some of the weaker-fielded events. The streak might be at 15 or 20 by now.
It's your turn to tell me what you think about Tiger's win streak. In your opinion, is the streak at five, six, or seven right now? Also, when and where do you think the streak will end? If you have anything to add, please comment below or discuss it in the forum. Thanks for reading this week's Thrash Talk!
Photo Credits: © Andrew Redington/Getty Images, © Unknown.