The start of the 2007 PGA Tour season is only a month away, and the LPGA Tour season will start shortly thereafter. It's good to have a break every once in awhile, but I'm already getting excited about 2007. The silly season has been okay, but it just isn't the same as the real deal. The Mercedes Championship can't come soon enough.
With the new season right around the corner, many questions instantly come to mind. Some are pretty self-explanatory, and some seem to be neverending. How many majors will Tiger win next season, and can he possibly improve on his spectacular 2006 season? Also, will Michelle Wie finally win something of importance, or will her résumé remain winless?
I'll dive into these questions and more in this first of two installments of the top storylines for 2007. Let's get this party started!

Will The FedEx Cup be a Success or Failure?
The FedEx Cup tops the list of 2007 golf storylines. The PGA Tour late-season schedule has gotten stale in recent years. Phil Mickelson has consistently finished his season up at the end of September instead of the beginning of November. Next season, Lefty won't have to worry about this because the FedEx Champion will be crowned at the end of September.
Will the new format be a success or failure? A new system was desperately needed, and I applaud the PGA Tour officials for making the changes and creating The FedEx Cup. I don't know every detail about the new format, but I've read enough to know that it has its flaws. That can be said for any new system though.
In the end, it's impossible to know whether or not The FedEx Cup will be a success or failure over the short term or long term. Changes were needed, however, and I'm going to give the new format every chance before bashing it. If the top golfers from around the world play in more events together, it will be a success. If some of the big guns care less about the prize money and FedEx Cup Championship and pack it in early, then it will be a failure. It's as simple as that.
How Many Majors Will Tiger Win in 2007?

The next few seasons are going to be very intriguing for golf fans in general. Tiger Woods won two major championship in 2006, giving him 12 for his career. Jack Nicklaus has 18, and that mark is definitely in jeopardy as long as Tiger is walking the fairways for a living. If Mr. Woods stays healthy, he will shatter Jack's record. It's only a matter of time before the most prestigious record in golf increases in number.
As for the next calendar year, Tiger can only make it to 16 with a perfect 2007 in the majors. So how many more will he win next season? Tiger will undoubtedly be the favorite in every major championship, and the first on the list is The Masters. Even when Woods struggles at Augusta, he still seems to finish in the top five or ten. His record in the event is awesome, and he will probably win his fifth green jacket and third major championship in a row in April.
The 2007 U.S. Open will be at Oakmont, and the talk of another Tigerslam should be running wild going into the event. I have never liked Tiger's chances in a U.S. Open venue, and he probably won't complete the Tigerslam in Pennsylvania next year. The 2007 British Open will be played at Carnoustie, and the 2007 PGA Championship will be played in my backyard, Southern Hills Country Club in Tulsa, OK.
It's a good bet Tiger will win at least two major championship a year for the next three or four seasons. That's crazy to think about, but it's just the way things are. Woods is on top of his game and will be for awhile, at least until his next swing change. Look for Tiger to win either The Open Championship or PGA Championship next season to give him 14 for his career. 2007 will more than likely be another year of the Tiger.
Will Michelle Wie Finally Win Something?
I've actually gone quite a few weeks without talking about Michelle Wie, and I feel good about myself in doing so. Unfortunately, that streak is over, and it's time to mention her name yet again. Wie had zero success on the PGA Tour in 2006, but she played very well in her limited LPGA Tour schedule. The debate will continue as the calendar turns to 2007 because she still hasn't won anything of importance.
Can Michelle Wie finally get over the hump and win a tournament next season? As for making the cut in a PGA Tour event, that isn't going to happen. I know that wasn't the question, but I want to get that out of way right now. As for winning an LPGA Tour event, that should happen. Wie was in serious contention in three of the four LPGA Tour majors in 2006, and she easily could have won a couple of them.
LPGA Tour commissioner, Carolyn Bivens, should do the right thing and allow Michelle Wie to play full time. Luckily, Wie will turn 18 in late 2007, so this is the last year we have to gripe about this. Even though Wie will only get to play in 10 or so LPGA Tour events in 2007, there is a very good chance she will win one. It won't surprise me one bit if her first win comes in a major championship because of her recent experience in the big events. Like her or not, she is the most talented female golfer in the world, and her time will come much sooner rather than later. I hate to say that, but it's probably the truth.
Can the Europeans Break Their Major Slump?
The last European to win a major championship was Paul Lawrie at the 1999 British Open at Carnoustie. As I mentioned earlier, the 2007 British Open will be played at Carnoustie as well, so fate may be in the cards for the golfers from across the pond. Sergio Garcia has crumbled many times in major championships in the past few years, and Colin Montgomerie completely fell apart at the 72nd hole at Winged Foot this past June.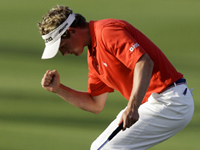 Can any of the Europeans break their major slump? They continue to dominate The Ryder Cup, but they can't seem to put it all together in the majors. It's a surprise that Sergio Garcia has yet to win a major, and the same can be said for Monty, Padraig Harrington, and Luke Donald. I said in an earlier Thrash Talk that Sergio would be the golfer to break the major slump for the Europeans, but that was a complete shot in the dark.
It's easy to say the talented Europeans will win a major or two in 2007, but I've predicted that same thing the last several seasons. If Luke Donald or Sergio Garcia get over the hump and win a major in the near future, they may win 4 or 5 more after that. It's just a matter of getting that first one under the belt. I am a huge fan of the United States teams in the team competitions, but it would certainly be nice to see some Europeans step it up a little more in the majors. They are awesome team competitors, but it's time for them to win some big ones as individuals.
Can Annika Stay at the top of the Women's World Rankings All Season?
The Women's World Golf Rankings debuted early in 2006, and Annika Sorenstam was at the top. That wasn't a surprise to anyone because Sorenstam has dominated the LPGA Tour for the better part of a decade. She will go down as one of the best female golfers of all time when all is said and done, but she also proved in 2006 she can still play with the best. Sorenstam is still ranked first in the world rankings, but the gap is getting smaller and smaller.
Will Annika still be at the top this time next year? It's going to be a tough task, especially with the emergence of Lorena Ochoa. In 2006, Ochoa won five LPGA Tour events, the money title, and player of the year honors. That's usually Sorenstam's credentials, but there has been a changing of the guard so-to-speak. Ochoa is on the rise, and young guns like Paula Creamer and Michelle Wie are only going to put more heat on Annika in the near future.
Annika's lead in the world rankings is still above four points, so it will be very tough to knock her off the top by the end of next season. If Sorenstam has an average year by her standards, she will probably still be at the top or very close. Annika may have one or two more seasons as the top female golfer in the world, but times are definitely changing on the LPGA Tour. The top is about to get very crowded, and it's just a matter of when and not if.
The Final Say
Looking towards the future is always fun, and the future looks to be very bright and intriguing in the world of golf. The FedEx Cup will be in the spotlight next season, and Tiger Woods and Michelle Wie will always be in the middle of media discussion. Every golf year is a big one, but it seems like next year is bigger than ever.
There are so many topics to talk about when looking towards next season, and I couldn't fit them all into one article. Be sure to check back next week to read the second part of the top storylines for 2007. The Golf Channel's huge partnership deal with the PGA Tour will lead the way next week, but that's only a small portion. You will have to stay tuned for another week before getting part two.
Now it's time for you to tell me what you think about 2007. Will Tiger be even better next year than he was this year? Can Michelle Wie finally silence the critics and win a professional tournament? Finally, will The FedEx Cup prove to be a success or failure? If you have anything to add, feel free to comment below or discuss it in the forum. Thanks for reading this week's Thrash Talk and let the countdown begin!
Photo Credits: © Andrew Redington/Getty Images, © PGA.