Today's interview is with Dean Thompson, inventor of the Z Factor Perfect Putting Machine, which made it to the final five on The Golf Channel: For Inventors Only show.
Dean graciously gave us a few minutes of his time to share his thoughts on Fore Inventors Only, developing the "perfect putting stroke," and what product he thinks should have won. We hope you enjoy the interview.

TST: Let's start with an easy one: how did you come up with the idea or concept for the Z Factor Perfect Putting Machine? And how do you describe how the Z Factor Perfect Putting Machine works when people ask?
Dean: I came up with the concept of the Z Factor because I wanted to FEEL the perfect stroke. I grew up a fairly good junior golfer and played in college, but I never received any really good instruction on putting. Subsequently, I bounced between thoughts and methods: cross handed, long putter, etc. I wanted a device that I could practice exactly the same stroke – PATH, FACE ANGLE, and PENDULUM SWING – a three dimensional stroke – every day.
The Z Factor works by the user attaching their putter to a magnetic carriage. As they move their putter they are guided through a perfectly on-plane putting stroke including the elements listed above. It is adjustable from square-to-square to five different arc strokes. I want a golfer to find a stroke that is close to their current stroke, but fundamentally sound. This reduces the learning curve.
TST: There seems to be quite a few different training aids on the market that claim to help with one's putting stroke. Why do you think Z Factor Perfect Putting Machine is better than the ones currently available?
Dean: Several reasons. First of all, it is adjustable. I don't know one product in golf that is one size fits all – especially when it comes to swinging the club or the putter. Allowing the golfer to find the stroke that feels good to them as opposed to one that is prescribed to them is a huge advantage. Secondly, the Z Factor is not pressure based.
Most training aids require the user to press the heel or toe of their putter against an aid and keep it there. This is actually building very poor muscle memory – to apply pressure toward the heel of the putter. I've had several people say that they actually got worse after working with other aids. Finally, the user can use their own putter and actually hit putts with the Z Factor from the putting surface.
TST: How did you get several PGA Tour players such as Vijay Singh, Chris DiMarco, Harrison Frazer, Jerry Kelly, and Olin Browne interested in using the Z Factor Perfect Putting Machine? Did you have some prior connections to them or was it just being in the right place at the right time? What has been their feedback to you on the Z Factor?
Dean: I've had an instructor credential on the PGA Tour for four seasons now. You have to have a player sponsor you for a credential. I got out on tour after an initial meeting with Kirk Triplett. Kirk wasn't really interested in the product (he's a total feel putter), but while meeting with him, Rocco Mediate saw the product and through one player or another I have been on tour ever since.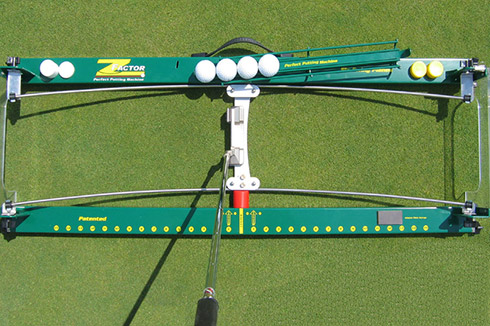 My role on tour is that of an instructor – The Z Factor is there for the players to use and practice with. I have never given a tour player a sales pitch. When the say they want a Z Factor I get them one and charge them for it. Instead of paying me a few hundred for a lesson they pay a few hundred bucks and get a teacher that will teach them the exact same thing for the next 10 years.
TST: The Z Factor is limited to six putting patterns in the two modes: five patterns in arc mode and one square-to-square. Why aren't there infinitely adjustable patterns within a specified range and how would one of those six patterns be guaranteed to fit my putting style?
Dean: I find that 98% of golfers say that one of the strokes on The Z Factor feels great to them. Having infinite planes would be possible, but it is unnecessarily. The strokes on The Z Factor change so minutely that… Having infinite planes would be like having infinite lie angles for your irons. Imagine bending your five-iron 2.63° upright. It just isn't necessary.
TST: How much time did it take to design the Z Factor, create models, and find a manufacturer? What has been the cost (financially, career wise, personal life) to develop the Z Factor? Has it been worth it? Why do you think that?
Dean: I'd say it took several months to really come up with the first working prototype. From that point, it was another three years of design and working out the manufacturing process before we actually received inventory. I found my manufacturer through a referral, which I highly recommend. I'm actually doing some overseas manufacturing consulting now for other people who don't know where to start.
As was stated on For Inventors Only , we have invested about $100K in the product so far. I've met dozens that have invested 2.5 times that and are nowhere close to selling their first item. It has definitely been worth the journey, but I believe that the journey is really just beginning. The product was successful and thought of as the best putting trainer ever by tour players and PGA Tour Pros before Fore Inventors Only, but now we can hopefully reach the general golfing public.
However, the golf business overall is not an easy one in which to make money. Training aids are tougher and putting training aids are even tougher. We fight a lot of battles with people who have never tried a good putting trainer so they think they are all the same. When people see and try the Z Factor they find that is not the case.
TST: Was the Z Factor your first invention or have you had other ideas for golf equipment? What other ideas did you have that were hits or misses? Do you have anything else in the works?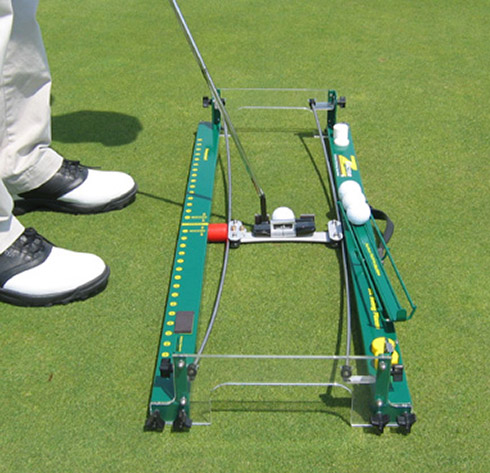 Dean: The Z Factor was my second patent. I'll be participating in the second season of For Inventors Only with my other patent, which is a removable brush that attaches to your shoe to clean your club face. I came up with it when I was playing on a mini tour and hitting a lot of golf balls. I do have some other ideas, but they are top secret at this time.
TST: Even though you didn't win, what did you take out of being involved with Fore Inventors Only? Was it worth being on the show or was it a waste of time?
Dean: The experience on For Inventors Only was one of a lifetime and definitely worth it. What it made me realize is how powerful and expansive the reach of television is. As I mentioned, I'll be auditioning again so I obviously had a good experience.
TST: What was your favorite part of Fore Inventors Only? What was your least favorite part (besides not coming in first!)?
Dean: My favorite part was probably shooting the commercial. I am very comfortable in front of the camera and I enjoy it – especially when it is telling people about a great product.
My least favorite part was probably the voting. I would have liked to have the winner chosen by a panel evaluation on their viability in the marketplace, originality, and how much they will help people enjoy golf more.
TST: What is your honest assessment of the other four "Final Five" contestants? You were beaten out by a gigantic clothespin, after all, and narrowly beat out a camera and a tripod, an "invention" that's been around for decades. Were you surprised some of the products made it as far as they did?
Dean: Probably a little bit surprised, although I thought the final five were all good products. The Pro Play system actually has several layers to it that just weren't shown on the show due to time constraints. It is a great product and I'll have one for sure. I'll also own a ClubGlider – a simple, amazing product and Gary Sherrell has made it even more durable and easier to use. Hillshot should be at every driving range and golf course in the country – no doubt. However, I was surprised it finished in second place due to the cost ($750 and up!) for the consumer and its size.
I think other products may have had patent issues or were just too early in development to make it through. I don't really know any more about the evaluations than what you saw on TV.
TST: The Z-Factor excluded, what products do you think should have gone further in the competition than they did, and which product should have won?
Dean: I think everyone was surprised the Gyro didn't go further, but I never got to try it so I don't know about that. I was surprised the golf bag with the seat on it didn't go a little further. As slow as rounds are today it kind of made sense to me. I also liked the trunk chair product and a very simple one in The Glove Grabber. I don't know if they deserved to go further, but I liked them. I thought strike and swipe would be in the top five because it is an established product, everyone can understand it, and it is very simple. I also thought the shoe brush bristles were cool, but that is probably because I have the same idea with a different patent.
I know you said to exclude the Z Factor, but I think I can be objective. If the criteria was what product will help your game the most then the Z Factor definitely should have won – without a doubt. However, from a dollar potential in the future for sales the ClubGlider probably has the most potential because it is going to cross into other sports. You are going to see that thing on skis, gun cases, suitcases and many other applications. If you are going on affordability for every single golfer then a $10 product should have won, I guess, and did.
TST: We understand the publicity you received simply from being on the show has led to at least a two-month backlog in orders. Given the healthy cuts both Golf Channel and Golfsmith take from the winning product's profits, do you think it might have been better not to win and to be allowed to sell your product yourself rather than give so much of your cash away to the corporate suits?
Dean: Time will tell I guess. However, don't be so sure you know who gets what cut – I've heard a lot of assertions on this and I haven't heard the correct terms of the contract yet – including the one in this question. I think The Z Factor Perfect Putting Machine would have done amazing in a 30-minute format and done hundreds of thousands if not millions of dollars. Hopefully, we can do something similar in the future on our own.
TST: Stina Sternberg: as attractive in person as she looks on TV?
Dean: Stina is very attractive in person – no smoke and mirrors there. Not only that, she is very nice. I think Stina has a good sense for golf and business, but got made out to be a b**ch on TV. She isn't! If a man made the same comments I think they would have been looked at as logical and tough.
TST: Do you get to play much golf now or do you spend the majority of your time promoting the Z Factor?
Dean: I think I logged 15 rounds this year with the golf season in Idaho coming to an end quickly. In most years I try to play once a week during the season and maybe practice once a week. This year has been and continues to be very busy.
TST: What was your career path prior to inventing the Z Factor? Have you always been involved in the golf industry?
Dean: I turned pro right after college and went into the PGA of America. I was an apprentice for a few years and made it through both business schools. However, I got somewhat disenchanted and left the business for about four years and worked as a branch manager for Culligan Water in Los Angeles. I left that to take one more stab at playing professionally. I made a few checks, but playing really forced me to bring the Z Factor out of my head and to fruition.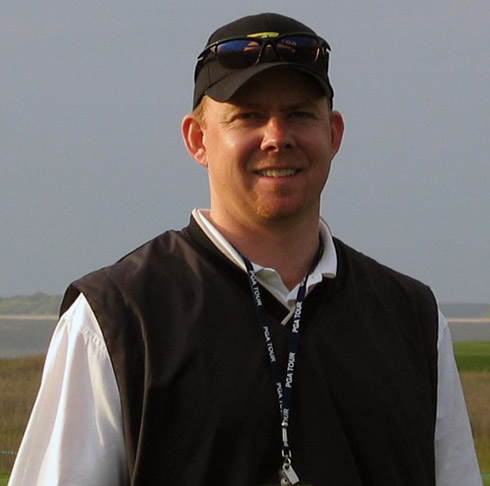 TST: What hobbies or interests outside of golf do you enjoy? Family?
Dean: As you all saw on TV I have a great wife and two amazing boys. They are both under three so my hobbies are somewhat limited. Family and the business take most of my time, which are two endeavors that love spending time at. Golf is my other great passion. It is an amazing game – the best ever created. When I'm not golfing I also enjoy hunting and shooting.
Photo Credits: © The Golf Channel, © Dean Thompson.