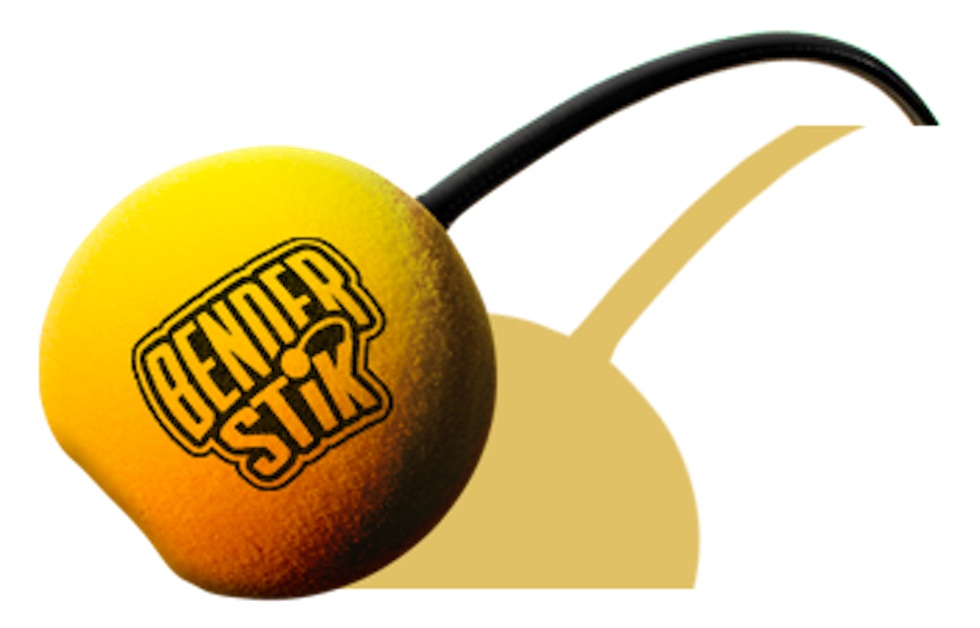 What if I told you that after the first five years of playing golf the odds of lowering your handicap by three strokes or more, is unusually rare? It almost never happens. The reason is because golfers revert back to our old habits. That's why trying a tip in the latest golf magazine or listening to the Golf Channel doesn't improve people's games. Here to help is golf's new training aid, the Benderstik. It's designed to help you consistently working on a better motion by giving you instant feedback.
The Benderstik is literally a stick that is adjustable, bendable, and has a large foam ball attached to one end. It can be set it up for each golfer's individual swing needs and if you revert back, there will be immediate feedback. You can set the Benderstik in the ground and adjust it where your head is against the foam ball to work on keeping your head steady or adjust it to avoid hitting the foam ball in the backswing or followthrough.

Golf instructor Mike Bender is the innovator of the Benderstik, Mike is the swing coach for Zach Johnson and Jonathan Byrd. In 2009 Mike was voted PGA National Teacher of the Year by his peers. Mike was also recently Voted fourth in the 2012 Golf Digest 50 Greatest Teachers issue, this was the largest jump ever in the top ten.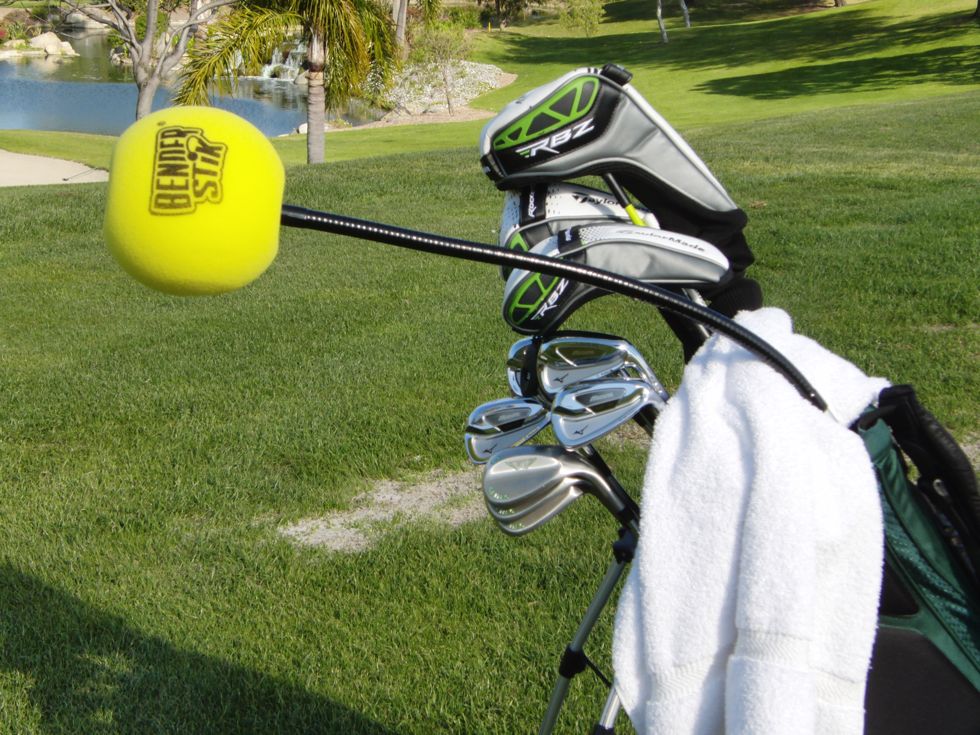 The Premise
Like every good invention I can think of, the Benderstik was born out of personal necessity. Mike went through a swing change early in his career, trying to get away from old habits that he thought were good. Mike would get the information that he needed from his instructor and work all week on feeling the changes. Unfortunately when he went back to his instructor, his swing looked the same! So Mike started to stick old shafts in the ground so that when he practiced he would receive as he calls it "negative feedback." (Positive feedback training aid are those that put you into correct positions.)
One of the pieces Bender worked on was getting the left arm to work deeper in the backswing rather than lift upwards. He would set one of the shafts up so that if he lifted his arm, it would contact the shaft. This gave him the proper feel for what he needed to do to start and change his swing for the better. The actual feel he had to have to produce the backswing he wanted was to copy Doug Sanders backswing, where the left arm was just above the level of the hips. Mike feels that a student having this kind of feedback allows them to improve three to four times faster. He says that The Benderstik is a perfect tool for creating feedback in order to know you are making the corrections properly. The more you practice with feedback, the more ingrained the new motion becomes and the more reliable the new swing.
Why should instructors use it? Mike Bender feels it's important for a good golf instructors to use tools to help their students. If your instructor doesn't use tools, training aids, and video, Bender thinks a student should look for someone else. The reason he feels so strongly about this is because he can't change a golfer's swing with his voice, he needs to utilize tools to guarantee results.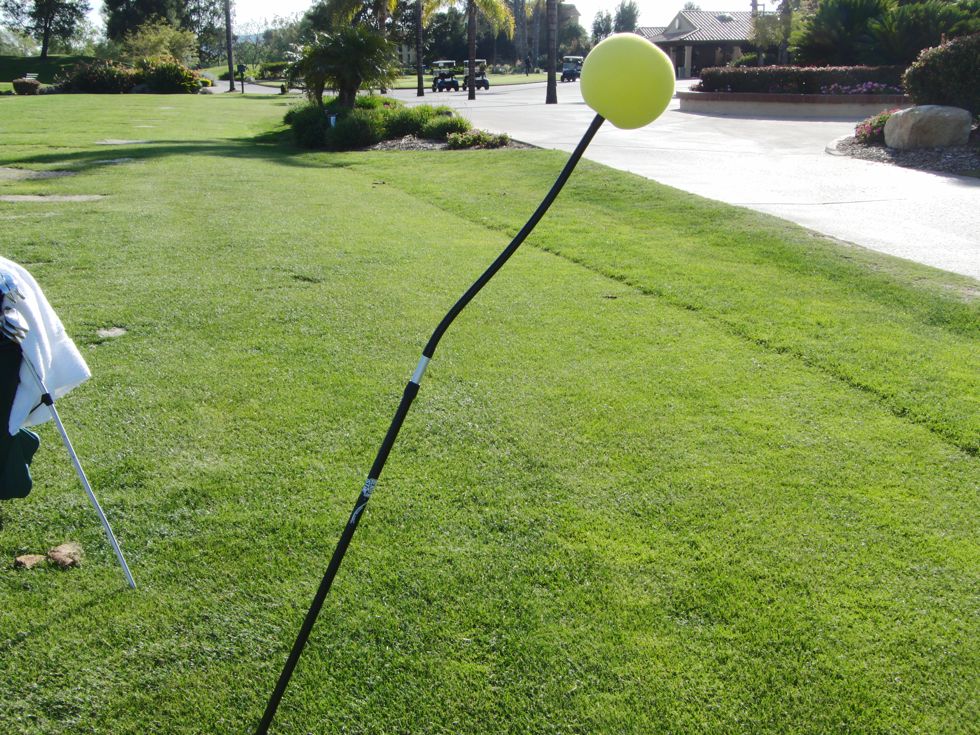 Since I've been involved with Golf Evolution I've been to dozens of clinics and schools and very much agree with Bender. At every event there are several students who can't believe how awkward a particular change to their motion or setup feels but when they see it on video, it looks great. With my own game, I would never have gotten the results I've seen if I just thought about getting into a different position, I needed the feedback from filming myself and using alignment sticks to trust that these exaggerated, weird feelings were actually correct. I was able to take what my instructor told me and recreate those same sensations when I practiced on my own.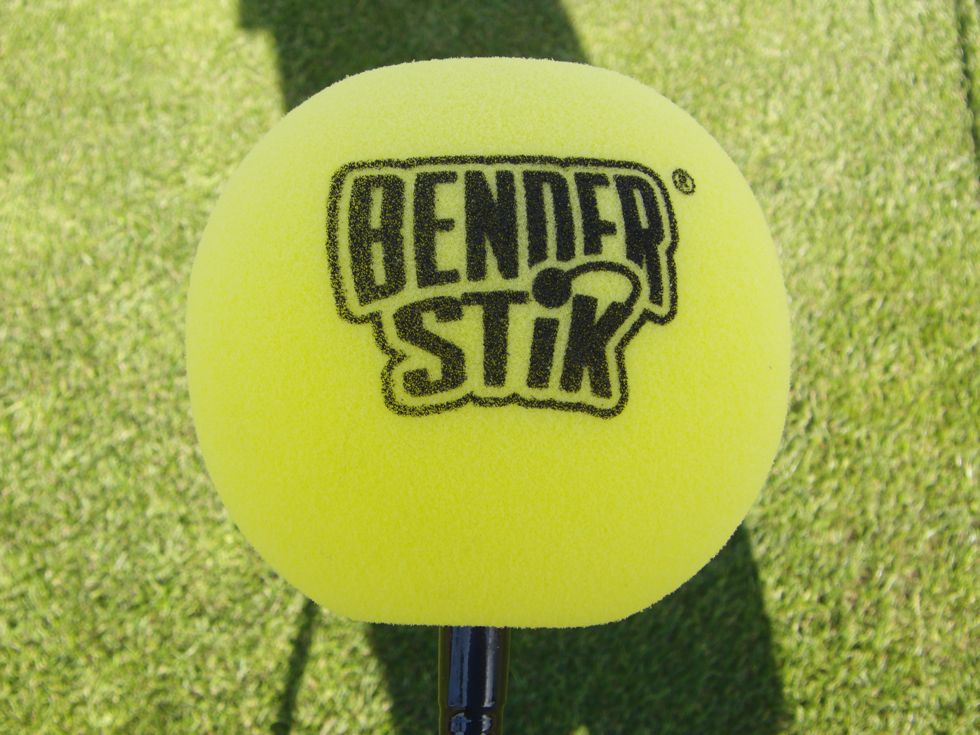 I think if you're serious at wanting to be a good golf instructor you need to use tools like The Benderstik to help your students not only make swing changes but have them trust what they are doing is right because the proof will be evident in the video and the quality of the strike.
Here's a video of Mike using the Benderstik with a student:
How do you know what your swing flaw is? As I know from spending a lot of time on The Sand Trap, golfers aren't the best at diagnosing themselves. Here's what the Benderstik website says:
The steps to do it have recently been posted on the "Getting Started" page of the web site.

The key to this Mike Bender video is to go through the step-by-step process in the order Mike presents. Until you understand how to set up, you can't diagnose your back swing, and until your back swing is correct you can't diagnose your down swing. They all go together and Mike lays it out perfectly in the video.

The best part is if you follow Mike's Five Step process you will know what to be aware of in every part of the swing since people typically have more than one swing fault. Then you are only a practice sessions away from seeing real improvement.

Mike Bender
The video is only for people who have purchased a Benderstik training aid and the pass code to the video is on the the cover of the DVD. In the DVD, Mike teaches you how to check and analyze your:
Set-up
Alignment
Shoulder Turn
Hip Turn
Head Position
The Top of your Back Swing
Down Swing
And, Follow through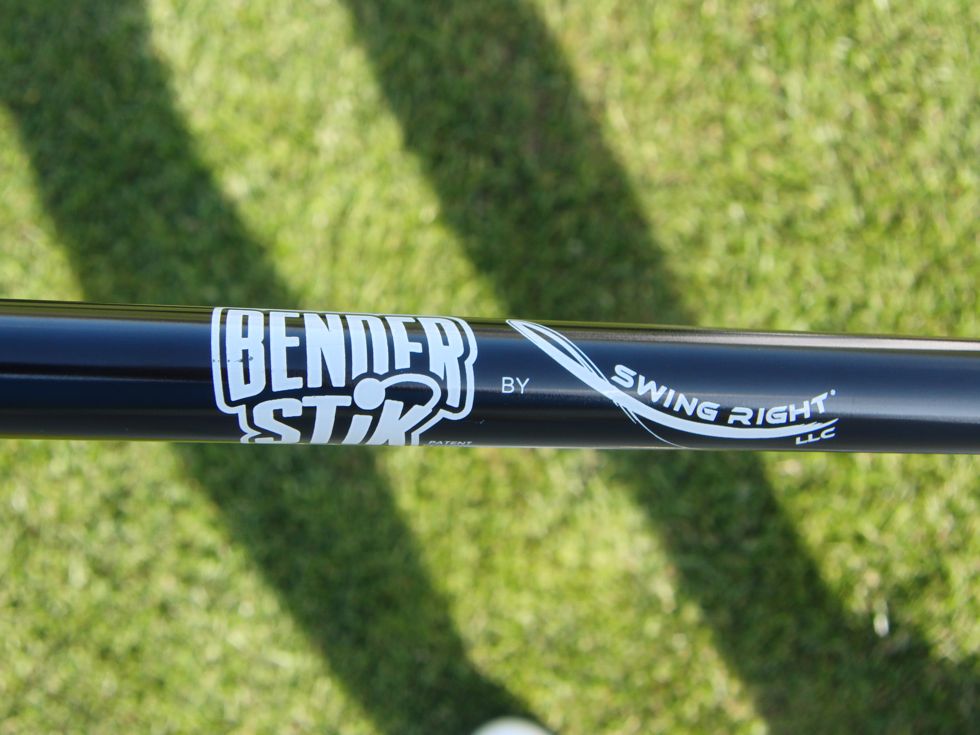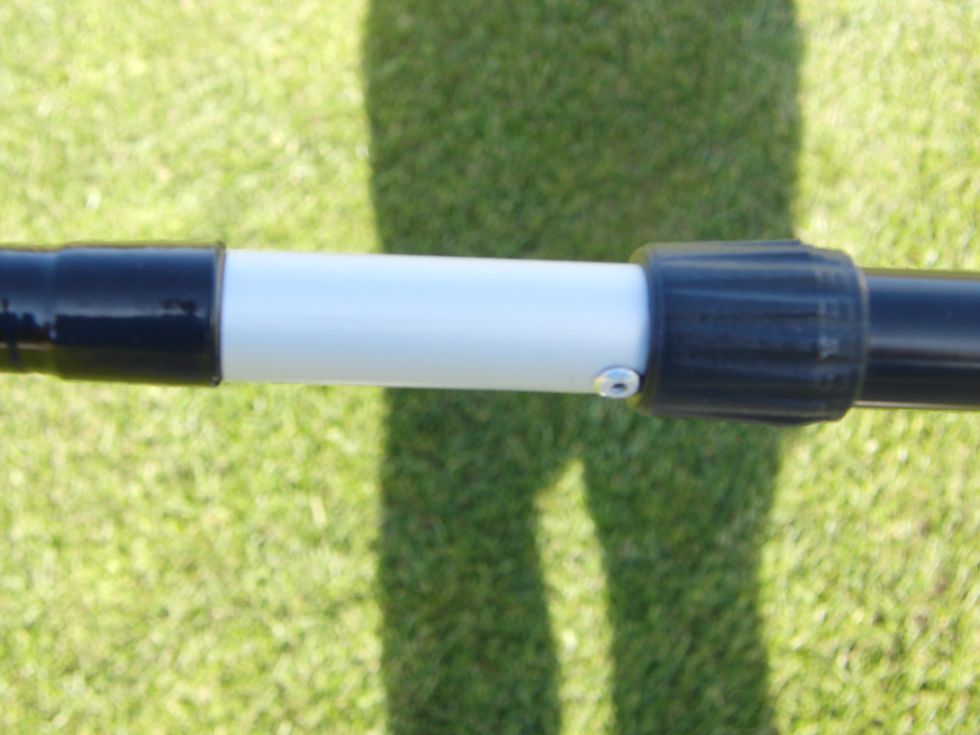 Construction and Build
The Benderstik is a quality training aid. It's durable, won't damage if a club hits it and all the functions work. It's easily adjustable to fit what you want in your practice. There is bendable section near the yellow foam ball of the unit and the height can be adjusted. The picture above shows the adjustable knob for changing length. It's lightweight so it can be carried in your bag. A base is sole separately but it can still be used stuck in the ground using a spike that screws into the bottom of the stick.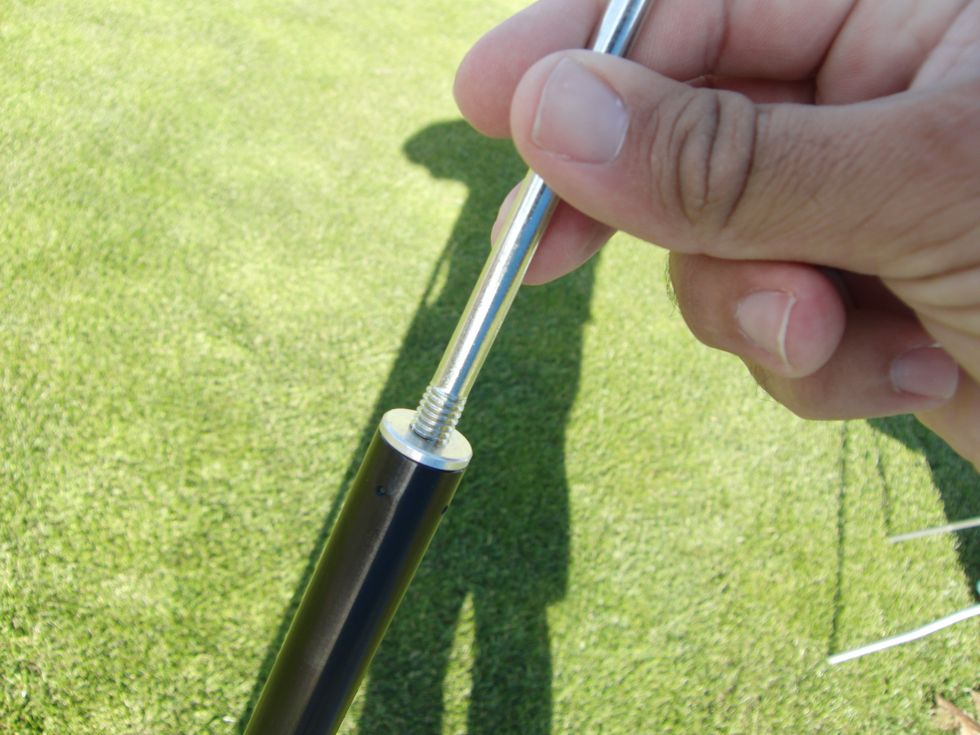 Benderstik in Use
Setting up the Benderstik is very easy. If you're outdoors, attach the spike to the bottom of the pole and stick it in the ground. If you're indoors, attach the pole to the base. Alternately, you can put the Benderstik in your golf bag, a method that will work indoors or out. The Benderstik is extremely versatile, here's some of the swing ailments Mike says it can fix: flipping, swaying, sliding, losing posture, over-swinging, chicken winging, and I could go on, but you get the picture. You can bend it, shorten, lengthen it to fit your body and swing. That to me is the highlight of the Benderstik, while an alignment stick can satisfy similar needs for creating feedback during practice, it lacks the customization that the Benderstik offers.
On the downside, the Benderstik cannot be used inconspicuously. I usually have my own alignment sticks and camera out there with me anyway so I don't mind having other people watching me on the range, I know some may feel uncomfortable because others will stare. It also costs $99.95 for a training aid that performs similar tasks to that of a two dollar driveway stick. If you are serious about using it on a regular basis or are an instructor I think the cost is justified but definitely not a bargain.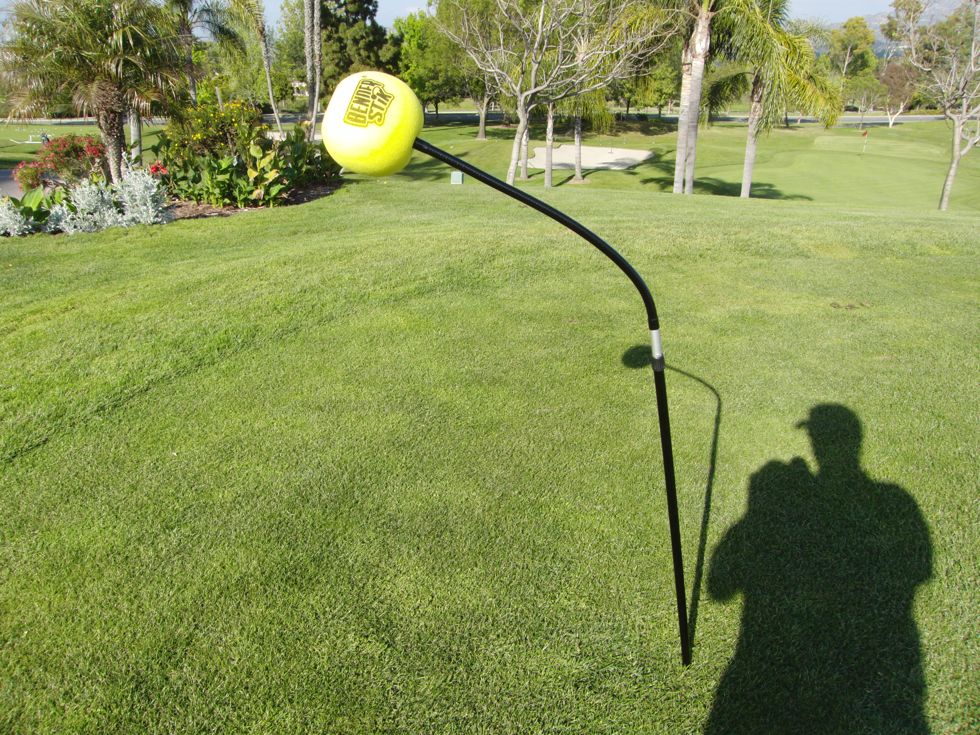 Conclusion
We've all heard the term, "practice makes perfect" but Mike Bender, is an advocate for perfect practice makes perfect. But how do you know you're practicing the right motion if your instructor isn't there with you? That's where The Benderstik comes in, to help give you feedback and help maximize your practice potential. PGA instructor Mike Bender, feels his training aid that he uses with all of his students, will help you do just that. I agree and hope you get a chance to check one out this season. For more information check out the Benderstik website.