I've been a pretty good golfer this year. I generally played the ball down, I almost always took my strokes when I hit in hazards, and I hardly ever swore at all on the course. Well, two out of three isn't bad.
It's that time of year again, and I know I have nothing to complain about when it comes to golf equipment. But a guy's got to dream. Right? There's always room for one more golf doodad.

So what I'm looking for this year is golf's answer to an "official Red Ryder Carbine-Action 200-Shot Range Model Air Rifle with a compass in the stock and this thing that tells time." I'd like a "gift for a golfer that has everything." That's where you come in, Santa. Any help you could lend would be appreciated.
Anyway, here's my list. I've left off plenty of worthy contenders, but I wanted to limit myself a little. I've had my eye on some of these for awhile. Though I haven't demoed even one item on my list, but they all appeal to me in much the same blind faith way that the Little Orphan Annie Decoder Ring appealed to Ralphie.
The cookies will be by the hearth as usual. Let's try to improve on those golf socks you left last year. Thanks in advance for all the great stuff!
Number Five: Just Watch Out for the Mouse!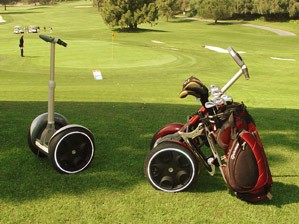 OK, so I have this secret wish to get around a golf course like security guards get around Disney. Seriously, how cool would it be to cruise down the links on a Segway?
As it turns out, the Segway x2 Golf comes with a golf bag carrier, turf-friendly tires, and a scorecard holder. The x2 Golf has a range of up to 14 miles on course or 22 miles on flat paved surfaces at a maximum speed of 12.5 mph. The range depends on terrain, riding style, and payload. So if you're on the heavy side and use a staff bag, your mileage may vary. But you should be able to play 36 (provided you hit it fairly straight and your course doesn't have too many hills). What more could a golfer ask for? I particularly welcome the excuse to wear a helmet on the course (At some of the places I play, a helmet makes real sense!). You can pick up a Segway x2 Golf for about $6,200.
Number Four: I Need a HUG


OK, so maybe the Segway is a bit much. But this one won't set you back too much, Santa.
The Sun Mountain Superlight 3.5 with HUG carry bag comes with a yoke (Sun Mountain calls it an "arm") that fits over your hips. Anyone who has ever put on a backpack with a hip belt will get the idea right away – the arm takes quite a bit of the load off your upper back. I haven't actually tried it out with clubs in the bag, but the difference is noticable when you don the HUG system. Sun Mountain says the HUG system can reduce upper body fatigue and improve posture. It does seem to encourage you to stand up straight.
Aside from the lightweight aluminum arm, this bag also features a 6-way top with full-length dividers, top-molded stand attachment, X-strap dual strap system and the patented roller bottom. Its triangular non-slip footpad resists sinking into grass or sliding on slick surfaces, and the top-mounted strap attachment improves the balance of the bag while carrying. It also has a velour-lined valuables pocket and full-length clothing pocket (that's no compass in the stock, but it's not all bad). All this and a matching rainhood goes for about $200. The arm comes in small, medium, and large.
Number Three: You'll Put Your Eye Out, Kid
I think it may just be the name, but I can't help but feel that owning a Whippy Tempomaster would be pretty cool. You may have seen one of those trick shot artists using something like this on TV. It looks like a regular golf club, but the shaft is really, well, whippy.
Unlike some training aids, you can actually hit balls with the Whippy Tempomaster. Or maybe it's more accurate to say "some people can actually hit a ball with one of these." Any sort of jerkiness in the swing will do odd things to the shaft. One of these could really help me smooth out my swing once and for all. That, or it could just give me a concussion.
The Whippy Tempomaster is available in any club you'd want (as long as a 290cc driver is big enough for you). You can order any iron, a driver, 3-wood, wedge, and even a putter. As the name would imply, each are designed to help you improve your tempo. Prices range from $89 for the putter to $139 for the driver.
And Santa, if you do deliver one of these, then you might also throw in that helmet from the Segway bit. Because with one of these and my swing, I really might need it.
Number Two: A Little Green Would Be Nice
Putting accounts for about 40% of the strokes in a round of golf. Imagine how much better I could be if I could practice year-round on an indoor/outdoor putting green. Now, sure, there are plenty of felt rollout greens available for under $100, but how good can I really get with that. No, what I really need is a big, honking, putting green! Something like the Wentworth from Backyard Putting Greens.
At $4,795, the 14′ x 20′ Wentworth comes with a compression molded base that is strong enough for multiple players. The Wentworth includes Pro Nylon all-weather, authentic length turf and six regulation size cups. You can use contour pads to adjust the breaks of the putting green.
Oh, and Santa, let's not be cheap about this… Go ahead and throw in the $179 Upgraded Flags, so my Wentworth will be the envy of all the other kids.
Number One: Why Even Leave the House?
Seriously, why stop at just putting? If you hurry, Santa, you can bring me the Ace Package from P3ProSwing Golf and save yourself a grand in the process! That's right, for just $8,999 (reg. $9,999) you can give me a whole indoor driving range and golf course. If there's a big box golf store near you at the North Pole, these are a lot like the simulators they have there.
The Ace Package works with a PC or laptop, and includes a hitting cage, an LCD projector, two P3ProSwing sensor pads and accessories, two putting strips, left and right mats, and an EA Sports Tiger Woods PGA Tour 2007 PC game. That's right, I'll be able to play TW2007 with my own clubs and my own swing. That's gonna get ugly, for sure, but it'll also be a lot of fun!
P3ProSwing can also help me improve my game. There are a number of add-ons to the software to measure launch angle or provide video analysis of my swing. I can even buy an add on golf course, if Tiger Woods isn't competition enough. Sure, P3ProSwing offers a number of packages starting at $579, but why mess around when the Ace Package has just about everything.
And if I do get the P3ProSwing, my next Christmas party just might include a long drive or closest to the pin contest, because they have software for that, too.