Ranking golf courses is a subjective exercise. Clearly, some courses are better than others, but narrowing down the very best is difficult. Like a fine bee…, er, wine, much of the decision is based on personal tastes.
Unfortunately, I've never played any of these courses but count it my solemn responsibility to go where only fools dare to tread. So all other ranking systems aside, here's my choice for the greatest golf courses in the world.

Number Five: Pine Valley
Designer: George Crump and H.S. Colt
Widely regarded as one of the greatest courses in the world, Pine Valley is a unique gem. Its founder and primary designer George Crump consulted a wide variety of designers in its construction: Harry Colt, Hugh Wilson, George Thomas, William Flynn, Charles Blair Macdonald, Walter Travis, Robert Hunter, A.W. Tillinghast, Alister MacKenzie, Donald Ross, William Fownes, Charles Alison, and Perry Maxwell. Several of these men contributed to the design.
Pine Valley has never been used in a professional tournament as the course cannot accommodate large numbers of spectators.
Chosen first on many greatest course lists, Pine Valley is, by all accounts, one of the most challenging and diverse courses in the world. Each hole will challenge your mind and will often present classic and difficult risk/reward scenarios.
Number Four: Cypress Point Club
Designer: Alister MacKenzie and Robert Hunter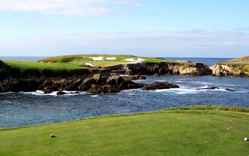 Cypress Point is perhaps the most beautiful seaside course in the world, particularly for holes 15, 16, and 17. All three are all played along the Pacific Ocean and are considered among the very best golf holes.
The 230-yard par-three 16th is probably the most intimidating hole in the world. It has also been called the greatest hole in the world. Built in the era of hickory shafts, the 16th has a forced carry over water that would have tested your mettle with a driver in hand. I'd have to hit a miracle three-iron to reach the front of the green. Consider also that this hole is subject to the wind.
The beauty and consistent challenge of Cypress Point make it one of the very best.
Number Three: Pinehurst No. 2
Designer: Donald Ross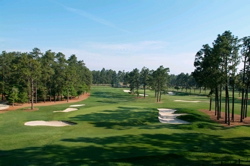 Renowned for its turtleback greens and beautiful surroundings, No. 2 at Pinehurst is one of the best. No. 2 has played host to two U.S. Opens and will likely see a third in 2014. The first was won by Payne Stewart in 1999; the second by New Zealand's Michael Campbell.
The Pinehurst complex was founded by business man James Walker Tufts, who purchased over 5,000 acres at approximately a dollar an acre. No. 2 was completed in 1907 by renowned architect Donald Ross. The course has hosted a variety of tournaments including the North and South Open (played yearly), The Tour Championship, the Ryder Cup, the Woman's Championship (amateur), and the U.S. Open.
If you ever have a chance to play a Ross design, you're in for a treat. Years and years of sanding the greens have made the turtleback greens higher and more difficult. They require a deft touch for an up and down. Pinehurst's ongoing relationship with St. Andrews is a testament to its greatness.
Number Two: Augusta National
Designer: Bobby Jones and Alistar McKenzie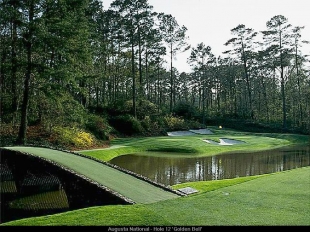 Augusta National is one of the most fabulously designed courses in the world. When you couple that with the meticulous and lavish care given to every square inch of the course you can understand why this course deserves a high place on anyone's list.
Alister MacKenzie and Bobby Jones created a masterpiece. Originally designed with few bunkers, generous fairways, and a layout that demanded risk/reward decisions, Augusta National is a gem. While it no longer retains all of those qualities, it still stands out as a unique course.
Professional golfers gather here every year for the only major played in a static location. You'll remember the regular features: The big oak tree on the golf-course side of the clubhouse, the Eisenhower Tree (made famous because Ike often hit it and lobbied to have it removed), Ike's Pond, Rae's Creek, and Amen Corner.
Number One: The Old Course at St. Andrews
Designer: Mother Nature
The birthplace of golf has stood the test of time. What a test it has been. Golf was first played here sometime during the middle of the 16th century. The Old Course was completed in its present form in 1863 by Old Tom Morris. He separated the first and 17th greens.

At one time during the Old Course's development, 22 holes were played: 11 out and 11 in. Imagine how long a 22 hole round would take today!
The Old Course defined for the world how golf would be played. Its generous fairways allow for varying styles of play, its pot bunkers are penal, its seven conjoined greens are unique in the world, and it is the oldest surviving golf course.
What is remarkable about the Old Course is that hundreds of years after golf was first played, major championships can still be played on it.
Photo Credits: © Golf Club Atlas, Golf Club Atlas, About Golf, Unknown.