In the last ten years, the LPGA has lost over a quarter of its events, down to 28 from a high point of 38. Prize money is down over $10 million. What can be done to save the LPGA?
Anna Rawson knows the LPGA is in trouble, and she has a plan for fixing it. If you don't know the name, maybe you should. Rawson is a golfer who models in her spare time (or maybe it's the other way around). You may know her as the GoDaddy.com spokeswomen who swings a golf club.
That would be fair since she really hasn't done much on tour thus far. Aside from being in the top 20 in driving distance, she is outside the top 50 in every meaningful category in her sophomore season on the LPGA. In 11 starts this year, she has made just three cuts. To be fair, she did notch a T13 at the LPGA State Farm Classic. Still, it would be easy to dismiss her as the Anna Kournikova of golf, and that's not entirely inaccurate at this point. She's beautiful, and she hasn't won a thing.

This week, ESPN ran an article in which Rawson offered her ideas for improving the LPGA Tour, and they are not bad. Perhaps she should get Bivens' open position. At a minimum, press conferences would be better attended.
Number Five: They're Playing Her Song
Anna's first proposal is to add music to the first tee and eighteenth green. She'd like to have each player's favorite song played as they get ready to hit their first opening tee shot. Rawson says it would not be distracting since most players practice while listening to music through ear buds, anyway.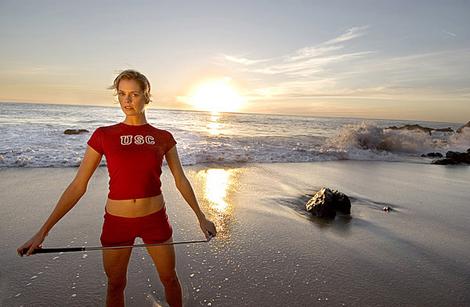 I'm not totally buying this one. I don't think it will do much to jazz up the crowd, and what if a couple players have the same favorite song? Do they just play the same bit again, or does the lower ranked player have to choose their second favorite song? What about courses where the first tee is very close to a green? It could definitely be disruptive, plus it just seems a little too contrived. Sorry Anna, that's 0-1.
Number Four: Bring on the Men
Yes, we've heard a number of female pros who wanted to raise their games by playing against the men, but Rawson doesn't want to go down that road exactly. She just wants to play at the same time and place as the men. She would like to see an LPGA Tournament take place on the same course over the same days as a PGA Tournament. Fields would have to be limited to about 75 players per tour, but this just might not be such a far-fetched idea.
A group of PGA Tour players would tee off. Then once they clear the landing area, a group of LPGA players would follow from a more forward tee box. This pattern would continue all day. Each tour would have their individual cuts (to maybe 50 players from each) and award their own champions at the end.
You're never going to see a first-tier PGA Tour event going for this idea, but what about one of those events that run concurrent to a major? Take the U.S. Bank Championship, for instance. The best players in the world are already out of the field for the British Open. Would it not be more of a draw if the top women players in the world played in Milwaukee beside the best male players in the world not to qualify for the British Open? I think it would. It would also be very interesting to see the contrasting styles of play.
I'm buying what Anna's selling here… 1-1.
Number Three: A Commemorative Chamisole, Perhaps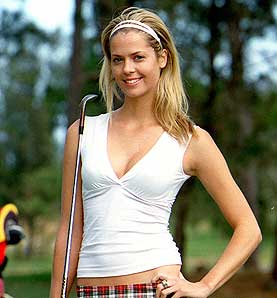 Anna's next suggestion is to have fashion designers create a special apparel item or accessory for each tournament. Tournament winners would be given the creation to wear as part of the award ceremony (after a brief break to allow the player to get her makeup in order). In addition to that, Rawson envisions the winner being jetted off to New York to model the item for a fashion magazine photo shoot. That might work well for a Paula Creamer, Sandra Gal, or, naturally, Anna Rawson, but there are some women on the LPGA that would seem like a Top Flight II in a box of Pro V1s at a fashion shoot.
Still, it's not entirely a bad idea. If a few tournaments adopted the commemorative designer item idea, I think it would fly. Let's skip the fashion shoot, other than some well-staged shots after the tournament. The tournament could sell the item in the merchandise tents and on their website. It would generate a little more revenue and buzz. If every tournament did it, however, it would quickly turn into a pretty boring side show. Still, I'm going to give Anna the benefit of the doubt here… 2-1.
Number Two: Here's an Idea, Market the Tour
Like, duh. I don't mean that as a slam on Rawson. I agree with her. Rawson feels that the LPGA story is not getting sufficient promotion. Try to find a non-major LPGA event on TV, and it's pretty obvious. The Nationwide and European tours get more exposure in the U.S. Rawson's remedy is to give LPGA VP of communications David Higdon a long term contract and to make him directly answerable to the players.
Hmmm… I'm not sure that the players as a group know all that much about marketing, but they can't do much worse than the tour has recently. Rawson would like to see all decisions of the tour to be made from a marketing perspective. To get a lasting gain in popularity, the tour needs a quality product, which they pretty much have right now, and a promotional campaign that gets the public's attention, which the tour regrettably lacks. Rawson's dead on. The LPGA certainly needs marketing… 3-1.
Number One: Let's Hear It

Rawson has a interesting idea on why women's tennis is so popular&hellp; the grunts. I'm not sure about that. I'd wager that the short skirts are at least as important as the grunts. Rawson is of the opinion that golfers' grunts would be much more entertaining and impressive, seeing as they can result in drives of 250+ yards. In fact, she'd like to see every player mic'ed up. That's a lot of microphones!
It goes without saying that those microphones would catch more than just the grunts. As we've seen with Christina Kim, player dialogue can be entertaining, for awhile anyway. But I'm not sure you need to go so far as mic'ing up every player. A parabolic or shotgun microphone is quite capable of picking up conversations between caddies and players from an unobtrusive vantage point. Besides, as has been said before, the really interesting dialogue is going to be censored, anyway. Not to mention that the various languages spoken on tour would be a challenge. I think mic'ing up the players would be interesting on occasion during the season, but not every week and not for every player. Let's call that a push… 3-1-1.
In the End…
Neither Rawson nor her ideas are going to be the longterm answer for the LPGA, but they can't hurt in the shortterm. If Rawson were to catch fire on tour and put up a few wins that might help, too. But maybe her ideas (and a few more) can help the LPGA begin to regain the exposure it enjoyed just a few short years ago. Then again, a real rivalry would do wonders.
That's one of the big problems that the LPGA faces. It has its stars, but they aren't winning enough and they rarely go head to head down the stretch. The LPGA needs its dominant players to dominate a little more. When no names are winning much of the time it is not going to attract viewers or television contracts. Underdogs are only underdogs (and entertaining stories) when it's rare for underdogs to win. In that scenario, there are no Cinderella stories. The best thing for the LPGA might be for three or four players to start winning the lion's share of events. That or maybe they could play the Black Eyed Peas on the tee.
Photo Credits: © Getty, © Mouthpiece, © Unknown.