After watching the Masters on TV pretty much every year since grade school, I finally got to see Augusta National in person this year. My wife and I took her parents to see the Tuesday practice round. It was the first time any of us had seen the course. Despite the weather (about 45 degrees with 30+ MPH gusts), we had a great time, saw quite a few of the world's most famous golfers, and walked the best known golf course in the western hemisphere.
I'd heard to expect the course to be hillier than it appears on TV and that the cost of concessions would be remarkably low compared to most sports venues. Still, I didn't think there would be that much that would surprise me. I was wrong. TV doesn't really do the place justice.

Augusta National is simply beautiful. A poetic garden where grass is showcased, punctuated by pines and azalea. You feel like you are stepping on someone's very expensive carpeting as you walk the first cut (which would pass for fairway at a great many courses acround the country). It's thick and cushioning, and you have to look very closely to find an imperfection. Dave found a weed, but I did not have the dedication to look long enough.
The place feels slightly magical, and we were lucky enough to witness a magical moment on the par-three 16th hole. As you may know, at 16 on practice days after the players hit their regular tee shots, the patrons start calling for the players to skip shots to the green. The players almost always oblige, dropping a ball on the bank of the pond and seeing how many times they can make it skip before reaching the green.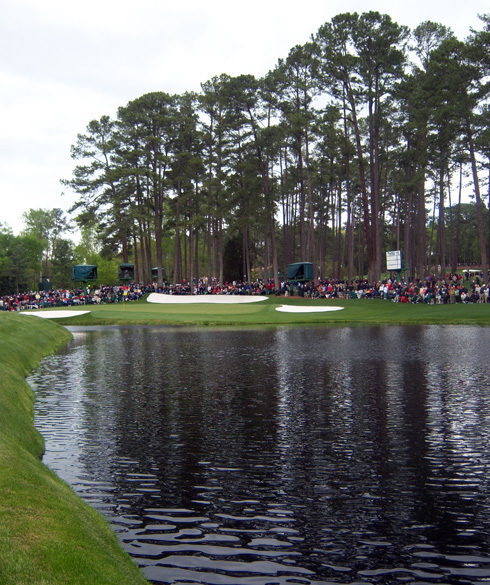 Vijay Singh dropped his ball like others before him and hit it at about a 30 degree angle down to the water where it took one large skip, then three more small ones before it ran up the far bank, up onto the slope of the green, curled toward the pin, and dropped in for a most unlikely ace. (We were sitting on the left side of the pond. Another view.)
This video also shows how many patrons attend practice days. Tuesday had easily the worst weather of the week, yet we were often standing behind three or four rows at famous locations or when popular players were in sight. Since it was a practice round, most people were moving around the course quite a bit so better viewing was easy to get just by waiting a few minutes. I imagine the weekend is a different experience. But you can't buy those tickets (at least not from the Masters). There's a waiting list for competitive round tickets, but you can't get on that either. Except for a brief period in 2000, the waiting list for patron badges has been closed since 1978. Practice round passes are in such demand that the Masters holds a lottery to determine who will have the opportunity to purchase tickets.
It's easy to see why the event is so popular. Suffice it to say, I'd go back anytime… practice round or not. I'd go just to walk the course, if I were allowed to. It's truly one of a kind. It's too bad some people (Sergio) are too wrapped up in themselves to appreciate it. It's funny how many players managed to finish under par on a course that's "too hard" and "tricked up."
Sergio's comments surprised me. I thought he'd matured from the days of blaming the course or other mysterious evil forces. Apparently not.
Happily, most of my surprises at Augusta were more pleasant. Here are five things that may or may not surprise you about the Masters.
Number Five: Seriously, It's Hilly
I already said this and you hear it all the time, but seeing the course on TV does not prepare you for how much elevation change is on the Augusta National property. HD television makes it a little clearer, but the magnitude of the slopes at Augusta is still difficult to see. From tee to green, number 10 drops more than a 10-story building. From the highest point on the course to the lowest adds up to 175 feet of elevation change.
What goes down must come up, of course. Just a few feet above the number 10 green is the number 18 tee pointed back up that hill. That's a 465 yard, uphill par four. I could probably get there in three.
Number Four: Softer Greens Are More Fun
OK, the fact that softer greens yield more birdies isn't really a surprise. The surprise is that Billy Payne and the powers that be let the course play that easy all week.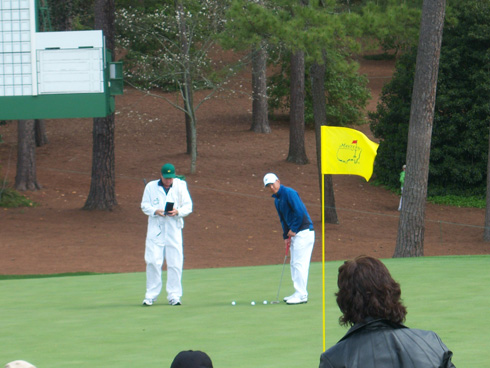 On Tuesday, watching Anthony Kim's caddy fixing a monstrous ball mark, I was joking with my father-in-law that the Augusta National members would probably turn the SubAir system on Wednesday night to dry out the greens. Obviously, it didn't happen. Surprise! The greens were receptive all weekend. And if they weren't, the scores would have been just as high as they've been the last few years.
Which brings me to the one criticism I can make of Augusta National: why'd they have to mess with a good thing? I hold out hope that the Augusta National members will decide to extend the tee boxes or add new ones to allow the course to play shorter when conditions dictate. The course probably plays too long as a rule, but what I'd really like to see is the Second Cut (the rough) and those recently added trees removed. The new pines on 11 look out of place, like an afterthought. Very little at Augusta National seems like an afterthought.
Augusta National is supposed to provide angle options for approaches. To score well, players must hit very small areas on the greens or the ball will bound away from the pin or even off the putting surface. The trees and rough take away those angles and make the course play point to point. I say bring back the strategy.
OK, now back to my total awe of the place.
Number Three: It Can Happen to Anyone
Angel Cabrera's shanked approach on number eight was certainly a surprise. Having spent some fairly low moments over the past few years struggling with the dreaded "S" word, I was definitely intrigued to see a professional hit one enroute to winning the Masters.
I've seen pros hit the hosel before (Darren Clarke's on SwingVision is a classic). But usually when a pro gets a case of the snap fades, it's when he's struggling with his swing. On Sunday, Cabrera caught the hosel in the middle of a not-great-but-good-enough-to-earn-a-green-jacket round.
What I can't decide is whether I'm relieved to see a pro at the top of his game hit a hosel shot (i.e. I'm not so bad just because I occasionally shank one) or whether I'm terrified that the margin between good shot or horrific shot is that thin (i.e. Egad, this could happen at any time!).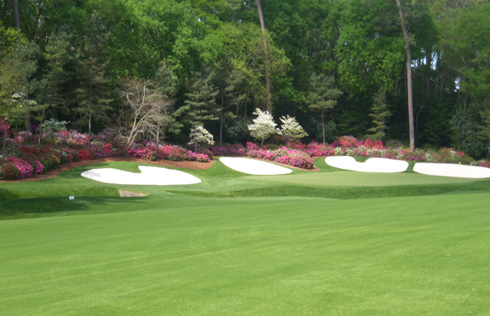 Number Two: Keep Your Shoes On
When you approach the gates at the Masters, you have to go through metal detectors to enter. It's a bit of a shock, but understandable in these days. The Masters presents a world stage for any idiot who would seek to exploit it for his or her own ends. Thankfully, such jackasses usually are just streakers, pond divers, or bunker swimmers.
Unlike when you board a plane, however, you don't have to remove your shoes before you go through the metal detector.
Number One: Enterprising Turtles
You're not going to believe this one, but it's true. At Augusta National the mud turtles are so bold they hit the patrons up for handouts. Several of them swam along the bank on number 16 waiting for patrons to drop a piece of their $1.50 pimento cheese sandwiches in the water. Seeing a turtle beg is a strange experience, and one I'm sure the members would deny.
Still, one turtle, apparently growing impatient with the stinginess of some patrons, climbed out on the bank and headed straight for a patron's camera bag. You would have to call this turtle behavior surprising, at the very least.