By most accounts, it will be a minimum of seven months and as much as nine until Tiger Woods tees it up again on the PGA Tour. The suits in Ponte Vedra Beach (PGA Tour headquarters) and Orlando (Golf Channel) are on suicide watch. The networks are sweating their PGA Tour commitments, worrying about how many eyes will watch Tiger-less events.
Let's face it: though we like tight tournaments and playoffs, we only really love them when the top guy is involved.
Don't despair. Tiger will return. And until he does, it turns out there will still be golf to watch and play. Here are a few options to pass the time:

Number Five: Work Out Until You Look Good in J. Lindeberg

Just how long will it take you to get into good enough shape that you could wear those waif-fitting golf clothes worn by Jesper Parnevik, Camilo Villegas, and others. Those of us with body fat in the double-digits should probably stay clear. If you are as pear-shaped as I am, this project alone could keep you busy until next year's Masters.
I hear that yoga is good for golf. And aerobic exercise coupled with a smart diet is the best way to lose weight. Jesper Parnevik eats volcanic ash. Like Meat Loaf said, two out of three ain't bad.
Once you can fit the clothes, you may still need a second or third job to fully outfit yourself in J. Lindeberg. The leather belts start at $131.
And if you happen to be one of those flatbellies that can already golf in J. Lindeberg without splitting a seam, just keep it to yourself. The rest of us are busy enjoying things… like food.
Number Four: Date (or Stalk) the Wilhelmina 7
OK, for the record, I'm just kidding about that "stalk" part. But let's face it, you and I probably don't have much of a chance of dating just one of the Wilhelmina player/models, let alone all seven.
Who are the Wilhelmina 7, you ask?
The Wilhelmina 7, or W7, are seven LPGA players who are represented by Wilhelmina Artist Management (a division of Wilhelmina Models). The women will appear together and individually in various promotions. Thus far, many of the shots I've seen feature swimsuits. Who'd have guessed? The W7 comprise Minea Blomqvist, Sandra Gal, Anna Grzebien, Kim Hall, Johanna Head, Mikaela Parmlid, and Stacy Prammanasudh.
Can you imagine the PGA Tour version of this?
Number Three: Watch #1 vs. #2
You can still watch the world's two best players going head to head. In fact, you can watch them square off this weekend in a major.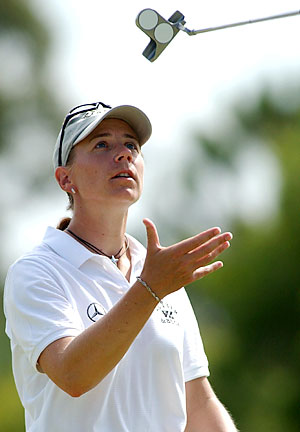 Obviously, I'm not talkng about Tiger and Phil… I'm talking about Lorena Ochoa and Annika Sorenstam, both of whom are vying for the U.S. Women's Open crown this week at Interlachen in Minnesota. With Sorenstam retiring at the end of the year, the LPGA just might have the most engrossing story of the year. Will Annika when another major to add to her career total of 10?
Annika Sorenstam is one of the best players in LPGA history and has dominated the game for most of the last decade. Ochoa came along late in Sorenstam's career. Can you imagine the rivalry that might have bloomed if Lorena was 10 years older? As it is, there are just a few months left to enjoy the show. The LPGA has a number of young players that are on the verge of emerging. With Tiger out, maybe it's a good time to check out the ladies.
Number Two: All Phil, All the Time?
Hung up on the PGA Tour or nothing? There's still #2. As Cody pointed out, Phil will be the favorite in every tournament he plays the rest of the year. He's entertaining to watch… part Arnold Palmer, part Seve Ballesteros. Still in more than twice as many tournaments as Tiger this season, Phil is in second place in FedEx Cup points, nearly 7,000 points behind. Alas, Phil is no Tiger.
Is the PGA Tour without Tiger Woods really such a different landscape? Yes. In six starts this year, Tiger has four wins including the U.S. Open, a second at the Masters, and a fifth at the World Golf Championships-CA Championship. That's not a bad year, and he's going to miss half of it.
The PGA Tour these days is truly Tiger, a small handful of near contenders, and everyone else. And while everyone else can win, the odds of them winning on any given week are pretty long. The loss of Tiger for the year moves everyone else a little closer to the top. It might not be a bad thing. Parity can work.
With no Tiger domination and intimidation to knock down the field, each tournament should truly be anyone's game. The FedEx Cup should be a much closer affair this year. And there are a lot of other interesting players to watch. Personally, I'm rooting for Rocco to get a win along the way.
Number One: Work on Your Short Game
You've heard this before, but the fastest way to lower your handicap is to improve your short game. If you can shave just four or five shots a round by getting up and down more or reducing three putts, just think what that will do to your average score.
So, if you can't get into watching Tiger-less golf, why not go to a nearby chipping and putting green and practice your short game.
And if none of that works for you, remember, football starts in just two months
Photo Credits: © Sports Illustrated, Unknown, © 2008 The Sand Trap .com.