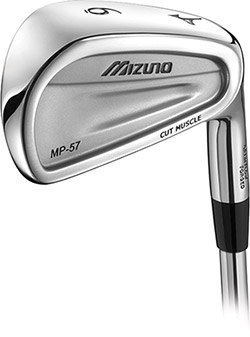 When I found out about Mizuno releasing a full cavity-back iron for their MP line, I must admit, I was pretty giddy.
I've long admired the MP line but knew I had no business playing any of them as I felt I just wasn't good enough nor did I have the time to dedicate to practice enough to enjoy playing golf with them. No matter how nice a club looks, that beauty is not going to help you when your swing isn't quite there.
Enter the MP-57 irons. Even though they are technically a full cavity-back iron, I was left to wonder when they arrived at my doorstep if they might still be a bit too much iron for my golf swing.
Read on to find out if a cavity-back iron could still produce that "buttery-smooth" Mizuno feeling while also providing a level of forgiveness for those of us who can't dedicate hours at the range honing our golf swings.

Design and Technology
Using the Grain Flow Forging and the Cut Muscle technologies seen in the rest of the MP line, the MP-57 are the first iron in the series to feature a full cavity. By incorporating a full cavity, the Mizuno engineers were able to make a much larger sweet spot for added forgiveness for those of us who don't make a nearly perfect swing every time.
The MP-57 are forged from 1025E mild carbon steel that provides for a soft yet solid feel utilizing Mizuno's Grain Flow Forging, a six-step process that their MP line of irons go through. Also incorporated into the MP-57 is the Cut Muscle design which provides what Mizuno describer as the "ideal center of gravity (COG) location, perfect trajectory, enhanced solid feel, and complete ball control." Toss in the reinforcing muscle pad to give you additional feel and you get one very impressive forgiving iron.
The MP-57 comes in a double nickle-chrome plated finish that looks nice and shiny in your bag but not so at the address position, so you don't have to worry about being blinded by any glare. The U-grooves provide "the ideal spin rate, for maximum playability in all conditions."
Finally, the sole. Mizuno describes it as a "rolled leading edge, cambered mid-sole, and rolled trailing edge deliver consistent striking ability from all types of lies." Non-marketing lingo, the MP-57 irons performed just fine from pretty much any lie you will find on the golf course.
Esthetics
I'm a pretty simple guy when it comes to how a club looks and believe that less is more rather than using multiple colors, graphics, medallions and whatnot. As such, I was quite pleased with how simply stated the MP-57 irons look. Clean and crisp is how I would best describe them.
The MP-57s are a bit smaller from toe to heel than the game improvement style clubs I've used in the past but that didn't really seem to bother me after the first few shots as I felt it forced me to concentrate more when making a swing.
Some people get riled up about topline thickness, but I've never really cared much for that sort of thing. Sure, I don't want my irons to look like garden tools, but the angst caused by a few millimeters difference isn't going to spoil my tee time. For those who really get into the thickness of the topline, rest assured as the MP-57 irons look small and compact from the top. Not quite a blade but not bad at all.
One item to be aware of is that the 1025E mild carbon steel used in making the MP-57 irons is soft and over time, you will get some "bag chatter." I think these add character to a club but if you want your MP-57s to look shiny and new for years to come just know you may have to wrap a towel through the irons or get some covers to lessen the chance of marks.
Overall, the MP-57 irons are a classically style iron with some serious technology packed inside to make these irons more forgiving as well as appealing to the better player.
Performance
I must say, I was a bit worried at first that I didn't have the skill yet required to play the MP-57 irons. While not blades, they are still a "player's" cavity-back and after taking them out of the box and looking down at them, I thought "that's a pretty small clubhead." I was expecting to receive a stinging beatdown by the MP-57.
After warming up and using the shorter irons first to get a feel for the MP-57 irons, my fears quickly went away as I worked through all the clubs and found out what that buttery "Mizuno feel" is all about. Oh sure, I still made bad swings and the MP-57 irons let me know about it but I was pleasantly surprised at the consistency I was getting when hitting the entire range of irons, including the 3-iron.
I've heard quite a bit about the very particular feeling one gets when you hit a Mizuno iron pure. Best described as "buttery smooth," I now know what the fuss is all about. Catch the ball on the sweet spot with the MP-57 irons and I was rewarded with simply one of the sweetest feelings I've ever had with a golf club.
After a brief period of time, I found myself whether on the range or on the course and making a swing and being able to discern whether I hit it flush or just missed it. I crave that level of feedback as that will end up making me a better golfer in the long run.
The feedback was much more pronounced on shots that ended up more towards the toe, heel, and low on the clubface (thin). The feel was not the stinging rebuke kind, but rather more of a gentle reminder to make a better swing next time. With that gentle reminder comes a distinct loss of distance, which doubles as a good visual reminder to make a better swing next time.
As for forgiveness, the MP-57 does offer a fair amount. It's not so much that keep your bad swings in the same area as your good swings, but you still get what I'd call acceptable distance when you don't quite hit if pure. Hit it flush (or close) and your distance is good. Put a bad swing into it and you will end up losing about a club of distance.
I don't work the ball much presently, but it is something I've been attempting to work on as my golf swing evolves. I felt the MP-57s have helped me in that a fair amount thus far. I didn't find a bias either way nor did I find it overly difficult to hit draws or fades. My normal shot is a small cut as I find for me that is much easier to control and the MP-57 irons let me do that with a very nice consistency, without having to force it.
Hitting punch shots and knockdowns were relatively easy. I usually spend some part of my practice sessions seeing how much curvature I can put on my punch shots to not only learn more about my swing but also because I've been known to blow a few drives into the trees and it's nice to know how to get out safely. The MP-57 irons were more than capable of pulling off any type shot I wanted to try.
I found the MP-57 irons to be a beautiful blend of feedback and forgiveness. You don't have to make a perfect (or almost perfect) swing every time and on days in which your swing is a bit off, the MP-57 irons offer enough forgiveness to still make your round enjoyable.
Specifications
The MP-57s come standard with either True Temper Dynamic Gold and with an exclusive Mizuno/Golf Pride M-21 grip (Tour Velvet) and are available for righties and lefties in a 3-PW set that retail for $849.99. Project X 5.5 steel shafts are available as well for righties and retail for $899.99.
If the stock options don't suit your fancy, there are other custom options Mizuno can do for you with various shafts as well as different styles of grips. Check out an authorized Mizuno dealer and get properly fitted for length, lie angle, and grip size to make sure the irons you order are properly fit for your physical makeup and swing characteristics.
Iron  Loft  Lie     Offset  Bounce  Length
----  ----  ---     ------  ------  ------
3     21°    59.5°  0.161"    1°    38.75"
4     24°    60°    0.154"    1°    38.25"
5     27°    60.5°  0.146"    2°    37.75"
6     31°    61°    0.138"    2°    37.25"
7     35°    61.5°  0.130"    3°    36.75"
8     39°    62°    0.126"    4°    36.25"
9     43°    62.5°  0.114"    5°    35.75"
P     47°    63°    0.114"    6°    35.50"
Conclusion
Since putting the MP-57 irons in my bag, golf has become much more enjoyable for me. I feel as though the clubs have helped me to make some improvements in my golf swing. Equally enjoyable is the fact with the slight forgiveness that the MP-57s offer, I can still enjoy rounds in which my swing is a bit off. Plus, I don't have to spend hours at the range practicing.
Feel is very subjective and it can be hard to describe, but "buttery and smooth" is the best way I can think of to describe the feeling you get from hitting Mizuno irons. Do yourself a favor and give the MP-57 irons a try the next time your at your favorite golf retailer. I bet after hitting a few, you'll know exactly what I'm talking about.