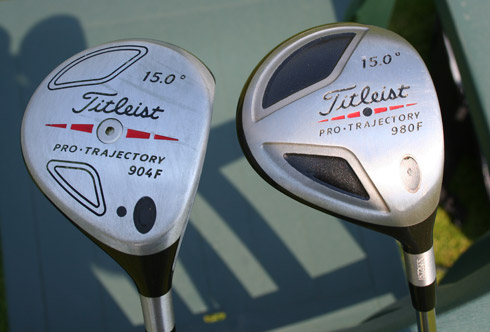 Many touring professionals and better amateurs have long carried a Titleist fairway wood. The Titleist PT (Pro Trajectory) 970 was highly regarded as one of the best fairway woods ever made. In fact, until Tiger Woods recently put the Nike T-60 fairway wood in his bag, he "had been using a modified version of the steel-shafted, small-headed Titleist PT 970 3-wood for several years."
Titleist attempted to follow up on the success of the PT with the 980F. The 980F held true to Titleist's heralded design theme – pear-shaped woods that inspire silent confidence at address. Unfortunately, the 980F failed when it came to more than looks and many pros kept the PT in their bag. The 980 – a solid club in its own right – simply could not overcome its predecessor.
Now we have Titleist's next offering, the 904F fairway woods. The 904F builds on the same traditional look while offering updated technology and a more refined function. This has resulted in superb handling and playability.
If you're not a fan of long reviews, I'll let you stop reading now: the Titleist 904F is the best fairway wood Titleist has ever made and is perhaps the best available from any manufacturer. If you haven't tried a 904F, you're doing your game – and your scorecard – a disservice.