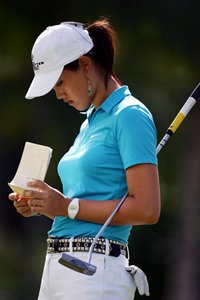 Michelle Wie became the first woman to qualify for an adult male USGA championship two days ago after tying for first place in a 36-hole U.S. Amateur Public Links sectional qualifying tournament in Pennsylvania.
Wie, who finished second Sunday at an LPGA major, tied Artie Fink Jr. at +1 145 in Altoona, PA to qualify. Wie and Fink earned the only two spots available in the 85-player qualifier for the PubLinks, to be held July 11-16 at Shaker Run Golf Club in Lebanon, OH.
Why is Michelle Wie playing against the men again? The Masters. Specifically, the PubLinks champion traditionally receives an invitation to compete in The Masters, and Augusta officials have said that if Michelle were to win the PubLinks, she'd be warmly welcomed to Augusta National next April.