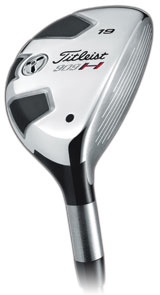 My history with hybrids is a bit different than most. I still carry a 3-iron and can't see giving it up any time soon. I generate enough swing speed and hit with the right amount of downward and sweeping action that I can hit a 3-iron just fine. This same swing tends to produce some poor results when I put a hybrid intended to replace the 3-iron in play.
As such, for years, I've relegated the hybrid to a spot between my 3-iron and my 3-wood. Hybrids from various makers, from about 16 to 18 degrees in loft, have occupied this slot at various times. The Titleist 503.H, more like a 2-iron than a hybrid, held the role until I moved onto the much-adored TaylorMade Rescue Dual TP. After realizing that I had a hard time keeping the ball down, I switched back to Titleist's PT 585.H.
The 585.H was a great hybrid: it looked great, it felt great, and most importantly to me, I could adjust the trajectory to suit my needs. If it had a down-side, it's that it was prone to the occasional snapper, as I often discovered on my home course's long par-three seventh hole.
So when Titleist introduced the 909H, I was intrigued. As I stated in our widely read Sneak Peek, the 909H improves on the 585.H by offering progressive head sizes, shapes, offset, and CG to further optimize launch conditions across the range. A little birdie told me, too, that the tendency of the club to go left fast was reduced. I was pumped.