Normally, when choosing a ball, one takes into account that there is a subtle tradeoff between maximum distance and maximum spin around the greens. Golf ball technology has progressed so that there is less of a tradeoff, and TaylorMade claims to have eliminated it with a new ball they'll introduce soon: the Penta TP.
Titleist has been dominant in the ball market, despite challenges, for decades. Though TaylorMade's TP Red and TP Black were reviewed well, they did little to take away from Titleist's market share and have been heavily discounted at retailers for most of 2009.
The Penta TP is TaylorMade's next offensive attack.


Golfers are very lucky to be playing today because of the amount of customization and personalization available. In the past couple of years, ball fitting has become almost as common as club fitting. It's an area where players have seen significant improvements in their game just by choosing a ball that fits them better than one(s) they normally play. TaylorMade may have created the closest thing to a "one size fits all" ball with their "Progressive Distance" technology. We'll have to wait a little while to see how it works, but for now, some information.
TaylorMade receives some criticism for the rate with which they introduce new clubs, but it seems to work for them and they may very well be taking that same approach to the golf ball market. With the groove regulations going into effect at the beginning of 2010, it's only natural for the OEMs to compensate for the loss of spin in other areas – and the golf ball is one of the easiest places to look.
Getting Down to the Details
Let's dive in and take a look under the skirt of the Penta and see what makes it tick.
Outer Layer – "Cover"
Much of the spin can be attributed to the soft urethane cover. Inside of 100 yards, the most desirable shot is one that is going to have a lower trajectory with enough spin to bounce and check up. The ball isn't compressed much at all on these short shots (which includes greenside chips and pitches), and so the urethane cover is almost entirely responsible for this shot. The soft cover also gives that desirable soft feel that most all "distance first" balls just don't have off the putter.
Second Layer – "Outer Mantle"
The outer mantle helps the player achieve an optimal spin rate on their short irons by placing the fastest mantle immediately under the cover. Optimal in this case refers to a shot that will check up but which won't zoom backwards like a Greg Norman wedge shot, leaving a great golf shot 30 feet short of the flag. TaylorMade also claims that this layer is of great benefit to the player with a slower swing, as it helps him achieve a higher ball speed and greater distance.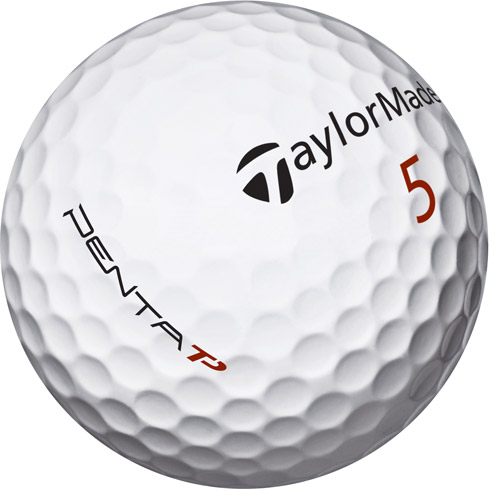 Third Layer – "Middle Mantle"
This mantle aids in the prevention of ballooning (which will lead to distance loss) and promotes a mid-launch trajectory and medium spin. These characteristics are a result of the semi-firm and fast material used in this layer.
Fourth Layer – "Inner Mantle"
The Inner Mantle of the Penta is softer than all the outer layers we've already mentioned, though not as soft as the core, and is one of the contributing factors to the softer feel of this ball with the longer clubs, which will compress the ball to this layer fairly easily regardless of swing speed.
Fifth Layer – "Core"
The vital layer of the Penta is the core, which employs the softest, lowest compression material found in the ball. These characteristics lead to low spin and a high launch, further promoting longer distances off the tee. TaylorMade says that despite the fact that the core is low-compression and soft, it is still very fast, and will promote faster ball speeds to those players that put it out there between 140-180 MPH. They also claim that the Penta TP will be most likely be longer than their current ball.
Progressive Distance
The basic idea behind this ball is that the higher the clubhead speed, the more layers of this ball come into play in terms of compression, hence TaylorMade's term "Progressive Distance." So a slower swing (as in the type of swing normally used from 100 yards and in) may only get the rebound effect from the first layer or two, while the faster swing (as in a swing with driver or fairway wood) compresses all of the layers, down to the core.
As for real world results? TaylorMade staffers such as Justin Rose, Dustin Johnson, and Sergio Garcia have all played the Penta TP and given it rave reviews. Normally, I'm one that takes everything said by anyone with an equipment contract with a grain of salt, but knowing Sergio's outspoken persona, I'm pretty sure that if he didn't like it, he'd say so. The Penta TP has also been used on the PGA Tour by Retief Goosen, who finished tied for eighth this past weekend at the Deutsche Bank Championship.
LDP Technology
TaylorMade's LDP technology has also been worked into the Penta. For those unfamiliar, LDP stands for Low Drag Performance, and promotes maximized distance on off-center hits through the use of TM-proprietary aerodynamics. The dimple pattern on the Penta TP was taken from the TP Red and TP Black, and was designed to reduce the effects of wind on the ball.
Though the Penta TP was created for the pros, the technology in this ball should benefit all players. As stated before, each layer's unique characteristics promote the desired results, regardless of swing speed.
Pricing and Availability
The Penta isn't available at this time, but if you live in the Southern states (like me!), look for them around December 1. TaylorMade says that nationwide availability will be mid-February, 2010. Though they're saying Feb. 15th, I'd be surprised if they weren't readily available at your favorite online retailer on December 1. Expect to pay $45.99 per dozen.
Final Thoughts
I cannot wait to try this ball. I'm neither a TaylorMade lover or hater, though I've always respected them as a company for some of the advances they've made in the equipment industry. Some may shrug this off as another gimmick by TaylorMade, but a company like TaylorMade does not sink millions of dollars and three years of research and development into a gimmick. Real-world reviews from average golfers have been positive, and our own extensive review is in the works.
If this ball spins as much as TaylorMade claims, and goes as far as TaylorMade claims, the Penta will surely be a pretty big hit. Of course, I don't expect Titleist to give up without a fight, and the next few years could be interesting in the ball market.