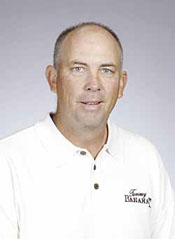 Golf World is reporting that Tom Lehman has been selected as the 2006 U.S. Ryder Cup captain and will be announced as such Wednesday at Amelia Island where the PGA of America is holding its 86th annual meeting.
The PGA of America has a tradition of selecting captains who fit a certain profile - a major champion in his 40s with Ryder Cup experience. Lehman certainly fits this profile. He is a five-time winner on the PGA Tour including the 1996 British Open and was voted PGA Tour Player of the Year in 1996. He made the Ryder Cup three straight times, starting in 1995, compiling a 5-3-2 overall record and a 3-0 singles record.
"I'd be honored if they choose me," Leman said two weeks ago at the Funai Classic at Disney. "But I don't think it's anybody's place to lobby for that position."