Nothing gets your blood boiling more than a showdown between two stodgy golf executives. And because I love to give people what they want, you get a front-row seat to our second celebrity deathmatch. This time LPGA Tour Commissioner Carolyn Bivens and PGA Tour Commissioner Tim Finchem square off in the battle of the golf execs.

Best Dressed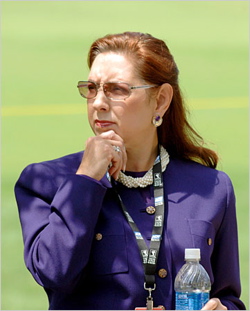 Bivens: I'm sorry, but I've got a real soft spot for purple and pearls. Whether its the power of "P" or the fact that purple is a "grade-A" power color I don't know, but she's workin' it. Go girl. You wear them pearls. You sport that purple. Hot!
Finchem: You gotta love that Finchy is trying. He's got the right suit and that determined look in his eye but it's oh-so-obvious that he's trying too hard. Here's some advice Finchy Baby: loosen up. Try wearing one of Furyk's bowling shirts. A red polyester jacket on Sunday would show people that you want to win as bad as Tiger. Show us you can hold a lead on Sunday buddy.
Winner: Bivens. Step aside Gulbis, Creamer, Ochoa, and Kerr. Bivens knows how to keep up with them whipper-snappers and I know how to mask my sarcasm. We're both workin' it!
Better Product
Bivens: The LPGA has had a great 2006 and the future has never looked better on the LPGA Tour. Sorenstam's assault on the record books has slowed but the likes of Ochoa, Creamer, Gulbis, Kerr, Miyazato, Webb, and a host of others are an easy group to watch play golf.
Finchem: Carl Spackler had enlightenment going for him but it still isn't better than Tiger Woods. Let's face it: he's bigger than golf and Nike knows it. He's a Michael Jordan-like personality who's loved the world over. Add to Tiger guys like Furyk, Mickelson, Els, and Goosen and you have a strong product line. These guys make Finchem's job easy.
Winner: Finchem gets the easy nod here. While things have never looked better on the LPGA Tour I fully believe Bivens can make something bad of something really good. She needs to start promoting these young girls while she's got the chance by treating her sponsors well.
Mad Scientist Award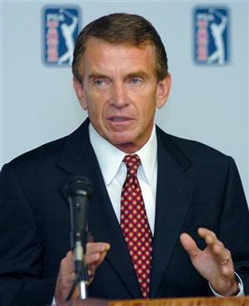 Bivens: We have a complete progressive in Carolyn Bivens. On November 15 (only a couple of days ago) Bivens announced that the LPGA Tour will institute mandatory drug-testing for all members beginning with the 2008 season. So while Finchem was busy chewing his nails to nubs over drug-testing, Bivens has proactively taken care of the question.
Finchem: Sorry Finchem. Too late. Your window of opportunity came and went. Bivens beat you to the drug-testing punch. Bend over and cough.
Winner: Bivens snags another one. There is no reason for Finchem or the PGA Tour to wait any longer on drug-testing. Its the days we're living in and that can't be changed.
Business Savvy
Bivens: In an effort to save a few beans in broadcast costs Bivens proved she could squeeze a nickel so hard it'd make the buffalo crap. I'm referring to the second major of the year, the McDonalds LPGA Championship, that Bivens shifted from CBS or NBC ($1.5 million in fees) to The Golf Channel ($300,000 in fees) because it wasn't as expensive. While nobody saw the event at least the LPGA saved a few bucks.
Finchem: As you know by now the PGA Tour will shift the bulk of its PGA broadcast schedule to The Golf Channel in 2006. TGC has locked in a 15-year contract. Yep. You read that right. 15 years. While die-hard golf fans (including myself) will flock to The Golf Channel I don't believe this was a top-shelf move. Casual golf fans who are basic cable subscribers along with all those who don't get TGC will be out of luck for about 15 years. Oops.
Winner: Bivens has to win this one by virtue of the length of the PGA Tour prison sentence. A 15-year contract is a long time. And while I'm happy for the Golf Channel and think they'll do a good job I don't think this worked out in favor of the fans.
Warmest Fuzzy
Bivens: Apparently getting close to Bivey can be tough. Word on the street says she's much like a female preying mantis. If she gets close she might just chop your head off. No less than seven of the LPGA's highest ranking officers have cut and run since she assumed office.
Finchem: Tom Pernice sniveled about the lack of a true playoff format for the FedEx Cup and low and behold: we will actually have a bit of a playoff next year at the FedEx Cup. Its the kinder, gentler, sensitive Finchem. He's a listener.
Winner: Finchem. No contest. Bivens simply has to work on spreading some warm-and-fuzzies if she expects to edge out her sensitive man-counterpart.
Greatest Cheerleader
Bivens: It seems like ever since Bivens showed up Sorenstam has been in a slump. If you can't get the best player in women's golf to show up and close out some more tournaments then you're doing something wrong. I think we all know that Bivens is responsible for Sorenstam's less-than-dominant performance in 2006.
Finchem: When two of the top three players in the world are busy with family and special Asian appearances during the Tour Championship it's time to hire a motivational speaker. Finchem may be living in a van down by the river if he can't get Tiger and Phil off the dime next time around.
Winner: Tie. Neither commissioner could even par the last hole.
Seriously, both the PGA and LPGA Tours have great players. The next couple of years will be important especially for Bivens. Tiger's assault on the record-books and Sorenstam's potential future record-breaking coupled with young LPGA talent have both tours on solid footing. It'll be fun to watch our favorite sport develop in the next couple of years.
And The Winner Is…
Finchem came into the last round needing a win to force a playoff and he couldn't get it done. Bivens beats Finchem 3½ to 2½ in the second exciting ProFiles Celebrity Deathmatch.