Now that the majors are done with a lot of the focus now is on the second-tier players to finish strong, secure cards, and possibly make a name for themselves. For these reasons, most of these tournaments in the next couple months will be quite important for guys you probably have not have heard of. This week, I want to look a bit closer at a couple players that I believe are on their way up and going to have some success.

When looking through the numbers, there are several players I had expected to do much better than they actually did this year. Most of this discovery was a by-product of my distance research in the past month or so. Without it, it was going to be hard to pick out a couple out of the pack from the rest and say "This guy is going to win next year." Some of the players may surprise you… others may not.
Richard S. Johnson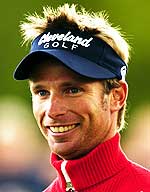 This was the first guy that jumped out at me. And here's why:
1.  Tiger Woods
2.  Jim Furyk
3.  Richard S. Johnson
4.  David Toms
5.  Ernie Els
6.  Vijay Singh
7.  Billy Mayfair
8.  Phil Mickelson
9.  Luke Donald
10. Scott Verplank
Someone looks like they don't belong. The ranking above isn't just arbitrary, it is the combined ranking of PGA players in greens in regulation (GIR) and putting average (PA). In previous articles I've talked about how these two correlate strongly on how a player will finish in the money. Now Richard hasn't played in a lot of tournaments, but statistically, he is extremely strong… and I can't express how strong, but I'll try.
When looking at tour players stats there are a few things that I notice. First are the above stats; GIR and PA. Once I get by those, I start looking at the short game. Richard excels in this area. He is seventh in sand saves and scrambling. When Johnson misses the green, which isn't very often, he is proficient in getting up and down. This can be a product of good putting, but there are good examples of players that are great in putting, but not so in scrambling (see Todd Fischer and Arjun Atwal).
Johnson is also good off the tee. He is 14th in total driving. While not the longest hitter, he is accurate and keeps the ball in play. This combined with his proficiency in hitting many GIR makes him fourth in ball striking. All of this and he is in the top 25 in scoring… beating out players such as Chris DiMarco, Stewart Cink, and Fred Couples.
So why then is Johnson not winning on tour? Well, first of all he has been splitting his time between the PGA Tour and the Nationwide Tour. His $681,734 in winnings doesn't look impressive next to Tiger, Furyk, and Toms, but the Swede has made the most of his time on the PGA Tour though. His average check per start is nearly $57,000, making 8 of 12 cuts and finishing in the top ten four times. At one point in the year he led the tour with 16 consecutive rounds under par. Look at his results this year and you'll see that he has been playing some pretty good golf. I truly think he is really close to winning his first PGA Tour event.
Arjun Atwal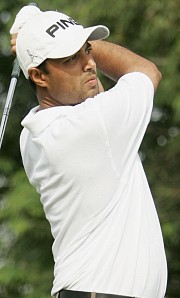 Now I know what you are saying. Didn't you just mention him as someone who can putt but is poor at getting up and down? Yes, I did, but this guy can putt… really putt. He leads the tour in putting. While putting isn't the be-all, end-all skill on tour, many great players made more than a living on their putter.
As for GIR, Atwal and is in the middle of the pack. Even with this, he is 17th in the list combining GIR and PA. Now he isn't at the top in ball striking like our Swedish friend above, but he's 62nd overall. Not too bad, but room for improvement. He's the kind of player that hits it well enough not to get into trouble and rely on his putting to score well.
Atwal has had a decent year on tour. One impressive thing is that the only cut he has missed is the PGA Championship. This was after a stretch last year of missing 14 out of 15 cuts. His stats from 2005 are dramatically better than the previous year. Arjun has improved his game to a point that he is starting to make a bit of noise. The problem is that he can't seem to finish strong in tournaments. In fact, he is 8th in scoring before the cut, 27th in the 3rd round, but drops way down to 126th in the final round. Can you say "pressure," Arjun?
This problem in Atwal's game wasn't more obvious than the BellSouth Classic where he was in a tie for first when the final round got cancelled. So what happened? A ball in the water and bogey on the first playoff hole sent him to a tie for second. Perhaps the only reason he was there to begin with because the pressure of the final round didn't get to him.
I believe that Atwal will finish the season strong against some weaker competition and hopefully get some good experience in the final rounds. With three top tens and improving stats, Arjun should make the most of his opportunities.
Final Thoughts
I was going to talk about Sean O'Hair, but I thought that was too obvious and maybe a bit too late. Sean has already done quite well and should continue to play well assuming he doesn't burn out. That's unlikely, though, as he is pretty well grounded and mature for a youngster given his bumpy road getting to the tour. I like both Richard Johnson and Arjun Atwal though. I like their chances of succeeding on Tour in the coming years. The main reasons I chose them were:
Both of them have shown marked improvement over the past years.
They have placed themselves amongst the leaders statistically.
They have both shown resiliency after missing a lot of cuts early last year to finish strong in 2004 and continue that in 2005.
I'll be watching Johnson's and Atwal's results a little closer over the coming months to see if they were poised for success, or about to have their bubble burst.
Photo Credits: © Getty Images, SAPA.