College basketball has March Madness, which happens to be one of my favorite times of the year as a sports fan. Golf fans get the Accenture Match Play Championship a month earlier than its basketball counterpart, and it has quickly turned into one of my favorite events of the golf season. I've showed my support for the World Golf Championship events before, but I want to take this opportunity to do it again. The WGC events get two thumbs up from me!

Geoff Ogilvy played great this past weekend en route to winning the 2006 Accenture Match Play Championship. Ogilvy entered the week as a #13 seed. That obviously didn't hold him back. The young Aussie knocked off reigning U.S. Open champion, Michael Campbell, in the first round. Ogilvy followed that with victories over Nick O'Hern, Mike Weir (a Masters champ), David Howell, Tom Lehman (a British Open victor) , and Davis Love III (a PGA Championship winner). It was, in a way, a march through the Majors for Ogilvy. A "march" in which every golfer Ogilvy faced was ranked higher than he. This made the accomplishment even more impressive.
That's one of the many great things about the Accenture Match Play Championship. I have come up with a few reasons why the event is great for golf fans worldwide. As always, there is a possible negative or two as well. I'll start with the positives and then get into the negatives. I'll finish like I usually do by giving my final thoughts on the subject.
Great Field and Course
There is no better field than the one assembled for the Match Play Championship. Sergio Garcia and Thomas Bjorn were the only notables missing from the field of 64. That's going to happen every year in this event, so it's no big deal. It would have been great to see Garcia and Bjorn, but I still slept fine at night knowing they weren't in the field.
The top five golfers in the world were in the same event for the first time in 2006, and that definitely counts for something. Like last year, Retief Goosen went the farthest of the number-one seeds, but he still didn't finish as high as most people expected. It would have been nice to see a couple of the top five make it farther, but I'll get into that a little later.
The event was once again played at La Costa Resort and Spa in Carlsbad, CA. This course is definitely one of the most underrated in the world. I never hear any talk about it, but it's a great layout. I enjoy courses that bring water into play. That being said, there are several holes at La Costa where water can determine the winner and loser of a hole or match.
There are long par 3s and some shortish par 3s. There are par 5s reachable in two, and there is a par 4 where some of the big bombers can reach the green off the tee (or at least come very close). I saw a lot of birdies and eagles throughout the week, and I saw guys struggle to save pars and bogeys. Overall, the course was awesome, and it could definitely host a major championship somewhere down the line.
Upsets
My wife and I printed off two brackets last Tuesday night and filled them out with our "not-so-expert" picks. When Saturday morning rolled around, David Howell was the only golfer I had picked correctly, and my wife didn't have any golfers left. Needless to say, Howell was out shortly thereafter. My final four prediction of Tiger Woods, David Howell, Chris DiMarco, and Jim Furyk never happened. In fact, I was way off on my predictions, as I'm sure everyone else was. Also, just for the record, I did beat my wife in the "Thrasher Bracket Challenge," but it wasn't by much.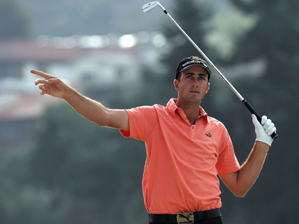 The upsets were all over the place this past week in the Match Play Championship. As I mentioned earlier, Geoff Ogilvy upset every opponent on his way to winning the entire event. If anyone says they picked the Aussie to win it, they are lying. I had him losing in the first round, and I bet 95% of the golf fans worldwide predicted the same thing. That's why I filled out my bracket for fun instead of money.
To make a long story shorter, upsets are awesome! It's nice to see a #16 seed upend a #1 seed every now and then. The top seeds are definitely favored, but that's why they play the round. It's great to see guys like Geoff Ogilvy and Zach Johnson step up to the plate and get the job done against the greatest golfers in the world. Hopefully Ogilvy and Johnson will become household names in the golf world because of their performances this past week.
9&8
I said it was nice to see a #16 seed knock off a #1 seed from time to time, but it was also great to see the greatest golfer in the world competely dominate his first-round opponent. By the way, don't piss off the best golfer on the planet. As if Tiger Woods needed anymore motivation, Stephen Ames said he had a chance because Tiger had been hitting the ball all over the place recently.
Stephen Ames' plan backfired in a bad way. Tiger Woods was dormie after the ninth hole! That's nearly unheard of. I could have played Tiger Woods as well as Stephen Ames did last Wednesday. Sure, it would have taken me more shots to put the ball in the hole, but the end result would have been the same. Luckily for Ames, he tied Tiger on the 10th hole to lose 9&8 instead of 10&8.
I'm not a big fan of Tiger Woods, but I enjoyed watching him play against Stephen Ames. There isn't a golfer in the world that could have beaten Tiger last Wednesday. Luckily, Chad Campbell rarely speaks at all. He didn't give Tiger the extra motivation and went on to upset Woods to advance to the quarterfinals.
The Lone Negative
There are a lot of great things about the Accenture Match Play Championship, but there may be one negative as well. It really depends on how you look at it. I mentioned how much I enjoyed the occasional upset in this event. On the other hand, however, there may be too many upsets at times. This year's event was a good example. None of the #1 seeds advanced to the final four, and that ruined the event for a lot of fans. It would have been awesome to see a Tiger vs. Vijay or Ernie vs. Retief final.
The television ratings probably aren't as good when the big guns get eliminated before the weekend. The ratings would have shot through the roof if a couple top seeds advanced to the 36-hole final. I have nothing against Geoff Ogilvy, Davis Love III, Tom Lehman, or Zach Johnson. However, I would by lying to myself if I said I was happy to see these four guys make it to Sunday instead of Woods, Singh, Els, Goosen, etc. The upsets are great, but too many of them can also be a bad thing. Luckily for golf fans, there is always next year!
The Final Say
It's no secret I really enjoy the Accenture Match Play Championship. It gives golf fans a change of pace from the usual tournament format. Also, the intensity level of the matches is usually higher than in normal tournaments because each player knows first-hand what his or her opponent is doing from shot-to-shot. It's definitely a unique format, and I hope it's here to stay. There may be a negative or two along the way, but the positives definitely outweight the negatives when all is said and done.
I really wanted to talk a little bit about the wacky women's world rankings this week, but I had too much to say about the Accenture Match Play Championship. I'll save the women's world rankings for next week, so look for that. I have plenty to say on that issue.
That's all I have to say this week. It's time for you to speak your opinions on the topic. Do you enjoy the Accenture Match Play Championship? If so, how did your bracket look this year? If not, what reasons do you have for not enjoying the event? Finally, where does the event rank on your list of favorite tournaments throughout the golf season? If you have anything to add, feel free to comment below or discuss it in our forum. Thanks for reading Thrash Talk this week and start getting those clubs ready for the spring!
[Editor's Note: Regular readers of The Sand Trap will note that Cody Thrasher has returned to write for us. Welcome back, Cody.]
Photo Credit: © Getty Images.