Well, once again, November is breathing its chilly breath on all golfers in the northern latitudes. I'm not happy about it, but what can you do?
Now, those of you with true four-season golf weather will have trouble relating to this one. But for all my fellow northern golfers who have either already put up the clubs for the season or are contemplating doing so in the near future. To them, I say, don't do it.
Yes, the best golf of 2008 is probably behind us, but we can still get out there and win a few bucks from our friends, or, at the very least, chase a few Canada Geese around the fairway. I say, if you can get out there without icing up, why not tee it up. Throw on a few, or several, layers. Start with a warm, thin mockneck and build from there.
Not convinced that cold weather golf can be fun? Here are five reasons to play golf all year long.

Number Five: Prove You're a Man (or an Idiot)
OK, so this one is a little like the scene in Tin Cup where Cup is bragging that he just shot par on the back nine with a 7-iron. When Cup asks Simms if he's ever parred the backside with a 7-iron, Simms replies, "Well shoot, Cup, it never occurred to me to try."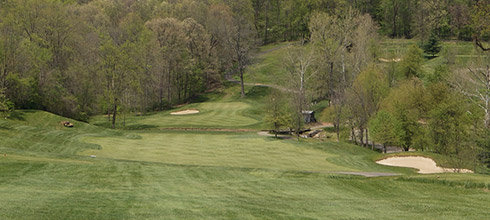 There's a certain cachet to playing cold weather golf – and I'm talking the 30-40° here or less – but just don't expect everyone (or most people) to understand. If you can shoot a decent score on a frozen course in February when the holes haven't been moved since late November and your nose has been running since you stepped out of your car, that's definitely something to proud of.
Number Four: Tempo, Tempo, Tempo
Perhaps the most important factor in a golf swing is tempo, but most of us struggle to keep a our swings in tempo, even in warm weather. So what can cold weather do for you and your tempo? Very simply, if you can swing with a reasonable tempo as the wind chill hits something in the 20s, that should only help you when summer finally comes around.
Cold air throws off your tempo by making your transitions quicker. Swinging your arms away from your body exposes your torso and underarms to more cold air, making you want to get done with the swing as quickly as possible. Keeping your body under control in these kinds of conditions will pay dividends when the mercury rises.
Number Three: Boing… Boing…
Do you struggle to hit the ball over water? Are you one of those people who routinely dig out an old ball on par threes with a pond fronting the green? Winter might just be the time of your golfing life.
There's nothing like the relief – and humor – that results from getting a good bounce off a frozen creek or pond. Balls that dribble out onto the ice can slide forever. If the ice is thick enough, you might even be able to save par, but it's generally not worth chancing the dunk in ice cold water.
Number Two: Getting Ready for Next Summer
There are a few ways that you can actually improve your golf game, even when you're wearing too much thick clothing to make a truly free and proper swing. The first, tempo, we've already covered.
The second reason to play cold weather golf: it's good for you. As the mercury drops, your body burns more calories just maintaining it's own normal temperature than in it would in warm weather. It's a minor workout just being out in the cold. Make it even better and keep yourself warmer, by shunning the cart (even if you have a cart heater and one of those cart covers) and walking. If you dress in layers, you'll find that you'll probably have to shed a layer after walking a few holes. You may find that temperatures that you'd never considered golfable are actually fairly comfortable, provided the precipitation stays away and the wind isn't too strong.
Number One: More Room to Hit It
The best thing about cold weather golf is that you'll have plenty of room to play. Courses are virtually empty when the temperature drops below 50°. You'll find yourself playing in close to three hours easily (that cold air makes you walk a little quicker).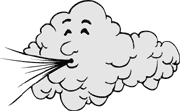 There are three factors to take into account on top of the obvious (is the course covered with snow?): sun, wind, and precipitation. If the sun is out and the wind is low, you may that temperatures as low as the 20s are cold but playable. As the wind increases and the amount of sun decreases, your comfort factor will drop appreciably. Playing golf as it snows is a pretty cool experience, and can be reasonably comfortable to do. But playing in the rain, especially if it's windy as well, can be a miserable experience.
There's one more way that the golf course provides more room in the winter than it does in the summer. If you believe that trees are 90% air in the summer, what must they be in winter? 99%? If your experiences parallell mine, you'll find that hitting that one little twig that sticks out slightly into the path of your otherwise perfect shot is an incredibly easy thing to do.
Good luck, and keep warm out there!
All pictures © The Sand Trap .com. All rights reserved..