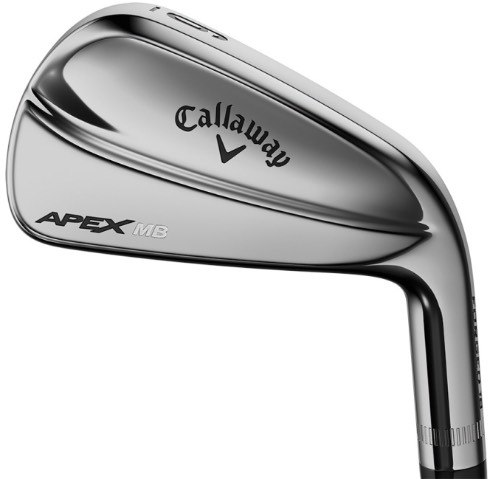 When Callaway acquired the Ben Hogan brand all those years ago, better players were curious what would come of the Hogan designs, names, and ethos. Callaway was, at the time, producing great clubs but was seemingly focused much more on game-improvement and super-game-improveement irons, while the Hogan brand targeted primarily better players with simple, austere designs that evoked a sense of history and longevity over fanciful new technology and flash. Would Callaway use the Hogan IP to bolster their better player lineup, or did they just want the Apex name and the Hogan designs, patents, etc.?
For a few years, many feared it was the latter, as few clubs Hogan-like clubs were introduced, and even as recently as 2016 the "Apex" name was stamped onto clubs that didn't resemble the old Hogans very closely. But, over the past several years, Callaway has seemingly boosted their stable of PGA and LPGA Tour pros. They've continued to introduce irons aimed at the game-improvement and super-game-improvement segments, but they've also strengthened their commitment to players clubs with wider releases of clubs designed for the better player.
After a series of irons like the Apex Pro and the 2014 Apex MB, the 2018 Callaway Apex MB fully returns to the Ben Hogan roots. Easily the best looking irons Callaway has released within the last decade (hey, this is my review, after all!), the Apex MB unabashedly says "I'm not giving you a ton of help, but if you can handle me, I'm going to be your new best buddy."

Technology and Specs
Look, I'll be blunt here… We're talking about a muscleback iron. There isn't really any technology here. The shafts (Callaway offers a huge variety from Nippon, True Temper, KBS, Project X, etc.) have more technology… heck even the grips might have more technology in them than the iron heads themselves. Callaway even touts the 2018 Apex MB as "true musclebacks inspired by the Tour and suited for the best of the best players." Not a single mention of technology, forgiveness, new space-age materials, or anything.
I can also tell you is that Callaway, in its bullet list of features, which is where you'd find all the awesome technology available in, say, their Rogue or Epic drivers, lists three things. They are:
1. Tour Shaping and Design
Yes, the shape of the club is a technological feature. We can talk at length about how high the toe is, how thick the toppling is, and how the muscle back is actually shaped. Callaway says that "the world's best players provided extensive feedback to help make this a true muscleback iron." They go on to say that the 2018 Apex MB has a "classic shape and style, with a traditional, slightly thinner topline, and a beautiful bright chrome finish in our smallest blade head shape." They've also "advanced our CG positioning to optimize the CG for outstanding control."
Essentially, the club has a thin topline, a thin sole, a small head, and a slight "curve" or "swoop" in the muscle on the back of the iron blade. I'll talk about that more in the Esthetics section.
2. High Performance 20V Grooves
Callaway is proud of the grooves they've put into these irons. Like a lot of traditional, muscleback irons, these aren't the modern-day square or U-grooves, but a "High Performance 20V" V-style groove that Callaway says "are built to promote the high level of control and consistent spin that muscleback players expect…" Callaway adds that these "20V" grooves "reduce fliers from the rough to deliver even more control."
3. Forged From 1025 Carbon Steel
Completing the trifecta of muscleback/blade "technology," following the shape of the club, and the V-grooves, we have the kind of steel used in making the iron heads themselves! As you may know, if you're a fan of this type of iron, the 1025 Carbon Steel is often touted as having "a remarkably soft feel that Tour players want…". Callaway achieves this "exact craftsmanship and precision they expect" through their "premium forging process." The takeaways? They're 1025 Carbon Steel forged blades. Cool.
Seriously, though, I'm not trying to be dismissive. There's just literally nothing to talk about here. While some companies are happy to blend tungsten into the toes and heels to bump up MOI a little, or play around with the shape of the muscle (Titleist's short-lived "ZM" springs to mind, as do a few of Callaway's previous musclebacks), Callaway is content to deliver what muscleback fans want: a small, simple, solid, soft blade for better players. Muscleback fans don't want a lot of "tech" in their 5-iron.
So, kudos to Callaway for building just that: a small, simple, solid, soft blade for better players.
As for the specs and availability, the 2018 Apex MB is available in men's righty and lefty clubs through the range of 2I-9I, PW, AW. Through the Callaway "Build & Buy" site or your favorite local retailer, you can choose a wide variety of grips and shafts. The shaft options, for example, include a vast array from KBS (S-Taper, C-Taper, Tour, Tour FLT, Tour V) of varying weights and flexes, the Nippon Pro Modus 3 Tour 105, 120, and 130, Project X (LZ, PXI, PX) of varying flexes, and True Temper (Dynamic Gold X7, Pro, SL, Tour Issue AMP, XP, etc.).
A set of 3-PW with any of the shafts (and others) listed above, plus your choice of tens of different grips, with custom wrapping, retails for $1299 ($162.50 per club). Standard specifications for the 2018 Apex MB are:
Name   Loft    Hand    Length    Lie    Offset   Swing Weight
----   ----    ----    ------   -----   ------   ------------
#2      18°      R/L   39.50"   59.50°   0.130       D2
#3      20.5°    R/L   39.00"   60.00°   0.125       D2
#4      23°      R/L   38.50"   60.50°   0.120       D2
#5      26°      R/L   38.00"   61.00°   0.110       D2
#6      30°      R/L   37.50"   61.50°   0.100       D2
#7      34°      R/L   37.00"   62.00°   0.090       D2
#8      38°      R/L   36.50"   62.50°   0.080       D2
#9      42°      R/L   36.00"   63.00°   0.070       D2
PW      47°      R/L   35.75"   63.50°   0.065       D2
AW      51°      R/L   35.50"   63.50°   0.065       D2
My test set of irons were 3-PW (I have a 48° Edel wedge, so I don't typically hit the set PW) with Project X 6.0 shafts and a standard Callaway cordless, ribless, all-black grip.
Esthetics
As with the Technology section, there won't be much here. That is, again as with the Tech section, exactly as it should be. These are muscleback blades.
And what good looking blades they are! Oh my.
Callaway has paid attention and designed an iron that good players will love to look at from every angle. Even the ferrule is perfect – a solid black ferrule without any rings or decoration. Below the ferrule, at the top of the hosel, you'll find a series of little dashed lines that circle the hosel. These marks or grooves are reminiscent of the time when clubs were hand assembled, and a little texture in the hosel was helpful in grabbing the iron head for assembly.
On the back of the hosel, below the "clubmaker marks, a simple "FORGED 18" is paint filled in black. The back of the blade has the Callaway logo and chevron toward the sole, and "APEX MB" in black ("APEX") and white ("MB") on the high toe. The thin sole is decorated simply with a thick, black paint-filled number or letter toward the toe.
This club effectively has only shades of black and white. The clubface has a softened, misty silver application common on the faces of irons. This treatment wraps around the top to make the already thin topline appear even thinner. The rest of the club, except for the few paint filled areas noted above, is a lustrous, high-gloss, shiny polished silver that dazzles. Though it picks up fingerprints and smudges quickly, it wipes clean quickly as well with a towel, shirt, or napkin.
At address, the hosel flows neatly into the topline of the club without a pronounced valley or change in the slope. The relatively short blade length and thin topline will appeal to good ballstrikers. Combined with the thin sole will encourage players to play a variety of different types of shots from a variety of lies.
In short, these 2018 Apex MB blades look like clubs that are going to look great in your bag or at address, and feel great when you flush one toward the flag.
Performance
In my opinion, a blade player is looking for three or four things:
Control. This means of trajectory, distance, and shot shape.
Looks. The club should be relatively small, unadorned, and simple with a thin topline.
Feel. The club should feel great when you flush it, but should let you know when you mis-hit the shot, even a little.
Versatility. This is primarily an aspect of the thinner soles typically found on blades, though if you'd like to put trajectory manipulation in this category instead, be my guest.
The looks I've commented upon above, and you're welcome to judge for yourself. (Though, if you don't agree that these are some sick looking blades, we can't be friends. I'm sorry.) So when I talk about "performance" I'm talking about those other aspects: control, feel, and versatility.
Of course, I'm not going to talk much about forgiveness. If you want a lot of forgiveness, you're not looking to play a pure blade muscleback. A set of butter knives aren't for you. So that leaves the feel, control, and versatility.
I noted up above that control includes both control of trajectory as well as distance, and I can see some of you in the audience scratching your heads over this one. Isn't distance control simply a result of the strike itself? If you hit the ball the same way, every time, the ball should go the same distance each time, no?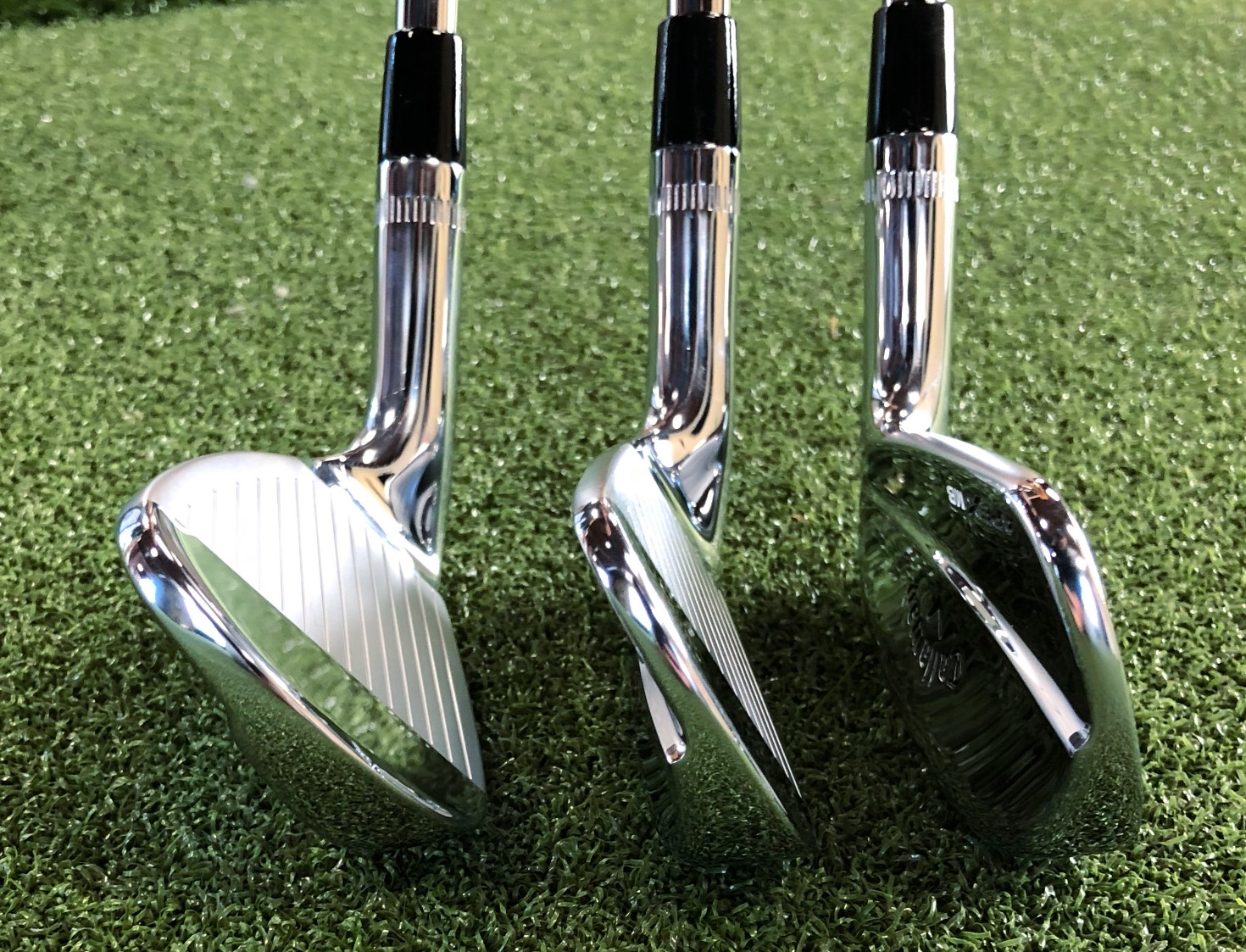 Theoretically, yes. But in my time playing golf I've had a lot of experiences in playing a cavity-back or non-blade iron where I'll hit a shot that feels great, and somehow flies eight yards farther than I thought it should. Now, you skeptical head scratchers in the audience will note, correctly, that I'm not a robot.
But long-time industry guy Terry Koehler had a robot – Iron Byron – when he was coincidentally developing a new Apex iron for the Ben Hogan company in the mid-90s. He set Iron Byron to hit some cavity back irons, then set the same strike conditions to hit a muscleback blade. His pattern on dead-center hits with the cavity back was 8′ wide and 15-17′ long. That struck him as odd, and so he tested heel hits and toe hits, and compared the results to the Apex blade they were simultaneously developing. What he found was, well, I'll let him finish out the story.
Then I looked at the chart for the new Apex blade we were developing. On heel misses, it was slightly worse than the cavity back models.

On toe misses, the Apex was significantly worse (blades have very little mass out on the toe).

But on dead center hits – our shot pattern was about 1/4 the size of the cavity back pattern! In other words, the perfect shots were much better!

Terry Koehler
In other words, in the hands of a better player, blades will often make up for in control what they lack in ultra-forgiveness.
The Apex MB Callaway is offering is no different. Whether on the range hitting to a variety of targets, or on the course, the Apex MB responded with fine-tuned distance control. Shots that were supposed to go 166 yards went, when hit properly, 166 yards. It didn't matter if that was a full 7-iron against a very gentle breeze, a smoked 8-iron, or a chipped 5-iron into a quartering left-to-right wind. I'm not talking about my skill in pulling the shots off, I'm talking about the lack of surprises where a shot goes four yards farther or three yards shorter than you'd wager money on given how it felt off the clubface. These clubs deliver spot-on distance control and behave predictably on hits across the face (Terry's right: you never want to hit a shot too far off the toe with blades.)
Some of the reasoning for that distance control may be because trajectory control is so much easier with a blade than a game-improvement club. With a higher center of gravity than most other clubs, the Apex MB doesn't resist hitting a shot low like so many other clubs. If you've ever tried to hit a stinger with a super-game-improvement club, with thick soles, tungsten weights, and all sorts of "help" for the average golfer to get the ball in the air with less spin, you know how tough it can be to flight the ball down when the club is working against you.
The Apex MB puts you in the drivers seat. It is, in the best senses of the words, a piece of metal on the end of a stick. It does your bidding. It does exactly what you instruct it to do. If you want to hit a 150-yard shot that never gets more than fifteen feet off the ground, you can do that. With the thin sole, if you want to lay a face open a bit and hit a high soft cut, the club isn't going to catch the back of the sole and skip into the ball a dimple or two high. It's going to let you work that high shot just as easily as it lets you work the low one. That's versatility in action.
As for the feel, it's as good as any blade I've played, and better than a lot of them. Though Callaway hasn't published the bounce specs on the Apex MB, it's evident from a quick side-by-side comparison that it has more than most musclebacks, including my Miura Tournament Blades(3° in the 4-iron, 5° in the 7-iron, and 8° in the PW). Bounce, even on an iron, is still essential for getting the club out of the ground cleanly. You don't want so much that the trailing edge contacts the ground much before impact, but very quickly afterward you want the trailing edge to help get it out of the ground for a thin, shallow divot.
I'm talking about the bounce in a feel section because playing all these years has taught me a few things. High on the list is that feel is largely a matter of sound. Yes, vibrations through the shaft matter, particularly on off-center hits, but on center contact, what we perceive as "feel" is often the sound a club makes. And a big part of the sound is how the club interacts with the ground. A club that carves a thin divot is going to sound crisper, cleaner than a club that takes a healthier divot. Bacon strips, not pork chops, as Moe Norman used to say. (Just think about how great clubs "feel" on days when the course is saturated and muddy.)
The Callaway 2018 Apex MB, in my opinion, absolutely pegs this one.
In talking with a Callaway R&D rep, he said:
Musclebacks generally have gotten a bad rap as far as forgiveness, but it wasn't only the small MOI that made them difficult. It was usually the super high-heel cg and dig soles that really added to the problem. It forced you to get the ball up into the face but not catch it a millimeter fat. That's a very narrow window for delivery. If you shorten the hosel and lengthen the blade a bit to pull the cg down toward the middle, and then add some bounce, the 5-P become pretty manageable for most decent players. The 2-4 will always be challenging… for sure, if you want to hit a high draw.

Callaway R&D Rep
I've said throughout this interview that these clubs aren't forgiving, and that remains true compared to every other type of iron. Musclebacks are the least forgiving type of irons out there; that's simply the nature of the beast. What you gain in control and feel, you give up in forgiveness. But the bounce does help these irons to be about as forgiving on slight mishits as possible. Dave Wedzik and I have popularized (or tried to) the thought that bounce is actually better called "glide." On a slightly heavy hit, say, even an eighth of an inch, a club with a bit more bounce will resist digging into the ground, and will glide along the top just a bit longer. This keeps your clubhead speed up a bit, and helps you to contact the ball on the sweet spot, not above it, just a little bit.
At any rate, these Apex MBs not only look great, and perform great, they feel great as well. Slightly heavy shots aren't punished, and the bounce creates a solid sound and feel even in softer conditions, without being anywhere near too much for the firmest links land in Scotland or Callaway's PGA Tour players (rumor is that Sergio Garcia's defection to Callaway and the introduction of these clubs is not a coincidence).
Conclusion
Whether I can thank Sergio Garcia or the hard-working folks at Callaway, I don't really care. I owe them a thanks all the same. Thank you, Callaway, for introducing a classic blade. Thank you for rethinking the bounce and CG locations. Thank you for not making this a Tour-exclusive, and for giving better players a compelling reason to go Callaway throughout the entire bag.
The 2018 Apex MB are a forged, muscleback blade. They're not comprised of a bullet list of innovative features. They're not multi-material (well, there's metal, paint, and a plastic ferrule… does that count?). They're not even numbered with lofts instead of iron numbers. What they are is a solid, great-looking, versatile, controllable blade for the 21st century. They cater to a better player while expanding that definition ever so slightly with a bit of added forgiveness.
If you play blades, or are looking to get into a set, the 2018 Apex MB from Callaway deserves a spot on your short list.