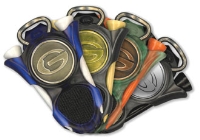 Throughout my years of golfing, I've developed a system. Tees and and coins in one pocket, pencil and ball mark repair tool in other. If I put my pencil in with the tees, well, it's hard to tell the difference quickly, and the same can be said of mixing repair tool and coin. If I'm thirsty at the turn and only have three quarters, well, it's PowerAde or ball markers for the back nine. PowerAde usually wins out.
I've tried ball markers in the past. One slipped on to the grip end of my putter, but after losing 27 ball markers in the bottom of my bag I gave up on it. The ball marker you find on gloves is inexcusably cheesy, as are the ones that you find on some shoes. They all paled in comparison to a simple quarter or dime.
Then I tried the 4-in-one G Clip.