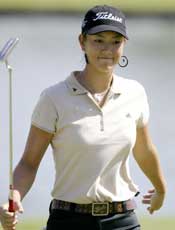 The PGA.com title nailed it: Ow-Wie! Amateur teen sensation Michelle Wie was anything but sensational in her 5-over opening round 75. Her round, which featured only one birdie, had one up side. "At least I'm not in last place," Wie joked. True: at least a dozen PGA Tour players finished worse than +5.
In other words, Wie's efforts to make the cut will, most likely, keep her short of her goal. Wie remains optimistic, however, saying "I think if I shoot under par tomorrow, if I end up at like 1-over-par, maybe I'll make it."
Waialae Country Club played tough in Thursday's round with winds gusting up to 25 MPH. The breezy conditions frustrated some of the game's best: Ernie Els shot his first above-par round (71) in 17 rounds at Waialae. Vijay Singh finished with a bogey on the par-5 18th to shoot -1 69. Singh, who made some comments last year regarding Wie, snuck out this year by saying only "It's tough for the boys over here, you know? Going to be tough for a girl here, too."