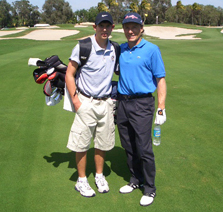 CEO and veteran PGA Tour caddy Russ Holden describes Caddy For A Cure as "a once-in-a-lifetime opportunity for golf enthusiasts to be "inside the ropes" with their favorite Tour player, one-on-one." What a great idea! You can spend an entire day with a famous Tour pro, help with their club and shot selections, and walk a famous course during an official event! Imagine assisting worthwhile causes while watching the best golfers on tour, up close… and everybody benefits!
Kyle Bugge, recently on the bag for Bernhard Langer (photo at right), had this opportunity. As he wrote recently after a day of caddying for Langer "thank you for giving me the chance to live my dreams."

To earn the right to caddy for a pro, you simply need to the highest bid in special eBay auctions. Who is up for bids first? None other than last week's winner of The Players Tournament, 48-year-old Fred Funk. Also available: Tom Lehman, Stewart Cink, and Bernhard Langer. Current auctions cover an April 12th practice round at the MCI Heritage Classic.
"It is really a win-win opportunity for everyone involved – the person who wins the auction to caddie gets to experience golf from a professional Tour player's perspective, the Tour player has an opportunity to get closer to the fans of golf and contribute to their favorite charity, the tournaments benefit by increasing interest in the event and charities benefit from additional contributions," said Holden, who is not only CEO but also Langer's caddy. "Basically, professional golf has found a new way to give back from one of the world's most loved games."
The Pros and the Events
MCI Heritage: Stewart Cink, Fred Funk, Bernhard Langer, Tom Lehman
Shell Houston Open: Chad Campbell, Jeff Maggert
Bank of America Colonial: Stephen Ames, Stuart Appleby, Sergio Garcia, Kenny Perry
Barclay's Classic: Peter Jacobson, Justin Leonard, Vijay Singh
John Deere Classic: Billy Mayfair, Zach Johnson
The auctions began at 3:00 am EST Sunday, March 27th, 2005 and will run for ten days. Each feature a $1000 starting bid. Visit Caddy for a Cure .com for details.
100% of the profit from Caddies for a Cure benefits the following charities: the Fanconi Anemia Research Fund, the PGA Tour Caddies Benevolent Fund, the charity of choice of the PGA Tour player who is participating, and the designated charity of the PGA Tour event where the auction winner carries the bag.
The PGA Tour and its tournaments have also generously donated over $910 million to local charities for almost 70 years. The charitable donations reached the $500 million dollar mark in 1999 and, because of its efforts, the Tour intends to reach that mark by raising the next $500 million in just 7 years! It's quite a feat, but it's great to know that so many golfers are making a difference in the lives of the less fortunate.
Photo Credit: © Caddy for a Cure.