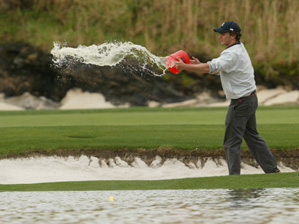 TPC at Sugarloaf couldn't take what nature dealt it Thursday as tournament officials cancelled play because rain fell for nine straight hours during the morning and early afternoon. Phil Mickelson said "What a surprise. We've had such great weather all year." The "good weather" Mickelson spoke of could very well delay the tournament further as the forecast is calling for more thunderstorms on Friday. About the only good news is that Saturday's forecast is clear.
The Players Championship may have finished on a Monday, but a Monday finish for the BellSouth Classic could be deadly: The Masters is next week, and Mickelson and others are certainly going to want to be well-prepared.

Of 14 tournaments played this year, eight have been disrupted by weather. It doesn't seem to matter if a tournament is on the east or west coast, rain follows the Tour wherever it goes. Those, like Luke Donald, who didn't show up for play today might be the smart ones. Tiger Woods, Vijay Singh, and Ernie Els all took the week off both to dry out from The Players Championship and to focus on the upcoming Masters. It remains to be seen how many withdrawals we'll see tomorrow morning as Augusta looms large in everyone's mind, including defending champion Phil Mickelson's. I'm pretty sure he'd rather defend his Masters title over completing the BelleSouth Classic.
I'm not sure if you call this year's rain the result of global warming or what. Maybe we should consult the Farmer's Almanac because this is one crazy year for weather. Has there been more rain on the PGA Tour in the last fifty years as we have seen in the early stages of 2005? We've had enough water on golf courses this season for Noah to start loading animals on the ark.
Because we've got so much time on our hands I was thinking of some creative ways for the guys to occupy their time with all this rain. Some of the tour guys might want to take up kayaking. There's enough water for it. A slip 'n slide was really fun when I was growing up and they wouldn't need a hose to keep it slick. If they aren't the "outdoor type" I hear crochet is theraputic. Can you see defending champion Zach Johnson sitting across from Joe Durant as they work on a sweater. Pretty soon Zach says, "Oooh, that looks nice." Zach pauses and then continues, "Pity you couldn't hold on to the lead at The Players Championship."
If nothing else this might be good time for Tour players to start a family.
Photo Credit: © AP.