One of the best things about the game of golf is the vast history. Golf has had transcendent athletes almost constantly over the last 150 years, and as I attempted to categorize them all I found myself writing, and writing, and writing. (I tried to do this with baseball, and all I got down was "Yankees, then… more Yankees, and a little more Yankees. And then the Red Sox won. And then the Yankees…") In classifying the history of golf, these last 50 years are where it got tough, as I had to figure out what do do with Jack Nickluas. Jack had legitimate rivals in Arnold Palmer and Tom Watson at completely different ends of his own expansive career. I ultimately decided to combine Nicklaus and Watson, and give Palmer his own era. I'm sure they won't mind.
Anyway, without further ado, we are back again this week with the most recent eras in golf, starting with The King and ending with El Tigre.

Hole Six: Arnold Palmer, mid 1950s to mid 1960s
Though Palmer's career overlapped some with Sam Snead and a bit more with Nicklaus and Gary Player, he was still the overwhelmingly premier golfer for a large chunk of his career. After graduating from Wake Forest, Palmer enlisted in the U.S. Coast Guard for three years. He got back into golf at the U.S. Amateur in 1954, and won the 1955 Canadian Open (his first pro win) in his rookie year. He won his first major, The Masters, in 1958, and would go on to win four times at Augusta (every other year from 1958 to 1964). He won his only U.S. Open in 1960, but Palmer never pulled out a win at the PGA (though he did record three T2s). Palmer was also victorious at the Open Championship twice, in 1961 and 1962, and he was the first American star golfer to consistently play across the pond. Along with his international stardom, his good looks, striking personality, and wild golf swing turned Palmer into one of the most famous athletes in the world, and he makes huge amounts of endorsement money even today.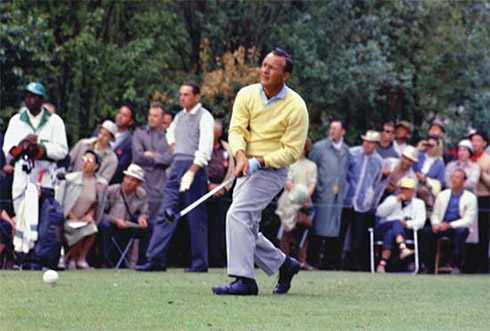 Some of the other dominant players of the era include Julius Boros, a three-time major winner, and Australia's Peter Thompson, who won five Open Championships.
Hole Seven: Jack Nicklaus, Tom Watson, and Gary Player, early 1960s to mid 1980s
I'll admit that I had to combine what I think could possibly be defined as several eras into one here, but Jack Nicklaus' career was so long I think it still works. Even considering the 1986 Masters as an outlier, you could still call the late '70s part of Jack's prime, and that was just as Watson was entering his own. Not to be forgotten is Gary Player, who himself had a sustained and illustrious career.
The Golden Bear took up the game when he was 10. Nicklaus overcame mild polio at the age of 13, and starting in his teenage years Nicklaus was coached by Jack Grout. At 12, two years after taking up the game, Jack won his first of five straight Ohio Junior Championships, and a year later he became the youngest qualifier for the U.S. Junior Amateur. At the time he had a handicap of +3. Nicklaus won two U.S. Amateurs, as well as the NCAA Championship, and was the first player to win both of those in the same year (1961). In 1960 he shot the lowest-ever score by and amateur at the U.S. Open, and he lost the event only to Arnold Palmer.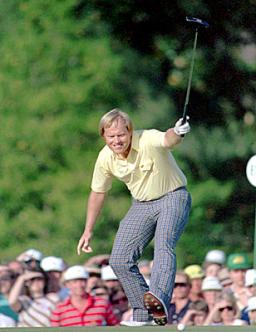 Originally intending to become a pharmacist (and later an insurance agent), Nicklaus turned pro in 1961. The long-swinging and clutch-putting Fat Jack won his first U.S. Open that year, repaying the favor from two years prior by beating Arnold Palmer. The next year he won The Masters and the PGA, and his historic career was off. While his early career record was streaky, Nicklaus amassed a mind-boggling record in majors in the 70s, missing the top-10 just five times (and missing the top 13 just three times). Though his career was winding down by the early 1980s (he won just five times on the PGA Tour the entire decade, three of which were majors), Nicklaus iced the cake with a final Masters win in 1986, his closing PGA Tour win. Despite playing only about 17 events per year during the prime of his career, Jack finished with 73 PGA Tour wins.
Tom Watson first brushed with success at the 1974 U.S. Open, where he coughed up a lead going into Sunday. He bounced back the next year, winning his first of five British Opens. In 1977 he won his first Masters and his second British, but went winless in majors over the next two years. Ironically, Watson won at a much higher rate on the PGA Tour over those two years, but did not win any majors. He caught fire between 1980 and 1983, winning three Opens, his second Masters, and his only U.S. Open at Pebble Beach in stirring fashion. Much like Arnold Palmer, Watson never won a PGA Championship, but he did finish his career with 39 PGA Tour wins.
The Black Knight, Gary Player, is from Johannesburg, South Africa, and began playing on the PGA Tour in the 1950s. He won his first event in 1958, and his first major came the next year, at the Open Championship. Though he never dominated in the way Jack Nicklaus or Tiger Woods did, Gary Player amassed a record nearly as impressive as just about anyone. His nine majors came over a span of 20 years, and he recorded 24 PGA Tour wins. Between 1955 and 1981, Player also played on South Africa's Sunshine Tour, winning 73 times, including 13 South African Opens, 10 South African Masters, and five South African PGA Championships. He also won 18 times on the Australian Tour (including a record seven Australian Opens) and at least 20 other times across the world.
Lee Trevino has six major victories to his name, two each at the U.S. Open, British Open, and PGA Championship. His wins range from 1968 (his first U.S. Open) to 1984 (his second PGA), and his 29 PGA Tour wins are equally as spread out. Ray Floyd, Billy Casper, and Cary Middlecoff didn't have quite the career of Player or Trevino, but their impressive records deserve to be mentioned.
Hole Eight: Seve Ballesteros, Greg Norman, Nick Price, and Nick Faldo, early 1980s to mid 1990s
This era was the most prevalent time of parity. Though Nick Faldo won six majors, he will likely never be considered an all-time great. Seve Ballesteros played a game that was much better suited for links courses, and he never won the U.S. Open or the PGA. Greg Norman's career will likely be remembered more for his collapses than his two Open Championships, and Nick Price's prime career was much too short for a player of his caliber.
Ballesteros, who I profiled last year, was born in Pedrena, Spain, and grew up smacking golf balls on the beach, growing his immaculate short game skills. His first major came at the 1979 British Open, which he won over Ben Crenshaw and Jack Nicklaus. He won The Masters the next year, and again three years after that. In 1984 he won his second Open, and four years later he won his last. Seve finished with nine total PGA Tour wins (including his majors) and 50 European Tour wins, plus six more on the Japan Golf Tour.
Greg Norman, known as The Great White Shark, remains one of the highest-earning golfers to this day. An all-around great player, Norman will be known as much for his short game prowess as his driver. Norman won his first major, the British Open, in 1986, and his second in 1993. Norman amassed many near-misses in his career, including losing majors in playoffs four different times. His most famous loss is probably the 1996 Masters, when, after shooting a course-record 63 on Thursday, Norman choked away a six-stroke lead. Norman ended up losing by five shots to Nick Faldo, who outplayed him on the day 68 to 78. His other well-known collapse was his loss at the 1987 Masters, at the knees of Larry Mize's 45-foot chip-in on the second playoff hole.
Amazingly, Nick Faldo, now known more for his offbeat CBS commentary than his six major championships, has more majors wins than any other Englishman. (Harry Vardon is, of course, from the island of Jersey, which, though they have a relationship, is not officially part of the U.K.) Starting with the Open in 1987, and ending with Norman's aforementioned demise in the 1996 Masters, Faldo won all of his majors over a 10-year span. He only won one more time on the PGA Tour after that, and he never won again on the European Tour, where he accumulated 30 victories over his career.
Known as one of the greatest ballstrikers of all time, Price won 18 times on the PGA Tour, including three majors (two PGAs and one British), four times on the European Tour (not including the majors), and 10 times on the Sunshine Tour.
Hole Nine: Tiger Woods, late 1990s to present
That stuff I said earlier, about parity in golf? That went out the window like it was shot out of a cannon with the 1997 Masters. After a front-nine 40 on Thursday, Eldrick "Tiger" Woods bulldozed the course and the field, and went on to win by 12 strokes. He set Masters records for aggregate score as well as margin of victory, and overnight the game of golf changed. Retooling his swing with coach Butch Harmon, he went majorless for over two years, before again breaking through at the 1999 PGA. Starting at the next year's U.S. Open, and concluding with the 2001 Masters, Tiger completed the "Tiger Slam," the only time someone has held the Masters, U.S. Open, Open Championship, and PGA Championships trophies concurrently. Tiger picked up two more majors in 2002, and then went on another major-winning sabbatical while revamping his swing, this time with Hank Haney.
Tiger returned to winning in 2005, starting with his stirring Masters victory that year over Chris DiMarco. He then won two straight British Opens, two more PGAs, and a U.S. Open. That last one, at Torrey Pines in 2008, remains his most recent major. After undergoing season-ending knee surgery following that victory, Tiger has gone without a major since, and he hasn't won an regular-season PGA Tour event since the 2009 BMW Championship. Tiger currently stands at 71 career PGA Tour victories, third all-time behind Snead and Nicklaus. Because the European Tour includes majors and World Golf Championships (which Tiger has also dominated) on their official wins lists, Tiger is also third all-time in wins on the that tour. Adding to his record, Tiger has won the U.S. Junior Amateur more times than anyone (three), and Tiger is the only player since the 1930s to win three U.S. Amateur titles.
Coinciding with the drop-off in Tiger's game is the scandal involving his personal life, which blew up after a small car crash Thanksgiving 2009. He has also since switched swing coaches again, this time moving to Sean Foley. The other top golfers during the Tiger Era are Phil Mickelson, with four majors, as well as Vijay Singh, Ernie Els, and Padriag Harrington, all of whom have three majors.
Photo Credits: © Britannica, © Augusta.com, © USA Today, © Erik J. Barzeski, TheSandTrap.com.